Introduction
Global copper mining is a multi-billion-dollar industry, geographically spread across continents, from Indonesia to Chile, and from Canada to Zambia. While extraction may occur all across the world and fuel the supply side of the copper industry, there have been few drivers of demand for copper in recent years. Developing countries have been at the forefront of copper utilization, namely China and, most recently, India. Prices of global commodities are heavily dependent on infrastructure and upgrading projects which create demand for commodities such as copper, iron ore and coal. In the case of copper, ore grades have retreated over time and high capital requirements have been reduced.
In this article, I take a look at the global performance of the best-performing copper mining stocks -- Freeport-McMoRan Copper & Gold (NYSE:FCX) and Southern Copper (NYSE:SCCO) -- and streamline decision-making for all those who are looking to invest in copper stocks. I will take into account the past three years' performance of these stocks on key metrics, along with their prospects for the future.
Tracking Financials
While the mining industry has many firms competing against each other, copper mining has only two leading companies in the shape of Freeport-McMoRan Copper & Gold and Southern Copper.
| | | |
| --- | --- | --- |
|   | Freeport-McMoRan Copper & Gold | Southern Copper |
| Current Price | $39.02 | $36.30 |
| Market Cap | $36.8 bil | $30.3 bil |
| Trailing P/E | 12.7 | 15.9 |
| P/B Ratio | 2.2 | 4.7 |
| Earnings Growth | 5.5 | 19.9 |
| Dividend Yield | 3.2 | 10.22 |
| Debt/Equity | 0.2 | 0.4 |
| Return on Equity | 18.1 | 36.3 |
| | $47-$65 | $33-$41 |
| Stock Valuation | Undervalued | Fairly valued |
| Upside Potential to Reach a Fair Stock Value | 21% | - |
Data as of December 2, 2012
From initial impressions, SCCO is faring much better than FCX. The company is managing to outperform FCX on multiple fronts; its ROE is double that of FCX. Return on equity allows investors to analyze the relative success of management in generating a profit for direct shareholders. Both companies have debt levels that can be easily monitored, maintained and controlled, although investors should be aware of the increasing production costs associated with the industry, which might compel these companies to take on more debt for further investment into research methods.
In the last three years, SCCO's net income has increased by more than 100%. Strong earnings and growth can be expected from the company within the next few years. A company that is growing and offering a very good dividend yield should be a solid choice. Speaking of yield, while FCX's 3.94% dividend yield would be considered to be a great value in most circles, its competitor, SCCO's, current performance and position in the market allows a dividend yield of 10.22%.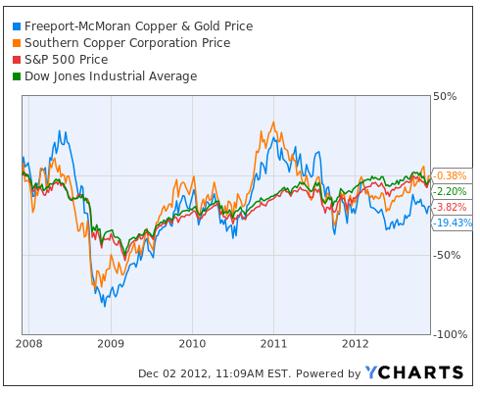 As illustrated by the graph above, copper miners have until now been following the decline present in the commodities market. Since the start of 2012, SCCO has been outperforming FCX, which is lagging behind market averages of the S&P 500 and Dow Jones Industrial Average.
The discounted earnings plus equity model, developed by EFS Investment Partners and applied to the two competitors, suggests the following: Currently, FCX stock is undervalued. EFS's fair stock price valuation indicates that this stock is trading at a high discount.
What Does the Future Hold for These Copper Miners In 2013?
Freeport-McMoRan Copper & Gold: While copper extraction is the company's primary activity, it is also a giant in the gold extraction industry. The company's three-year average growth in revenue has been 5.47%, which can be attributed to the expansionary infrastructure policies of China. Much like its competitors, the company faces difficulty due to escalating production costs, while demand dwindles from previous levels. However, demand from India is still allowing FCX to keep pace to a certain extent. For the time being, the Arizona giant faces troubles regarding its Grasberg mine in Indonesia and fluctuations in its cash flow. Cash flow from operations is not of the same intensity as it was last year, and cash flow from investment is much deeper into the negative than before. The company reported Q3 2012 net income of $824 million, and an EPS of $0.86. This was down from $1.1 billion, and an EPS of $1.10, respectively in Q3 2011.
For 2013, the company's revenues and sales might be down to the reportedly stocked warehouses in China which would force copper prices to slide again. Currently, copper prices are still below the highs witnessed in 2011. This presents a dilemma for FCX, as the company faces a less than ideal cash flow forecast for the upcoming year, coupled with the lower output from the company's Grasberg mine. Truth be told, the company's gold mining is currently its life raft; copper production was lower in Q3 2012 than it was in Q3 2011, and cannot be expected to change company fortunes in 2013.
Southern Copper: SCCO stock has been rising consistently since June 2012, but the troubled economic climate of the New Year is a grave danger to the stock. The company's copper sales volume increased by 7% in the first half of 2012. Following trends in the company's cost reduction, I believe SCCO will be able to continue upholding its high ROE as it continues to provide profit by minimizing its increase in quarter-on-quarter costs. If reports of copper stock holding in China are indeed true, perhaps the company will continue facing the misfortune of increasing sales, while being greeted by lower commodity prices. Due to the deepening European crisis, demand from Europe is expected to drop further. While the immediate future remains bullish, perhaps it is too late to buy this stock at the moment as it nears its top-out range. The stock may continue rising in the short term, but expect it to level out and reverse direction within this quarter.
While there has been political unrest in Peru, the company has shown that it can steer clear of politics and do well without any political backing from the mining sector, signaling that the company sees itself being independent of power struggles. With this assumption, Southern Copper's leadership team estimates that the company will produce about 712,000 tons of copper in 2014, 996,000 tons of copper in 2015, and 1.6 million tons of copper in 2016. The push in production is expected to be provided by the Angangueo project, which has not yet started production.
Make or Break For Investors?
Copper prices have not fallen as sharply as other commodity prices, but they remain well below previous levels. With the industry being highly price sensitive and production becoming more costly, copper stocks are perhaps not the favorite among investors. In 2013, the performance of copper industries and copper stocks will be determined by the infrastructure requirements in developing countries which have slowed down over the past year.
In the case of FCX, out of the three analysts handling the stock on Morningstar, two have provided a "buy" rating while one provided "hold" for the stock. For SCCO, on the other hand, the two analysts overlooking the stock have provided a "hold" and "underperform" rating. The Morningstar ratings seem to have taken into account the growth potential of the two stocks for the coming year. While SCCO has performed well throughout this year, it is not expected to maintain the trend going into 2013.
Bottom Line
SCCO has outperformed FCX in most metrics, and its pipelining for the future looks much more secure than the cash-strapped FCX. Competitively, SCCO also has the advantage of having a higher dividend yield and positive earnings growth.
Disclosure: I have no positions in any stocks mentioned, and no plans to initiate any positions within the next 72 hours. I wrote this article myself, and it expresses my own opinions. I am not receiving compensation for it (other than from Seeking Alpha). I have no business relationship with any company whose stock is mentioned in this article.