I recommend investors buy today Seadrill Partners (NYSE:SDLP) as a distribution growth story. This is due to its association to Seadrill Limited (NYSE:SDRL) and the John Fredriksen business empire. Seadrill Limited is an extremely powerful parent for future drop down projects. The Seadrill Limited enterprise has ample projects to drop down to Seadrill Partners. These new projects will increase revenues, profits, and net cash flow. The quarterly distribution payments will result in higher income payouts for current unit holders. Income should increase due to the Seadrill Limited parent relationship and potential for increased revenues and free cash flow projects.
Cash Distributions
Seadrill Partners will pay quarterly distributions of $0.3875 per unit or an annual $1.55 per unit distribution. Payments first go to common unitholders, including arrears from prior quarters; then to subordinated unitholders up to $0.3875 per unit; and thereafter and to all unitholders up to $0.4456 per unit.
These distributions will be made within 45 days of the end of each quarter, with the first payment linked to the fourth quarter of 2012.
If Seadrill Partners still has available cash, after setting aside money for management fees and operational reserves, it will make incentive distributions to Seadrill Member, with increasing percentages up to 50% of available cash above the $0.4456 level per unit.
These cash distributions will be subject to federal income tax. Seadrill Partners is a foreign company so there could be a different tax treatment of distributions made if Seadrill Partners is not granted the exemptions it believes it will receive.
As a Master Limited Partnership (MLP), some portion of the distributions to unitholders will be treated as return of capital and reduce the portion that will be treated as a taxable dividend. The company estimates that, if held through December 2014, no more than 20% of all cash distributions will be taxed as dividends under US law.
Seadrill Partners Formation
Seadrill Partners was formed as a limited liability company (LLC) in June 2012, carved out as a spinoff from Seadrill Limited as MLP. The new entity manages and takes partial equity ownership of existing Seadrill Limited properties and pays for them with proceeds from the Seadrill Partners' initial public offering conducted on October 19, 2012.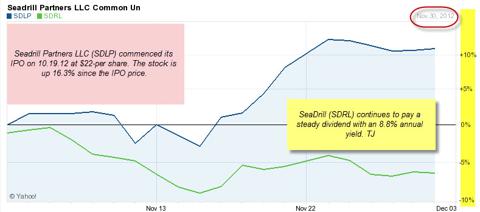 The new entity is expected to improve liquidity and capital raising options for Seadrill Ltd.
Contractual Length
Seadrill Partners' contractual length with 3rd parties is over 4 years in duration. This provides a wide time frame for Seadrill Partners to earn revenues and establish new contractual opportunities.
Parent Entity
Seadrill Limited was founded in 1972 and is headquartered in Hamilton, Bermuda. The company has 7,500 employees and operates and owns fifty nine offshore drilling rigs (thirteen semi submersible rigs, nine drill ships, twenty one jack up rigs, and sixteen tender rigs). Seadrill Limited stock closed at $38.53 as of November 30, 2012, with a market cap of $18.08 billion, a price to earnings (P/E) ratio of 22.5x, an annualized dividend of $3.36 and a dividend yield of 8.8%.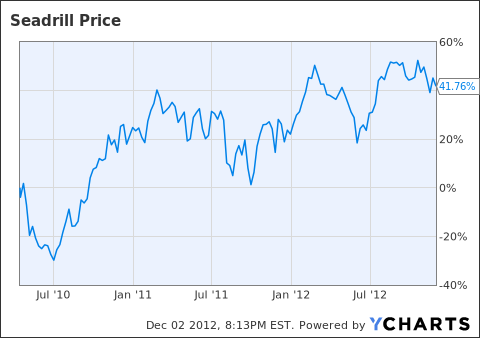 Spin-Off Business Structure
Seadrill Partners is essentially a holding company that does not have revenue generating operations of its own.
As the organizational chart highlights, the new entity, Seadrill Partners, will take on i) full ownership of Seadrill Operating General Partner LLC, ii) a 30% limited partner interest in Seadrill Operating LP, and iii) a 51% limited liability interest in Seadrill Capricorn Holdings LLC.
Seadrill Partners i) sold 8,750,000 common units through its IPO to the public, ii) assigned 16,065,025 common units to Seadrill Ltd., iii) assigned 16,543,350 subordinated units to Seadrill Ltd., and iv) assigned all incentive distribution rights to Seadrill Member LLC, which is 100% owned by Seadrill Limited.
Effectively, the parent company - Seadrill Limited - owns a 78.8% interest in Seadrill Partners and receives all of its incentive distributions, while public unitholders will own 21.2% of Seadrill Partners.
Seadrill Operating LP and Seadrill Capricorn Holdings LLC, referred to as OPCO, operate modern offshore drilling platforms for tier one companies (under long-term contracts) such as Chevron (NYSE:CVX) and Exxon (NYSE:XOM), at pre-contracted daily rates that result in revenue that will ultimately flow to Seadrill Partners, prorated based on ownership interest held. This revenue, after subtracting management fees and operating expenses, will be used to make quarterly distributions to Seadrill Partners' unitholders.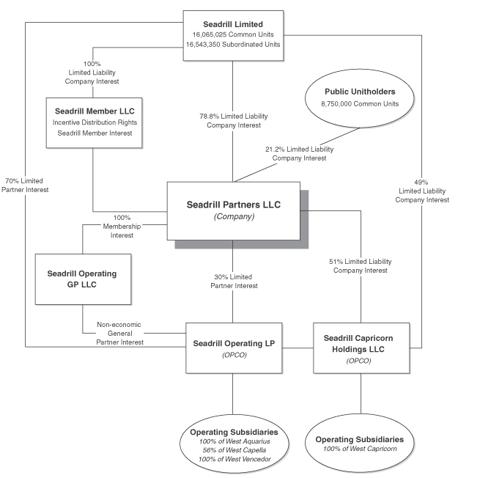 OPCO - the Operating Companies
Seadrill Operating LP operates three rigs - i) West Aquarius with 100% ownership, ii) West Capella with 56% ownership, and iii) West Vencedor with 100% ownership. Seadrill Capricorn Holdings LLC fully owns and operates the West Capricorn rig.
All of these rigs are fairly new, leased to top companies with an average of 4.1 years left on contracts, and day rates that range from $206,500 to $530,000.
Assets Being Acquired
As the chart above shows, Seadrill Partners acquired a 30% interest in Seadrill Operating LP, a 51% interest in Seadrill Capricorn Holdings LLC (also known as OPCO). OPCO assets include 100% ownership of West Aquarius, West Vencedor and West Capricorn, and 56% ownership of West Capella.
West Aquarius is an ultra deepwater semi submersible rig located in Canada that was built in 2009. It is under contract to Exxon Mobil from August 2012 through June 2017, at a day rate of $530,000. It has a water depth of 10,000 feet and a drilling depth of 35,000 feet.
West Vencedor is a semi-tender rig based in Angola that was built in 2010 and is under contract to Cabinda Gulf Oil Company and Chevron from March 2010 to March 2015 at a day rate of $206,000. It has a water depth of 6,500 feet and a drilling depth of 30,000 feet.
West Capricorn is an ultra deepwater semi submersible rig based in the US, built in 2011, and under contract to BP (NYSE:BP) from July 2012 through July 2019 at a day rate of $487,000. It has a water depth of 10,000 feet and a drilling depth of 35,000 feet.
West Capella is an ultra deepwater drill ship based in Nigeria that was built in 2008. It is under contract to Total (NYSE:TOT) from April 2009 through April 2019 at a day rate of $447,000 (day rate will increase to $640,000 in September 2013). It has a water depth of 10,000 feet and a drilling depth of 35,000 feet.
Expansion
In addition to the four offshore assets above, Seadrill Partners has the right to acquire additional equity interests in OPCO. Seadrill Partners can also purchase two under-construction tender rigs - T-15 and T-16 - from Seadrill Limited within 24 months of them being contracted for five years or more.
T-15 is a tender rig that will be completed in April 2013, with a water depth of 6,500 feet. Chevron is expected to sign a five-year contract for it that SDLP has the right to take over.
T-16 is a tender rig scheduled to be completed in June 2013, also with a water depth of 6,500 feet. Chevron is expected to sign a five-year contract for it that SDLP has the right to take over.
Arrangement with Seadrill Limited
Seadrill Partners is first in line to buy additional equity stakes in OPCO. In addition, Seadrill Partners has the right to buy any rigs that Seadrill Ltd. places into operation with contracts of five years or more. Seadrill Ltd. currently has multiple new rigs under construction, of which Seadrill Partners has the right to purchase two tender rig barges, T-15 and T-16, that are expected to be placed under five-year contracts with Chevron in April and June 2013.
In addition to its parent-child relationship with Seadrill Ltd., Seadrill Partners also expects to benefit from its relationship with the Fredriksen Group that includes Golar LNG limited (NASDAQ:GLNG), Golar LNG Partners, Archer Limited, Frontline Limited (NYSE:FRO), Ship Finance International (NYSE:SFL), Deep Sea Supply plc, Northern Offshore Ltd. and Golden Ocean Group - companies that operate fleets of LNG carriers, offshore rigs, crude oil tankers, marine leasing and dry bulk shipping operations.
IPO
Seadrill Partners priced its IPO at $22 per unit with 8,750,000 common units and over-allotment option of 15% (1,312,500 additional units that the underwriters can purchase within 30 days off the IPO).
Without factoring in the over-allotment option, Seadrill Partners raised $175.5 million from the IPO after offering expenses, underwriting discounts, commissions and fees. Money from the IPO went to Seadrill Ltd.
Dilution: When Investors buy Seadrill Partners units at the IPO price, they immediately face a dilution of $14.36 over tangible book value of $7.64.
Pro Forma Financials
Based on assets acquired, on a pro forma basis, Seadrill Partners had full year 2011 operating revenues of $497.2 million, net operating income of $253.2 million and net after-tax income of $141.1 million.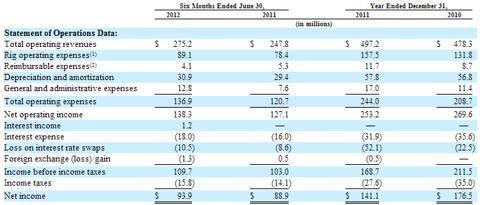 As of June 30, 2012, the company had drilling assets worth $2.1 billion, total debt of $1.24 billion and owners' equity of $934.4 million. In the first six months of 2012, the company's assets generated $98.1 million in cash from operations with three rigs in operation.

The table below shows cash flow data ($98.1 million in operating cash for the first six months of 2012 with $57.2 million used in investing activities and $53.4 million used in financing activities). The company had three rigs in operation at June 30, 2012 with an average age of 3 years which is quite low and represents a fairly modern fleet. The company spent $57.2 million on capital expenditures in the first-half of the year.

Projections
Looking ahead, Seadrill Partners expects full year 2013 operating revenues of $658.4 million, net operating income of $308.1 million, and net income of $213.3 million, up from $141.1 million in 2011 and $146.1 million for the first six months of 2012.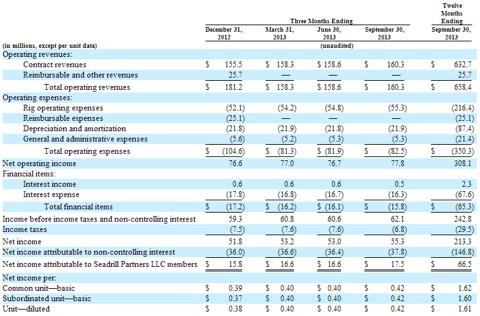 2013 diluted earnings per unit are projected at $1.61, slightly above its projected annualized cash distribution to unitholders at the base level of 38.75 cents quarterly.
The company expects to make distributions per unit of at least $1.55 in 2013.
Upcoming Oversupply of Rigs: While Seadrill Ltd., and Seadrill Partners by association, enjoys a solid reputation with top-tier clients, third parties have several rigs currently under construction which may cause downward pressure on day rates until new supply is fully absorbed into the market. This could potentially impact revenues, earnings and distributions in the coming years.
Business Strategy
In addition to leveraging its Seadrill Ltd. relationship, Seadrill Partners plans to grow through the acquisition of rigs from Seadrill Ltd. and other parties, maintaining predictable cash flow through long-term contracts and an operational focus on minimal downtime, providing outstanding customer service with a high degree of safety, and maintaining a modern and technically advanced fleet.
Seadrill Partners believes its business strategy will help it access equity and debt capital markets to expand assets and revenue, with all assets from acquisitions going to one of its two operating companies.
The company also has a $300 million credit facility with Seadrill Ltd. that will help with growth and acquisitions.
Management
Seadrill Partners will depend entirely on Seadrill Ltd. to manage its operations, for which Seadrill Ltd. will be paid costs and expenses, and a management fee. In addition, OPCO might also enter into various management and operational agreements with Seadrill Ltd.
Seadrill Partners' executive management team comprises of two individuals, Chief Executive Officer Graham Robjohns (who also serves as the CEO of Golar LNG Partners LP) and Chief Financial Officer Rune Magnus Lundetrae (who also serves as CFO at Seadrill Ltd.) The management team is overseen by the Board of Directors that includes Tor Olav Troim (Chairman), Bert Bekker, Kate Blankenship and Harald Thorstein.
Summary
Seadrill Partners helps improve liquidity options for its parent company, but the spinoff does not appear to breakout a faster growing unit from its parent. SDLP also offers a lower distribution yield than its parent at current levels. Moreover, increasing new rig supply could put pressure on earnings, unit price and cash distributions in the future (industry sources estimate that as of September 30, 2012, there were 12 tender rigs, 20 semi-submersible rigs and 75 drill ships under construction).
Seadrill Partners will of course benefit from its top-tier relationships with its parent, subsidiary companies such as Golar LNG, clients such as Chevron, and the expertise its management team brings in this line of business.
Investors should also consider tax implications before purchasing units and weigh the benefits of Seadrill Partners versus purchasing shares directly in the parent entity.
I believe Seadrill Partners will offer a growing income stream. This is due to the drop down assets from parent Seadrill Limited.
Disclosure: I am long SDLP, SDRL, XOM, GLNG, CVX. I wrote this article myself, and it expresses my own opinions. I am not receiving compensation for it (other than from Seeking Alpha). I have no business relationship with any company whose stock is mentioned in this article.
Additional disclosure: I am long Bullish Vertical Put Credit Spreads in SDRL, and GLNG. I own shares/units in SDLP, XOM, GLNG, CVX. TJ 12.02.12 TJ