This article describes a simple options portfolio that produces huge gains if a Black Swan event takes place, and also can make excellent gains if nothing much happens in the market. It involves using options on the S&P 500 volatility index (VIX).
I have been working on a Black Swan insurance policy for several weeks. First, I tried to construct something with VXX options but ended up with a complicated collection of calendar, diagonal and butterfly spreads that proved quite difficult to maintain. When VXX fell 13.5% two weeks ago and my VXX portfolio was set up to prosper when VXX moved in the other direction, I lost money and decided to close down the portfolio.
Now I think I have found the answer. Since VIX is just a derivative number, you can't trade it like a stock, but you can trade options on it (with some restrictions - see below).
If a Black Swan event (i.e., market crash, 9/11 event, European company declares bankruptcy, etc.), one thing we know for sure. VIX, the so-called "fear index" will soar. So if you are long VIX calls, you should make money when the market crashes. With VIX as low as it is right now (15.87), you can set up some options positions that will make a bundle if the market implodes, and also make about 50% on your money in one month even if VIX doesn't move a bit.
I call this Black Swan insurance that not only doesn't cost you anything, but it makes a nice profit a great deal of the time (assuming that VIX behaves like it has historically). This table shows how much volatility there is in the market (i.e., the S&P 500 tracking stock, SPY) and VIX (the volatility index of SPY options):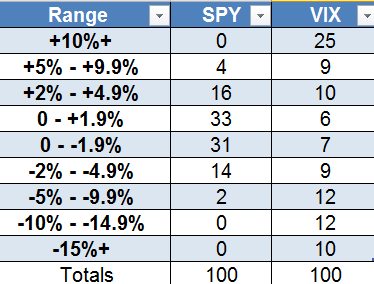 Some people might prefer a graphic of these numbers: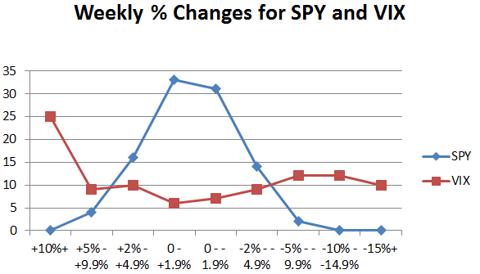 There is a huge difference between the volatility of the market in general and the volatility index (VIX). The great majority of the time (64%), SPY fluctuates less than 2% in either direction in a week. VIX, on the other hand, only fluctuates 13% of the time in that range. In almost half the weeks (47%), VIX changes by more than 10%. That is extreme volatility. Just think how much you might gain if you were on the right side of one of those moves.
These numbers suggest that the best option strategy for VIX would be a back spread of some sort (back spreads like volatility). Back spreads involve buying several options (usually near the strike price) and selling fewer contracts of another option in the same time series (usually in-the-money) and collecting a credit on the two options.
For example, you might want to speculate that the fiscal cliff controversy might escalate in the next few weeks and VIX might soar. You would like your extra options to be calls. You might buy 10 VIX Dec-12 17 calls ($.65) and sell 6 VIX Dec-12 15 calls ($1.20) and collect a $70 which would be yours to keep at any ending price below 15. (There would be a $1200 maintenance requirement on these positions and your maximum possible loss would be $1130 plus commissions if VIX closes exactly at 17.
However, VIX must get as high as 20 before you make a gain on the upside. Every point it moves above 20 would net you $400 since you have 4 more calls than you are short. I don't like that back spread. I believe that there is a greater likelihood that VIX will end up above 15 and below 17 unless a market crash comes along or the fiscal cliff seems to be certain (either event should send VIX over 20). The back spread loses money at every ending price between 15 and 20, a range that seems to be where VIX hangs out these days.
Check out the two-year graph of VIX: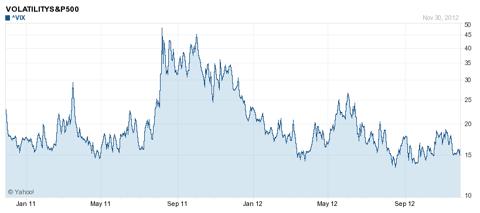 It is clear that VIX rarely goes below 15 and that every time it does, it is highly likely to shoot much higher in a month or two. So here is my current bet on VIX.
I am long 15 VIX Dec-12 13 calls (cost $2.50) and short 9 VIX Dec-12 16 calls ($1.25). I have 9 vertical spreads and 6 extra calls. I had to shell out $1125 for the vertical spreads and $1500 for the extra calls for a total investment of $2625. (This is one of the eight option portfolios I carry out at TerrysTips.com. - many of my subscribers have their broker at thinkorswim at TD Ameritrade make these trades for them through their Auto-Trade service.)
Here is the risk profile graph for these positions at the December expiration (which comes on the 19th, earlier than regular options) -

If the Black Swan event occurs, VIX will skyrocket and these positions will make correspondingly huge gains. If VIX climbs to 20 there would be a $3900 gain, or about 150%. Since the mean average for VIX is actually higher than 20 (20.54), this is not such a great stretch. Every point VIX moves above 20 will result in an additional $600 in gains because of the six extra calls.
The neat thing about these positions is that if VIX stays exactly where it is today on December 19, the portfolio will gain about $1500, or about 57% on the investment. I figure that this is Black Swan insurance that not only doesn't cost anything, but it could pay off handsomely if VIX is flat or moves higher.
We need to consider the loss potential. Losses start just after VIX falls a little below 15 on December 19. For the maximum loss to occur, it would have to fall all the way to 14. Check out the graph above to see how many times it goes to 14. Would you rather make a bet on VIX being over or under 15? I'll take over 15 any time you want to bet. In short, I think the downside possible loss is highly unlikely in these times of uncertainty at home and in Europe (and who knows when another war will break out or a 9/11 event takes place).
There are some unusual things about trading VIX options. Weekly options are not available. You are restricted to the regular monthly option series. Even more restricting, calendar spreads and diagonal spreads are not allowed in VIX options because the underlying entity is a derivative rather than an actual stock. You are pretty much restricted to vertical or back spreads unless you want to post a large maintenance requirement.
I like owning these options positions. Every bit of bad news that comes along (and the media just loves to broadcast bad news), I know I might make a big gain. And if nothing much happens, and option volatility doesn't change much, I also make good gains because I am enjoying premium decay every day. I look at the theta number on the graph and know how much money I will make each day that nothing happens. By the way, theta for the above portfolio is $24, almost 1% a day (and it will move higher every day for the next 16 days until the options expire). It is a nice feeling to have.
Disclosure: I have no positions in any stocks mentioned, and no plans to initiate any positions within the next 72 hours. I wrote this article myself, and it expresses my own opinions. I am not receiving compensation for it (other than from Seeking Alpha). I have no business relationship with any company whose stock is mentioned in this article.
Additional disclosure: I am long call options on VIX