New York Mortgage Trust Inc. (NASDAQ:NYMT) is a mortgage REIT. It invests in Agency and non-Agency MBS, high credit quality residential ARMs, commercial mortgage loans, and other financial assets. Targeted assets currently include Agency RMBS such as Agency ARMs, fixed-rate RMBS, and Agency IOs (interest only), and multi-family CMBS. NYMT also invests in non-Agency RMBS. These include IOs and POs (principal only), collateralized mortgage obligations, residential mortgage loans (including from distressed markets), and various commercial real estate debt investments.
The company has been growing largely through stock offerings principally to benefit from economies of scale. During Q3 2012 and early October 2012 it had the following stock sales:
July 17, 2012 - 5,175,000 shares at $6.70 for net proceeds after fees of $33.1 million. These monies were used primarily to buy Agency ARMs and to repay short-term debts.
August 16, 2012 - 11,500,000 shares at $6.73 for net proceeds of $74.7 million after fees. These monies were used to purchase Agency RMBS, including fixed-rate and adjustable-rate Agency RMBS.
October 3, 2012 - 15,525,000 shares at $6.89 for net proceeds of $104.2 million after fees. These monies were used primarily to purchase Agency RMBS and multi-family CMBS.
This dramatic increase in the overall number of shares has not negatively impacted the per share earnings, the per share book value, or the per share dividend. The dividend was $0.27 per share for Q3. That amounts to $1.08 per year per share or 16.29%. The per share book value increased to $6.52 at the end of Q3 2012 from $6.51 at the end of Q2 2012. NYMT earned $7.9 million or $0.30 per share in Q3 2012 versus a net loss of $15,000 or $0.00 per share in the year earlier quarter. The adjusted net income was $0.34 per share. GAAP Net Income for Q3 2012 was $8.1 million. This was up $1.9 million from the year ago period.
NYMT sold $49.4 million of Agency ARMs during Q3 for a net realized a gain of $1.6 million. NYMT also had net unrealized gains of about $800,000 related to its CMBS portfolio. Plus operating expense leverage has been decreased by over 50% due to the growth of NYMT's equity base during the year. The earnings were more than sufficient to fund the $0.27 quarterly dividend paid October 24, 2012 to shareholders of record as of September 28, 2012.
These results, along with the previous results this year, tend to justify NYMT's management changes in the last year. In December 2011 NYMT terminated its management agreement with HCS - Harvest Capital Strategies LLC. In its place NYMT is performing some of the management itself. It has also entered into separate management agreements with both The Midway Group (managing RMBS expertise) and RiverBanc LLC (origination and credit underwriting expertise) and to provide investment management services for particular investment strategies. Each is an expert in its area. The results have been great.
In Q4 2012 NYMT should benefit from all of the investments made with the stock offering monies of both August and October 2012. These should provide a significant improvement in results. This is especially true of the August stock offering monies buys. These had already added to the share dilution for the Q3 results, but added only about one month worth of profits from the invested monies.
NYMT added $247,000 to its loan loss reserves in Q3 2012. This brings the total to $2.9 million. These are to guard against potential losses of loans more than 60 days delinquent. The portfolio distribution (and associated CPRs and yields) is in the table below. The CPRs (Constant Prepayment Rates) of the Agency fixed-rate RMBS are particularly impressive at 2.0%.

In sum NYMT is managing the environment well. It has blended risks by investing significantly in multi-family CMBS. These are doing well in an environment in which the home ownership percentage is decreasing. NYMT is also blending in non-Agency RMBS IOs and POs, which each guard it against different possible changes in the market. For instance POs might help insure against higher CPRs. If those loans are paid off early, the entire principal will be paid. This would result in profits, when the PO RMBS were bought at significant discounts to face value. In other words the whole time value discounts would be realized immediately.
The two year chart of NYMT provides technical direction for an NYMT trade.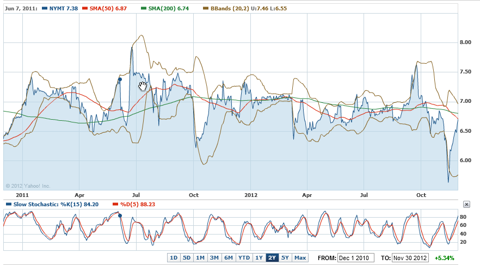 The slow stochastic sub chart shows that NYMT is near overbought levels. The man chart shows that NYMT has been in a high noise consolidation pattern for the last two years. NYMT has recently rebounded from the general mortgage REIT sell off. It looks like it may well have more upside in the near term. However, that will probably be dependent on the direction of the overall market. The performance of NYMT seems likely to continue to be good.
The new NYMT management scheme is working. The Fed has announced that it intends to hold interest rates low at least until mid-2015. The end of Operation Twist at the end of this year may mean a slight up move in mortgage rates. However, the Fed may institute a substitute for Operation Twist. We will have to wait to see how all this turns out. It seems unlikely that rates can go much lower. It also seems unlikely that the Fed will let rates go dramatically higher in these troubled times.
The major factor in the success of NYMT near term may be the health of the housing market and the health of the US economy. What the US Congress does vis-à-vis the fiscal cliff may have a major impact on this. You may want to average in on this 16.29% dividend payer around the fiscal cliff. This should decrease any negative effect from a possible stock price decrease. With this kind of strategy, NYMT seems like a good investment, even with the fiscal cliff coming up. The housing market will eventually recover. NYMT is hedging its bets on the housing market nearer term with more investment in multi-family CMBS. People who move out of single family homes will move into apartments. NYMT is a buy with its great 16.29% dividend and its solid PE of 6.73.
Note: Some of the fundamental data above is from Yahoo Finance.
Good Luck Trading.
Disclosure: I have no positions in any stocks mentioned, but may initiate a long position in NYMT over the next 72 hours. I wrote this article myself, and it expresses my own opinions. I am not receiving compensation for it (other than from Seeking Alpha). I have no business relationship with any company whose stock is mentioned in this article.