Teva Pharmaceuticals (NYSE:TEVA) was hit hard in the pre-market trading Friday morning. The company, under new leadership, announced that revenues and earnings could come in below analyst expectations for 2013, and the sell-off was rapid and hard. Shares dropped over $2.00 in the pre-market but recovered with a gain by the end of the day.
The smart money took positions in my opinion.
Teva has so much going for it that it is difficult to grasp how this company could even come to announce a downward forecast at all. The fact is that there has been pressure on the company which, rather than hiding from, they are confronting.
They could have said nothing until after missing estimates one quarter, but the company chose to be more transparent than ever before. I would think that the new CEO, Jeremy Levin, has made this a priority.
What the company has said, is that it believes that sales will come in between $19.5-$20.5 billion, while earnings come in between $4.85-$5.15/share. Analysts expected revenues of about $20.8 billion and earnings around $5.62/share. Quite a difference, but now the company has set the foundation for what could be a different direction for them in 2013. (Read the complete financial review here)
To me, this creates a rather unique opportunity for all investors to take another look at TEVA without the analysts guesses, but with real corporate guidance. I believe the stock rallied during the regular trading hours, just on this fact alone.
Teva Could Be A Monster In Sheep's Clothing
Let's face facts. The push is on in just about every corner of the Earth to reduce healthcare costs. Here in the US, the Affordable Care Act just about mandates lower costs. One of the easier targets is drugs. With all the new drugs in the pipeline of just about every major pharmaceutical company on the planet, Teva is the go-to company for generic drug manufacturing. By 2014, the full effect of the new healthcare laws will take hold and force more doctors to prescribe more generics.
As the population ages, there will be an even greater need to have new drugs, off patent, become less costly. Not just for the patient, but for the entire healthcare eco-system. The pressure will be enormous.
One needs to know what the focus of TEVA will actually be as they move into this "battle". In their conference call, CFO Eyal Desheh used some caution in explaining sales of Copaxone, which comprises about 20% of all of Teva's revenues. Desheh estimated sales would be between $3.7-3.9 billion in 2013. Being conservative with forward looking figures, and at the same time beginning to change course could be the driving force behind the new growth phase of the company.
Teva stated that they will begin "cost reductions" by ending various R&D efforts to remove up to $2 billion in direct costs from the company. This would more than likely affect not just the R&D programs themselves, but across the board. With over 40,000 employees there could be significant cost cutting there as well.
With current cash flow of about $4.5 billion from all operations, cutting costs in the neighborhood of $2 billion could give a significant boost to the cash position. This could give the company much more flexibility when going after the real prize (in my opinion), of more drugs being manufactured in generic form, to capitalize on the new healthcare laws.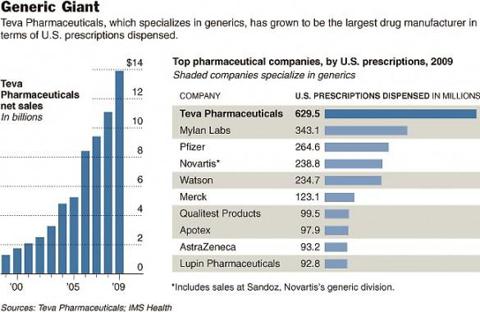 As this chart from 2009 clearly shows, TEVA is the absolute powerhouse in the generic drug market. Far and away the largest in the US. It is my belief that as this business grows, TEVA will gain more than a "fair" share. I believe they will run away with it.
Keep in mind that the company has not backed away from its goal of $31 billion in sales by 2015. If that were to come to fruition, that would mean an increase in worldwide sales in the next 36 months of an astounding 50% from anticipated revenues for 2013. Will they make it?
Since Teva supplied 1 out of every 6 prescriptions back in 2009-2010, it does not take a rocket scientist to see the potential of them coming close with the lower cost mandates of the healthcare laws. There will be enormous pressure on big pharma to reduce prices on patented drugs and the "urge" to extend patents might not be as great as it has been. Simply because those big pharma companies will need to reduce their cost structure as well.
From the article noted above;
"NAME-BRAND pharmaceutical companies typically invest $800 million or more on the research, development and marketing of a blockbuster drug for a chronic disease. They generally charge high mark-ups on their medications to recoup those costs, and they embroider their success with towering headquarters and lush executive suites.
Here at Teva's North American headquarters, the boss occupies a ground-floor, low-frills corner office with a view of a parking lot."
Branded Drugs Work Also
Another area that should be noted is that Teva is not just a generic drug maker. Recently they have been investing in collaborative efforts for various branded drugs, like Copaxone, as well as the purchase of brand name drug companies such as Cephalon about 16 months ago ($6.8 billion). Teva will begin to see a $500 million cost savings from the overlap with that acquisition in 2013. Just in time for the sales of the sleep disorder drug Provigil to become a positive factor to Teva's bottom line.
The acquisition might not have been a perfect one, but on balance, Teva did want to expand further into the brand name drug business and sleep disorders are a very large problem, between Narcolepsy to Sleep Apnea.
Eventually this acquisition will give Teva about $7 billion in branded drug sales. (Obviously getting the company closer to the $31 billion sales goal by 2015)
From the Teva website:
"In addition to its leadership in the generics market, Teva has a significant and growing branded pharmaceutical portfolio. Teva has branded products in several therapeutic classes, including CNS, respiratory, women's health, and oncology. Brands currently on the market include COPAXONE®, AZILECT®, NUVIGIL®, ProAir®, TREANDA®, and a sizeable women's health portfolio. Additionally, the company has over 40 products in various stages of clinical development."
Obviously it is not just about generic drugs by themselves anymore.
Another partner with a very strong pipeline is Antares Pharma, Inc. (AIS) which has a strong pipeline of new drugs in the self injection industry.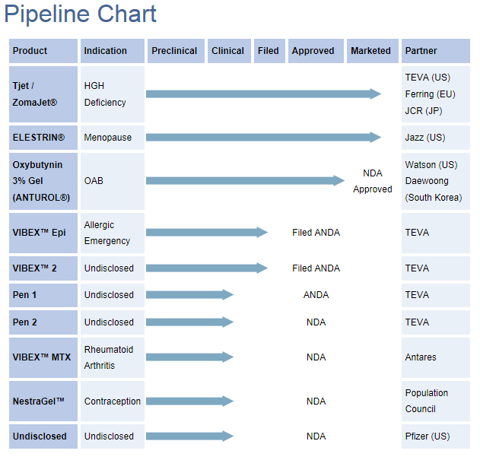 As you can see in the chart above, Teva is a major player in a wide assortment of products that are in their pipeline. Not only would this collaboration benefit AIS, but obviously profits received by Teva will enhance margins and bottom line earnings in years to come.
One other branded product to consider is the Plan B One Step contraceptive pill which Teva has developed. Currently there are efforts from various agencies in making this drug an over the counter product. In this article it was noted:
"....... the American Academy of Pediatrics has released a position statement calling for physicians to prescribe the pills and other contraceptive devices in advance so that unwanted pregnancies can be thwarted.
This is the second time in as many weeks that a professional medical society has issued a pronouncement about birth control pills. Last week, the American College of Obstetricians and Gynecologists called for the pills to be sold over the counter and issued a policy paper with a various data to back up its opinion (see Pharma news)."
This has been attempted in the past, but these agencies are making another full court press to have this product and others, made more readily available. If the current administration can squeeze this through Congress, Teva could have one more huge product to grow both the top and bottom lines more readily.
Growth Through Acquisitions
Acquisitions has long been a Teva strategy as the following chart shows:
Year Of

Acquisition

Country
Company Acquired

Price

(US$mn)

Net Annual Sales

Pre Purchase

(US$mn)

1996
US
Biocraft
290
-
1998
Holland
Pharmachemie
87
130
1999
US
Copley Pharmaceutical Inc
220
133.5
2000
Canada

Novopharm (Viventia )

Biotech Inc

280
297.5
2004
US
SICOR
3400
455
2006
US
IVAX
7400
547.1
2008
US

Barr Pharmaceuticals

+ Pliva

7500
1300 (2005)
2008
Spain
Bently
360
114
2008
US
CoGenesys
412
-
2010
Germany
Ratiopharm
4950
2112
2010
Monaco
Theramex
265
122.4
2011
US
Cephalon
6800
2800
Eliminating competition has long been an accepted business practice and Teva certainly has done its fair share (Ratiopharm being the last "biggie" in generic drugs).
It has served the company well of course, but now it is time to stop spending and start growing. Again.
Given the sheer size and generic drug footprint of Teva, it still possesses Porter's Five Forces, there simply is too much strength within Teva for any competition to become bigger. If that remains the case, then Teva will be the generic drug company to thrive in the new era of mandated healthcare.
Did I Mention Generics?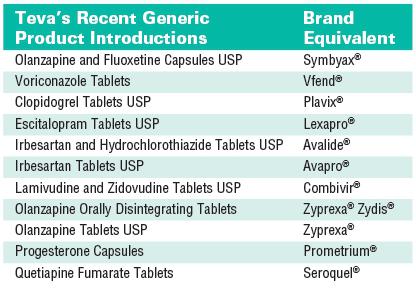 This chart shows recent generic drug launches, and as you can see, the drugs are across the entire spectrum of medical needs. Obviously the company will not stop here, and as more drugs come off of patent, Teva will be right there picking and choosing what THEY want.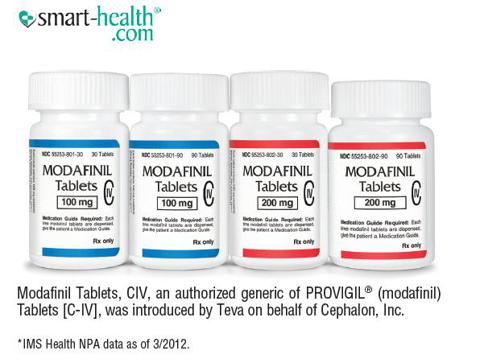 Modafinil gives Teva both the generic and the brand (Provigil) which could be something of the "hybrid" company that Teva has been seeking. I can see this happen with more drugs for Teva as well. While aiming for this, the big elephant in the room is the Affordable Care Act, and Teva is front and center on this opportunity. From the Teva website:
"Teva's vision is to make quality health care accessible. The company's Government Affairs team occupies an office on Capitol Hill and works on behalf of American consumers to advance both innovation and patient access to needed therapies. Teva launched the Smart-Health.com website, where patients can learn about generic pharmaceuticals and why they are an important element of high-quality, affordable health care. Teva is the leading provider of affordable generic medicines. Its robust pipeline of future products is a source of continuing value to American consumers."
I believe there is no doubt who will be the leader in this market.
The Combination Of Capital Appreciation Potential And Dividend Growth
Yes, we just learned that Teva expects 2013 to be a difficult year. One of transition for them. With reduced sales and earnings being forecast, investors would be wise to monitor developments. That being said, with their cost reduction strategy, and synergies finally realized from recent acquisitions and their "hybrid" approach, PLUS the Affordable Care Act opportunities, I think we might just be in for a surprise over the next few years for solid capital appreciation.
Keep this in mind as well;
Teva has nearly tripled its dividend since 2007 (yes, not in a straight line up) and has a very low payout ratio of 32%. Not only low enough to keep the dividends coming, but low enough to return even more to shareholders. I could see even higher dividends as their total strategy unfolds. For now, their 2.10% yield seems too frugal, but that could change (for the better) in 2013 as well.
My Opinion
I urge investors to do their own due diligence on TEVA before making any decisions. Keep in mind that the company itself is anticipating lower sales and earnings next year.
This analysis is by no means a suggestion to buy the stock, or to sell the stock. It is my own view of the company and what I see unfolding. I can be completely wrong, or completely right. Time will tell of course, and I am personally adding on any pullbacks.
Disclosure: I am long TEVA. I wrote this article myself, and it expresses my own opinions. I am not receiving compensation for it (other than from Seeking Alpha). I have no business relationship with any company whose stock is mentioned in this article.