Background
It is now time to draw investors' attention to one of the more boring parts of technology. The company that I'm about to mention doesn't make things that go into tablets or smartphones. It draws very little media hype, and the share price has been on a fairly clearly defined down-trend for the last couple of months. Best of all, it trades for what could only be described as incredibly pessimistic valuations. Interested?
The company that I'm talking about is Seagate Technology (NASDAQ:STX). Seagate, for those of you who are unfamiliar with this "old" technology company, makes hard-disk drives. Yep. The tried-and-true, magnetic-platter based storage products that go into PCs, servers, game-consoles, and anything else that requires lots of (relatively) inexpensive storage. Of course, with the advent of solid state drives, coupled with the incessant perpetuation of the "death of the PC" by the sell-side analysts and the media, Seagate and its rival Western Digital (NYSE:WDC) are down in the dumps with single digit P/E ratios (3.32 and 4.46, respectively).
Now, I would generally not recommend buying a company - let a lone a technology company - on valuation alone. What's cheap can get cheaper and what's pricey can get pricier. I can, however, recommend buying a high-quality, high-yielding company so long as the dividend is safe and growing. Does Seagate fit the bill? It sure does.
The Dividend Is Sustainable
Seagate, as of the most recent dividend increase, pays $1.52 per share on an annualized basis. At the most recent close of $25.10, this represents a 6.05% yield. Further, the dividend has been growing at a fairly rapid clip. At the beginning of 2012, Seagate paid $1.25/share on an annualized basis. Of course, management saw fit to increase the dividend earlier this year to $1.28/share annualized. And, on 11/29, Seagate once again announced another dividend hike to today's $1.52 annualized. This is some very high-powered dividend growth.
It seems too good to be true, but is it? Well, in the current trailing twelve month period, Seagate has earned $7.52/share, meaning that the payout ratio is a modest 20.2%. More importantly, the company generated $3.5B in free-cash-flow over the last 12 months. A quick look at the following slide from Seagate's most recent analyst day presentation gives investors insight on just how Seagate's FCF is allocated: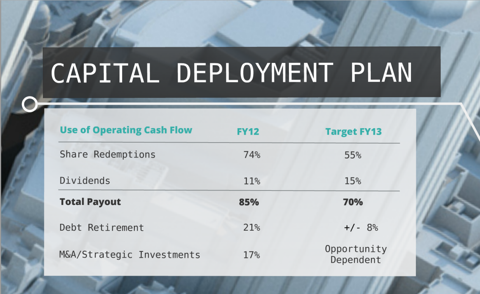 Click to enlarge
This is quite investor friendly: 55% in FY13 of FCF goes to buybacks and 15% to dividends. So even today's 6% dividend yield is quite conservative compared to what could potentially be paid out. More importantly, with such aggressive buybacks, the total payout per dividend shrinks, meaning that even if the actual amount paid total remains fixed, investors get a larger piece of that pie.
So what this all means is: that big fat dividend is pretty miniscule to what the company could afford to pay if it shifted resources away from buybacks and towards dividends. It's safe and can be counted on -- it's not a trap.
But Wait, Aren't Hard Disks Dead?
The above argument for the safety of Seagate's dividend hinges on the firm's ability to generate FCF. The ability of the firm to generate FCF depends on the company's ability to sell hard-disk drives. So, naturally, if people stop buying hard-disk drives, Seagate generates zero cash and investors are left holding the bag. This very fear is why the company trades at 3.32x earnings. This fear is also not warranted.
While solid state drives/NAND flash will certainly take the client market by storm with their speed and power-efficiency, for every gigabyte of "bulk" storage that disappears from the actual devices, a gigabyte on a cloud server somewhere needs to be there for the device. That gigabyte probably resides on a hard disk.
Hard disk drives are incredibly cheap on a per-gigabyte basis. While hard disk drives typically cost $0.03 - $0.05 per gigabyte, solid state drives will run from $0.50 - $1.00 per gigabyte. Clearly for a large database or web-server, going pure solid state is not economically viable. Having the two work in tandem - with the hard disk holding the data and a flash solution acting as a cache - is the solution that seems to be working now and what will be working for the foreseeable future.
In the client space, while pure SSDs are certainly gaining traction, the more likely mainstream solution is what we are seeing on many Ultrabooks: hybrid solutions. These solutions either consist of a discrete, usually small solid state drive paired with a large hard disk drive or a hybrid drive that contains both NAND flash built into the same package as the magnetic disk platters. The hybrid solutions are fast and give nearly the same performance as the pure solid state drive products, making them an attractive option for those who want both speed and bulk storage without compromise.
Conclusion - Buy, Buy, Buy
Buy and hold Seagate. Its dividend is safe, large, and growing, and the core business isn't about to go away. There will always be a need for mass storage, even if it gets tucked away into the cloud. Seagate generates gobs of free cash flow, is aggressively buying back shares, and is run by solid management that has been very generously upping the dividend at every chance it gets.
If you're getting paid at least 6% annually on your initial investment - and that's not even including any capital gains on the stock - how can a dividend growth investor resist at these levels? I know I couldn't.
Disclosure: I am long STX. I wrote this article myself, and it expresses my own opinions. I am not receiving compensation for it (other than from Seeking Alpha). I have no business relationship with any company whose stock is mentioned in this article.