Every time a new version of Windows is released, people complain. They say that the new interface is confusing. They point to slow sales figures in the first few weeks of release. The death of Windows is almost certainly predicted. When Microsoft (NASDAQ:MSFT) recently released Windows 8, the newest iteration of the operating system, it all happened again. None of these arguments are new - exactly the same thing happened when Windows XP was first released. One year after the release of Windows XP only 10% of Windows computers were running the new operating system. Of course, XP went on to be extremely successful.
The difference today, of course, is the rise of smart phones and tablets. Windows 8 is Microsoft's first real attempt at breaking into the tablet market, even going as far as making their own tablet - Surface - to show off the new operating system. Apple (NASDAQ:AAPL) dominates the tablet market with the iPad, and Google's (NASDAQ:GOOG) Android operating system is a distant number two. Windows tablets have the advantage of being able to run the same applications that run on laptops and desktops (does not include the ARM-compatible Windows RT), which should be a big plus for businesses.
Microsoft stock has been declining as of late, no doubt due in part to pessimism surrounding Windows 8. After trading close to $33 per share in March of this year and at $31 per share at the end of September the stock has fallen to $26.61 as of this writing. Prices this low haven't been seen since roughly one year ago.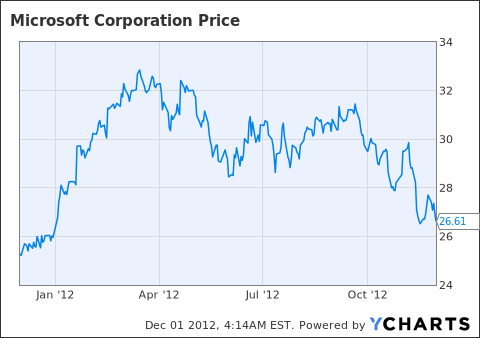 How much is Microsoft really worth? Let's find out.
The Balance Sheet
* Data from Morningstar
Microsoft is sitting on a giant pile of cash. As of the end of September 2012 the company had $66.6 billion in cash equivalents and an additional $10 billion in investments. After subtracting the $12 billion in debt that leaves a net cash position of $64.6 billion on the balance sheet. With a diluted float of 8,494 shares Microsoft has $7.60 in cash per share. Based on the current stock price of $26.61 this means that the market is valuing all future earnings at $19.01 per share.
The Cash Flow
In the fiscal year which ended in June 2012 Microsoft generated $29.3 billion in free cash flow, or $3.45 per share. That's a price-to-effective-free-cash-flow ratio of just 5.51. In the quarter since then Microsoft has generated $7.88 billion in free cash flow, similar to the $8.06 billion which the company generated in the same quarter last year.
Why So Low?
So why is one of the largest and most profitable companies in existence trading at such depressed multiples? My guess is that people are afraid that the company won't be able to grow. They're afraid that declining PC sales will bring the mighty Microsoft empire to its knees. You can criticize Microsoft for being slow to adapt, but the one thing that they're very good at - making money - is the only thing that matters.
The Valuation
Let's assume that Microsoft only grows free cash flow at the rate of inflation, about 3%. This is well below Microsoft's historical growth rate, but the conservative nature of this calculation should drive home the point. I'll use a discounted cash flow analysis to value the stock, using a discount rate of both 12% and 15% to define a fair value range. Using these parameters I arrive at a fair value of $37.21 - $47.08 per share.
Remember, this is no growth after inflation!
Here's a fun exercise: Let's assume that instead of growing by 3% per year the free cash flow shrinks by 3% per year. Using this value the fair value range is $26.19 - $29.91 per share. The market apparently believes that Microsoft will wither away to nothing.
Conclusion
The market is clearly betting against Microsoft here. What's driving down Microsoft's share price is a story. A story of a world with bountiful tablets and no PC's. A story where people don't do real work on computers but limit themselves to playing Words With Friends and watching movies. I don't know about you, but I've always wanted to watch a feature-length film on a 7" screen that I have to hold. I think the pessimism surrounding PC's, although warranted, is greatly exaggerated. As we've seen with Microsoft Surface, the tablet and laptop form factors can merge, creating a best-of-both-worlds experience. And of course, that experience will be running Windows.
Disclosure: I have no positions in any stocks mentioned, and no plans to initiate any positions within the next 72 hours. I wrote this article myself, and it expresses my own opinions. I am not receiving compensation for it (other than from Seeking Alpha). I have no business relationship with any company whose stock is mentioned in this article.
Additional disclosure: I may initiate a long position in MSFT within the next month.