It has been interesting to compare earnings performance of the S&P500 versus the broader market. On November 3, 2008  Bespoke Investment Group posted an article entitled Q3 Earnings Not All That Bad, showing that year-over-year earnings for the 500 companies of the S&P500 Index were down 5.6% from Q3 2007. But is that an accurate assessment of what is going on in the broader market?
In the fourth week of the Q3 2008 reporting season, with a total of 1837 companies (of the more than 4000 that report earnings on Wall Street) having reported (up from 1056 companies last week), average earnings dropped to -42% (down from -39% last week, -23% two weeks ago and -13% four weeks ago) versus Q3 2007.  This compares to a year-over-year 36% drop in Q2 2008 earnings, a 30% decline for Q1 2008, a fall of 57% for Q4 2007, a 21% drop for Q3 2007 and a 13% jump for Q2 2007. Q3 2008 also marks the fifth quarter that earnings have deteriorated as the season matured.  So far this earnings season, consumer services have seen the greatest declines, with the earnings of 256 companies falling an average 78% from the same quarter last year.
Here we compare the difference between tracking S&P500 earnings (lower chart) versus the broader market (upper chart). 
Chart A - Year-over-year changes for the broader market: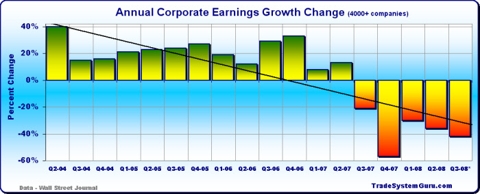 Chart B - Earnings growth for the S&P500 group of companies: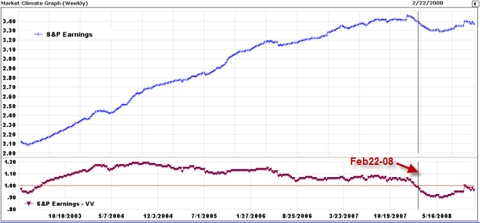 Chart by VectorVest.com
As we can see, we knew by the fourth quarter 2007 that earnings were falling for the broader market but we did not get a similar signal from S&P500 earnings until February 22, 2008, when we learned that earnings were falling for that group. 
We have found that results from a broad range of companies are much more reliable than analysts' earnings forecasts, S&P500 earnings, earnings surprises and month-to-month changes in seeing the true earnings picture. When earnings are falling for the broad range of companies, it's a negative indicator of market and economic strength. When they hit a solid bottom and start to rise, it's very good for both. And that is simply not happening yet.
And then there are the broader challenges facing the market (see Bailout Bonanza - Can we afford the cost? )...