MGT Capital (NYSEMKT:MGT) is a small ($13.3 million market capitalization) company that has the potential to yield significant upside, we believe. It has embarked on a new strategy aimed at monetizing key patents. MGT has already launched a lawsuit against some major players within the gaming sector. With the potential return of the gaming lawsuit, we believe the shares offer an attractive speculative opportunity. On top of this, we also believe MGT's management could use a small amount of its war chest of $6.5 million net cash prudently to grow and diversify the patent portfolio.
MGT's New Strategy Implies Significant Upside
MGT Capital has launched a strategy that could produce substantial returns, yet is largely unknown to the investment community. A sleepy little medical devices firm only two short years ago, since 2011 the company has restructured, reduced costs, divested non-core assets and put new management in place. Most importantly, the company has also changed its strategy to focus on the monetization of IP through the acquisition of patents and the pursuit of patent enforcement. MGT retained legacy business Medicsight, a medical technology company that, by the way, holds a number of patents. Going forward, we expect management to focus on managing - and potentially growing - the patent portfolio.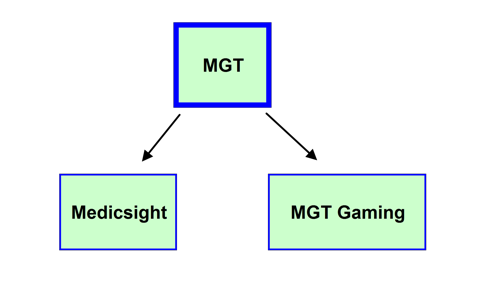 New Management Driving Strategy
The patent strategy is being driven by MGT's new management team. In 2010, Robert Ladd became a member of MGT's board and, subsequently, its interim President and CEO. MGT named him President and CEO on January 9, 2012. His background is in the financial sector. Previously, he was a managing director at Neuberger Berman and he has 30 years of Wall Street experience. CFO Robert Traversa joined the company in March of 2011 as an advisor and was appointed CFO in May of that year. He also has substantial experience in the financial sector and worked with Ladd at Neuberger Berman.
Acquisition of Gaming Patent …
On May 11, 2012, MGT acquired Patent #7,892,088 from J&S Gaming for $200,000 and established MTG Gaming, a joint venture with J&S Gaming in which MGT holds a controlling 55% interest. MGT Gaming owns the patent, which was issued on February 22, 2011. Briefly, the patent addresses a gaming system in which at least two gaming machines are networked to one another and to an interactive sign. The technology allows the players to play a second bonusing game and compete against one another if the bonus is triggered. The importance of the bonusing feature and the interactive sign cannot be stressed enough, as discussed below.
… and Patent Enforcement
MGT wasted little time in advancing its new strategy. It acquired the gaming patent in May as noted, retained a major law firm to assist with patent enforcement in June, and on November 2, 2012, MGT launched an infringement lawsuit against WMS Gaming, Caesars Entertainment Corporation, MGM Resorts International, Penn National Gaming, and Aruze Gaming America alleging that these companies "either manufacture, sell or lease gaming systems in violation of MGT Gaming's patent rights, or operate casinos that offer gaming systems in violation of MGT Gaming's patent rights." Some of the games specifically mentioned in MGT's complaint are WMS' Pirate Battle, Reel 'Em in Compete To Win, Great and Powerful Oz, Clue and Aruze's Paradise Fishing game.
The company seeks "preliminary and permanent injunctions" and an award of damages including, "at a minimum, a reasonable royalty, trebled" for the defendants' alleged infringement, as well as attorneys fees and costs of the suit, pre- and post-judgment interest and "such other and further relief as the Court deems just and proper."
Company Has Moved Quickly
January 9, 2012 - Names Robert Ladd new President and CEO
May 11, 2012 - Acquires gaming Patent #7,892, 088
June 1, 2012 - Retains law firm Nixon & Vanderhye
Nov 2, 2012 - Files patent infringement suit
Source: Company reports
Patent Covers Crucial Feature
There are roughly one million gaming devices operating in the U.S. While it is difficult to obtain precise numbers, Forbes estimates the number that potentially infringe MGT's patent at "a minimum of 3,000 and perhaps 10,000, and growing." This implies that about 1% of the installed base of slot machine potentially infringe the patent. We would also estimate that these machines are at the high end in terms of daily revenue generated. Anecdotally, surveying the casino floor, the machines that are linked and enable group bonus play appear to be among the most popular and generate a higher level of activity than other games.
Of all the technology changes in the gaming industry over the past decade, including TITO (ticket in, ticket out), simulated mechanical reels and the introduction of gaming machines with secondary bonus rounds, we would estimate that bonusing is one of - if not the - most popular overall feature of gaming devices; it enhances the potential win and the overall excitement for players. WMS even notes in its annual report to shareholders (Form 10K) when describing the games it produces that "most games incorporate secondary bonus rounds."
Slot machine manufacturers compete against one another for valuable "real estate" on the casino floor and seek ways to make their game stand out. In its annual report, WMS says that it seeks "to develop games and gaming machines that offer high entertainment value to casino patrons and generate greater revenues for casinos … than the games and gaming machines offered by … competitors." In addition to gameplay, what differentiates a game and makes it more exciting, fun and rewarding to play are the bonusing features and "sizzle" of the interactive sign. These features enhance the overall entertainment and return that the game provides and are integral to the game's popularity.
We are optimistic about the potential outcome of MGT's suit. Bonusing is a key feature for a casino's most popular games and we also believe the entertainment value of the interactive sign mitigates the prospects for a workaround to MGT's patent. We note that Steven Brandstetter, one of the inventors behind the patent, attempted to monetize it on his own. He initiated a patent infringement suit against Bally Gaming, IGT and Acres Gaming. However, Mr. Brandstetter brought his suit pro se, which means he represented himself, an extremely difficult thing to do against well capitalized players such as the ones noted above.
Why are we optimistic that MGT can be successful against much larger players? Well, for one thing, MGT has retained Nixon & Vanderhye, a key IP patent law firm. On its website, Nixon & Vanderhye claims more than 25 years of experience in IP litigation. In fact, the firm was ranked Tier 1 in U.S. News and World report in Washington, DC in three areas including the litigation of IP, Patent Law, & Trademark Law. The firm also ranked among the top 10 in patent awards in 2011 as illustrated in the chart below.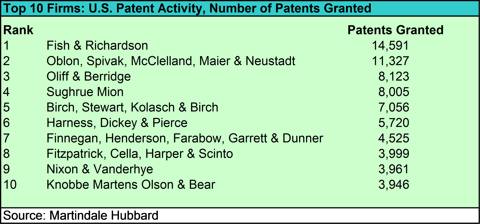 Presumably, MGT is also better capitalized than Mr. Brandstetter was. MGT has retained Nixon & Vanderhye on a contingency basis and will only have to pay what it calls "out-of-pocket" legal fees as the case proceeds. Following a recent financing, MGT has $6.5 million in cash on its balance sheet and no debt. It is therefore well positioned to finance the out of pocket costs, which management estimates will be about $600,000 to $1 million.
Additionally, MGT has broadened the scope of its infringement claim to include casino operators. This is a strategy that Mr. Brandstetter did not employ. Including casino operators as defendants could put additional pressure the manufacturers to settle, lest they risk losing their position on the casino floor. As noted, access to real estate on the casino floor is highly competitive. Casinos want machines that are popular and that drive average daily revenue and that do not have the overhang of a potential court loss. This is particularly important for machines under a revenue share model between the manufacturer and the casino. We like the two pronged approach of including both manufacturers and casino operators in the suit.
So what does a positive outcome imply for MGT? According to the Los Angeles Times, U.S. slot machines generate $36 billion in revenue each year. If about 1% of slot machines infringe MGT's patent per Forbes, that would equate to about $360 million each year ($36 billion x 1%) of annual "infringing" revenue. Moreover, given how popular the bonus gameplay and interactive signage are, we would expect the percentage of infringing machines to rise fairly quickly. If the number of infringing machines reached 5% within 10 years, which we believe is conservative, and MGT earned a 2% royalty from all infringing machines, we estimate it could imply $25/share in revenue to MGT.
Given the growing importance of bonusing, we would also not be surprised if a larger player just decided that the best solution was to acquire MGT outright, particularly as we believe the MGT patent could become even more important as server based or networked gaming expands. An outright acquisition of MGT or MGT Gaming would give the acquirer access to the patent for its own use and for competitors, as well. Interestingly, in 1999, Acres Gaming sued Anchor Gaming over patent issues. IGT, the industry's largest slot machine manufacturer, subsequently acquired Anchor. IGT settled with Acres in 2003, acquiring Acres for $134 million, a 50% premium to its share price at the time.
Management's Interest Aligned With Shareholders
MGT's top executives are large shareholders. The CEO is the company's single largest shareholder with a roughly 25% stake and the CFO holds 8%, which he acquired for cash. Their sizable stake in the company is important, in our view, as it implies that management has great incentive to drive shareholder value. We also believe that top management will strive to grow and diversify the patent portfolio over time, but do so prudently.
We believe the top executives' many years of investment experience has given them an appreciation of "portfolio theory," which in a nutshell teaches that diversification lowers risk. Portfolio theory attempts to maximize portfolio return and minimize risk largely through investment diversification. We expect MGT to acquire additional patents in order to diversity and strengthen its patent portfolio. Importantly, however, we would expect MGT management to be prudent with regard to any acquisition. After all, the company spent only $200,000 upfront to acquire the gaming patent. Additional acquisitions are likely to be at roughly the same level or less, in our view.
Overall, with the potential return of the existing lawsuit, we believe the shares offer an attractive speculative opportunity. The prospects of additional patents could add another upside element.
Disclosure: I have no positions in any stocks mentioned, and no plans to initiate any positions within the next 72 hours. I wrote this article myself, and it expresses my own opinions. I am not receiving compensation for it (other than from Seeking Alpha). I have no business relationship with any company whose stock is mentioned in this article.