Since late 2008, I've been a dividend growth guy. And like many dividend growth investors here on Seeking Alpha, I've since then been looking for companies with:
Growing cash flow
A wide competitive "moat"
A clean balance sheet
Good return on assets
Most of all a commitment to reward shareholders by increasing dividends.
Using the low prices in 2009-2010, I began buying the "classic" dividend growth names to make the new core of my portfolio. Many of these stocks hadn't seen reasonable valuations in decades. PepsiCo (NYSE:PEP) was one of those stocks I loaded up on.
It was a classic dividend grower. Great name brand recognition. World class management. Defensive sector. Amazing breadth of products that nobody could match. Finally, they grew their dividend by at least high single digits each year. All at a good price. PepsiCo is now one of my top five core holdings because of all those things.
On their Q4 2011 earnings call, however, PepsiCo gave us some gloomy outlook and guidance. Due largely to commodity price inflation and marketing and advertising expenses, 2012 EPS guidance was revised to negative growth.
Summarizing 2012, we are targeting EPS to decline by approximately 5% on a constant currency basis. Based on current market consensus ForEx, this is a 3 point headwind resulting in an 8% decline in EPS on a USD Basis.

Hugh Johnston, PepsiCo CFO
Source: Thomson Reuters Streetevents, PepsiCo Q4 2011 Conference Call
Though Hugh later said that he expected core currency growth to return to +6-7% levels after 2012, one can never be sure of guidance beyond a twelve month time horizon these days. Worst of all, this year the dividend was raised only by a meager four percent!
Is a yield in the low 3s, with low single-digit dividend growth prospects, really acceptable for a dividend growth investor? For me, it isn't. Especially when earnings follow that trend. If I can invest in MLPs that yield over 6% or good REITs which yield 4-5%, sometimes with better growth prospects, why bother with a laggard like PepsiCo? Even some 4% yield, no growth utilities were looking better. Was it time to cut my "classic" holding? Patient, I decided to give PepsiCo a couple more quarters.
And with its recent Q3 2012 earnings announcement I feel somewhat encouraged. Negating currency fluctuations and book changes with their China partnership, revenue grew 5% year on year.
Organic net revenue growth increased 5%, (...) We realized 1 point of organic volume growth and 4 points of effective net pricing globally.

Hugh Johnston, PepsiCo CFO
Source: Thomson Reuters Streetevents Q3 2102 Earnings Conference Call
Though I would have liked to see it come more from organic volume growth as opposed to price-taking, I'm OK with these numbers and very encouraged by some strategies being taken. Five percent YOY growth is, I guess, OK for now, provided they can sustain and build on it. I'd like to see that translate into 5% or greater dividend growth, too.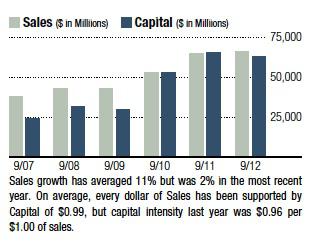 Source: EVADimensions
What really encouraged me was Indra Nooyi's comments about using North America and Europe profits as a cash cow and investing these proceeds into developing markets in Asia, Africa and the Middle East.
So, basically what we are focused on is PepsiCo as an overall portfolio. AMEA (Asia Middle East Africa ) will always be a big growth engine. We will always keep investing in AMEA. And then the slower growth markets will be the source of investment for areas like AMEA. (...) this portfolio should be able to deliver for PepsiCo along the lines that we talked about.

Indra Nooyi, PepsiCo Chairman & CEO
Source: Thomson Reuters Streetevents, Q3 2012 PepsiCo Earnings Conference Call
PepsiCo's partnership with Tingyi will increase their manufacturing footprint in China, an area that is already outperforming its European and North American sales regions. The investment in the Asia Middle East Africa division could boost growth back into the high single digits. Listening to their earnings call, this seems to be their long term plan and I am on board.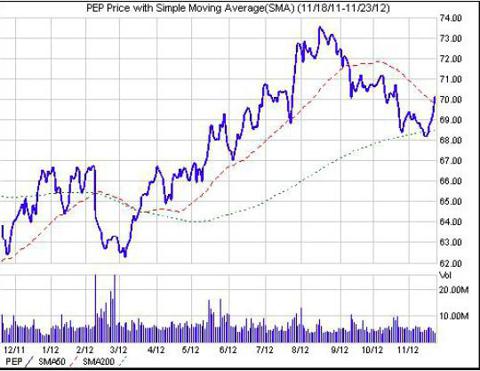 Click to enlarge
Source: MarketEdge
In my mind, a difficult economy is no excuse when comparable companies are performing better. It all comes down to execution, and I remain skeptical on PepsiCo. Though encouraged and sticking with it for now, I'm ready to replace it with similar companies and have alternative plans if execution breaks down again. Here is a list of some others I have in mind and why I have them. Should I decide to sell PepsiCo, I will be giving each of these companies a very serious look.
Packaged good companies benefiting from low commodities costs, much like PepsiCo would be a good substitute investment:
Of course, there are alternatives as well. These securities may be different from PepsiCo, but are very compelling choices for dividend investors.
Master Limited Partnerships - Usually these energy transfer infrastructure companies offer big yields due to tax benefits. My favorite is Kinder Morgan Energy Partners (NYSE:KMP). In fact, I've liked CEO Rich Kinder so much that I haven't even looked at any others! It often yields around 6%.
REITs- Something I've been looking into a lot lately. A favorite of mine is timberland manager Rayonier (NYSE:RYN). Their dividend growth has been notable, and as another SA member mentioned, they seem to have the best plan of all the timberland companies. I also like apartment manager Home Properties (NYSE:HME), with a middle income niche on the east coast and yield of about 4.6%. Finally there's Realty Income, with its famed monthly dividend, conservative approach and long term oriented management. It yields around 4.6%
Disclosure: I am long PEP, KMP, RYN, HME. I wrote this article myself, and it expresses my own opinions. I am not receiving compensation for it (other than from Seeking Alpha). I have no business relationship with any company whose stock is mentioned in this article.