With tax increases looming, many companies are offering special dividends payable before the end of the 2012 tax year. How can the trader take advantage of these sometimes rich opportunities? There are several variables to bear in mind.
Conventional wisdom is that the stock price usually declines after a dividend is paid, by an amount roughly equal to the dividend, but there are contrary opinions. One Seeking Alpha author argued that normal dividend payouts are not necessarily followed by a reduction in share price. With a special dividend, the likelihood of a correcting decline in share price rises and a large adjustment may follow a dividend more than about 10% of the stock price.
These two charts show the difference in behavior of two stocks following recent special dividends.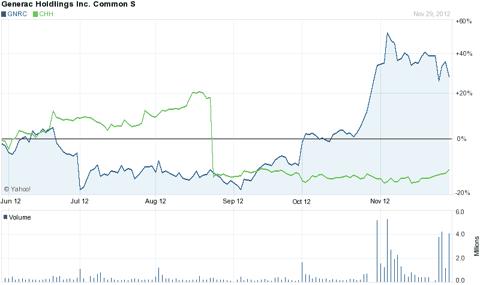 Generac Holdings, Inc (NYSE:GNRC) paid a special dividend of $6/per share (23% yield) on 7/2/12, and the stock price declined 13.6%, recovering by 10/1/12. Choice Hotels International (NYSE:CHH) paid a special dividend of $10.41/share (25% yield) on 8/23/12, and the stock plummeted 26%; it has not changed significantly since. The CHH trade is essentially even. After selling some options and receiving the special dividend, basis in GNRC decreased from $26.00 to $16.53, and with the rally following Hurricane Sandy the profit is 97% in 6 months.
The natural inclination of an options trader is to protect the downside with a married put or a collar. However, when the stock price adjusts, the option prices may adjust proportionately. A CHH long put at a strike of $40 was adjusted post-dividend to a strike of $29.59 and any protection nullified.
Another method to deal with the share price adjustment is to trade options after the dividend is paid. By limiting special dividend plays to stocks with decent option premiums, the trader can sell covered calls, credit spreads, butterflys or iron condors to adjust the basis and make up for the decline in underlying price.
The dates are important. The ex-dividend date is the date by which a trader must be in the stock to receive the dividend. The ex-dividend date falls two business days before the record date of any dividend payment, and the investor must be a shareholder of record by the ex-dividend date to receive the special dividend.
There are two ex-dividend dates in the coming week or so for stocks with hefty special dividends, Dillards (NYSE:DDS) on 12/5/12, ($5/share) and Costco (NASDAQ:COST) on 12/8/12, ($7/share). Either of these trades will likely prove profitable, certainly much more profitable than buying into a pending special dividend stock that has no or very cheap options. But is one better than the other.
DDS is a department store, online retailer and general contracting construction company based in Little Rock and operating primarily in the southwest, southeast, and midwest. COST, based in Issaquah, Washington, operates 618 membership warehouses with ancillary services such as gas stations and pharmacies throughout the world. Here are the two-year charts for DDS and COST; obviously DDS has been the better stock over this period, but COST is none too shabby.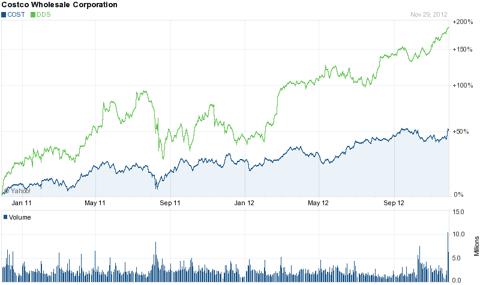 Another consideration is option premiums. Option pricing is complex, dependent on the number of variables; implied volatility is one critical factor. Using as a metric the bid price of the first OTM call in relation to the strike allows some comparison. For stocks with high option premiums, this may be as high as 10% or more. Currently, for example, for Alexza Pharmaceuticals (NASDAQ:ALXA), a highly volatile stock, the first December OTM call bid is 16% of the strike price. The first OTM call premium for DDS is 1.9% of the strike, for COST 0.8% percent. The DDS special dividend is 5.6% of the current stock price, for COST 6.8%. Playing options to further lower the basis after the stock price adjusts would be more cost-effective with DDS than COST.
This table compares these elements.
| | | | | |
| --- | --- | --- | --- | --- |
| | Share price | Special dividend | Dividend yield | Option premium |
| COST | $101.88 | $7 | 6.8% | 0.8% |
| DDS | $89.05 | $5 | 5.6% | 1.9% |
Mr. Market presents many special dividend opportunities, but efforts to capture them can easily be sabotaged by post-dividend adjustments. In deciding between these two, DDS seems the better choice.
Disclosure: I am long DDS. I wrote this article myself, and it expresses my own opinions. I am not receiving compensation for it (other than from Seeking Alpha). I have no business relationship with any company whose stock is mentioned in this article.