Tablet mania has hit the nation as everyone wants to have one. Tablets from Apple (NASDAQ:AAPL), Samsung (OTC:SSNLF), and a variety of other manufacturers will be on the Christmas list of many adults this year. Young children, of course, also want to join the tablet mania but few parents are likely to shell out the kind of money required to buy an iPad for their children. Not only is cost an issue, but children are rough on toys and parents don't want to risk an expensive iPad being destroyed. There is a way for children to join the tablet fray through a great product called the LeapPad2 that is sold by LeapFrog (NYSE:LF) for $99.99.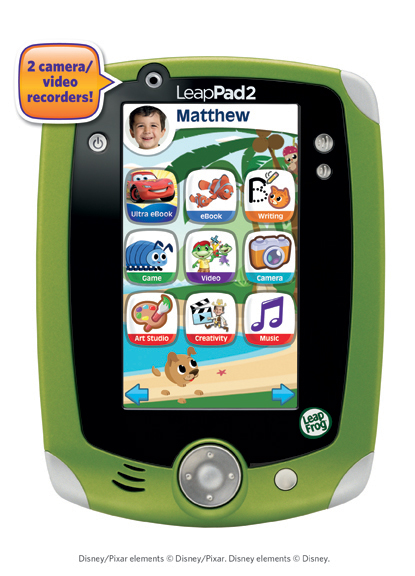 One of my daughters received a LeapPad2 for her birthday this year and she just loves it. Her four other siblings fight over the LeapPad2 so I know it is a hit. Also, a number of lists on the internet indicate it as a top Christmas gift idea for kids including a list on Amazon (NASDAQ:AMZN) which gave it fifth billing and a list on topchristmasgiftsforkids.net which gave it second billing. LeapFrog even published six press releases recently to indicate independent accolades for the LeapPad (1, 2, 3, 4, 5, and 6). Much like the iPad and other Apple products, there is also a recurring revenue stream with down-loadable applications which LeapFrog provides via their App Center as well as traditional cartridges.
LeapFrog has been growing rapidly in large part because of the LeapPad. Year-to-date, revenue has grown by 37.4% and EPS YTD has swung from a loss of $0.20 to earnings of $0.35. That is on top of annual revenue growth of 5.2% in 2011 and annual EPS growth from $0.08 in 2010 to $0.030 in 2011. Analysts are expecting EPS of $0.83 for 2012 which is 177% growth. Therefore, at the closing price of $9.11 on 11/30/2012, it is trading at only 11.0 times estimated 2012 earnings which seems very cheap given their growth.
LeapFrog has been increasing 2012 EPS guidance all year. It was $0.40-$0.45 when Q4'11 results were announced, it was raised to $0.52-$0.57 when Q1'12 results were announced, it was raised to $0.61-$0.66 when Q2'12 results were announced, and finally it was raised to $0.75-$0.81 when Q3'12 results were announced. Even analysts have been surprised a lot recently as analyst estimates have been blown away the last four quarters and I've read that the positive earnings surprises go back ten quarters. The Q4'11 estimate of $0.42 was beat with $0.49, the Q1'12 estimate of -$0.26 was beat with -$0.14, the Q2'12 estimate of -$0.18 was beat with -$0.12, and finally, the Q3'12 estimate of $0.42 was beat with $0.60. At this point it would almost be shocking if there wasn't another positive earnings surprise for Q4 as management seems to have mastered the art of under-promise and over-deliver.
For Christmas 2011, LeapFrog had a good problem where LeapPad demand was so strong they ran out of inventory. They took steps this year to increase available inventory for the Christmas season yet they are running out of inventory again. As of the time of writing this, the green LeapPad2 is out of stock online at Target (NYSE:TGT), and Walmart (NYSE:WMT). Likewise the pink LeapPad2 is out of stock online at Amazon, Kmart (NASDAQ:SHLD), Target, and Walmart. Finally, the Disney Princess Bundle is out of stock online at Kmart and Target. You can see a summary of the inventory situation here. Again, this bodes well for another earnings beat in Q4.
Another reason to be bullish on LeapFrog is that insiders have been buying shares as outlined in another SeekingAlpha article regarding insider buying. I find that insider buying is one of the best signs of an undervalued stock. There were five insiders buying shares which makes it a particularly strong signal.
Increasing amounts of content geared at the children's market is another thing I find quite attractive about LeapFrog. They have recently published four press releases announcing content agreements with Disney (NYSE:DIS), Lionsgate (LGF), PBS KIDS, and Cartoon Network. As of the third quarter conference call they now have agreements with 26 different companies to distribute their content across the LeapFrog platforms. I suspect the recurring revenue stream could significantly drive revenue and earnings going forward. Furthermore, as noted in the third quarter conference call, content sales are a contributing factor in increasing gross margins. Finally, the content creates stickiness to their platforms.
LeapFrog has a solid balance sheet. They have a book value of $3.93/share, cash of $0.73/share, and no debt. Also, as of the end of 2011 they had an additional tax asset of $1.75/share that wasn't recognized on the balance sheet because of a valuation allowance. That will shelter a significant amount of future income from taxes.
In conclusion, rather than trying to figure out which way Apple stock will move going forward and whether Apple innovation has peaked, I suggest looking at LeapFrog as a lesser known way to play the tablet mania.
Disclosure: I have no positions in any stocks mentioned, but may initiate a long position in LF over the next 72 hours. I wrote this article myself, and it expresses my own opinions. I am not receiving compensation for it (other than from Seeking Alpha). I have no business relationship with any company whose stock is mentioned in this article.