Company Overview
Natural Grocers by Vitamin Cottage (NYSE:NGVC) is a specialty all-natural organic grocery store that held its IPO on July 25, 2012. Founded in 1955 and with its headquarters in Lakewood, Colorado, it currently operates 55 stores in 11 states. The company focuses on providing high-quality products at affordable prices, exceptional customer service, nutrition education, and community outreach. It strives to generate long-term relationships with customers based on transparency and trust.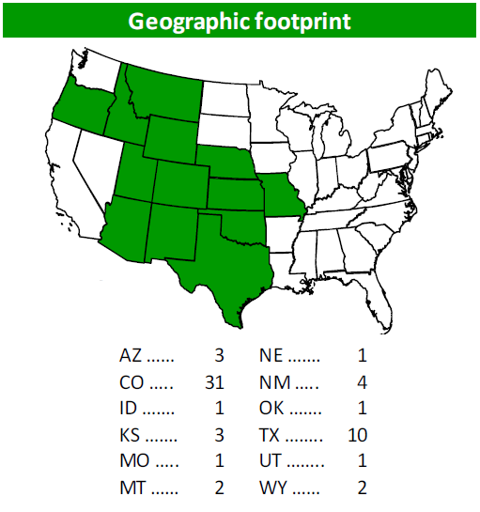 Product Overview
The company's products consist of natural & organic groceries, dietary supplements, pet care, and body care products. Natural Grocers does not sell any products that are known to contain artificial or hydrogenated ingredients. By doing so, it is able to guarantee all of the products are 100% natural.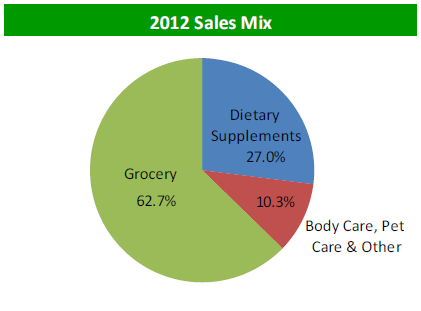 Store Overview
The stores consist of a small-store format. Each store has its own nutrition coach, who leads free science-based nutrition education classes that enable customers to make well-informed nutritional decisions.

At the time of the most recent SEC filing, Natural Grocers had 55 stores in 11 states, with 13 additional stores planned for 2013. Thirty-one of its stores are in Colorado, and 10 stores are in Texas.
Natural Grocers also gives customers the ability to order products in bulk directly from its website. Selling products in bulk increases the potential savings for customers as the price of organic food is generally higher than non-organic, and it also increases the company's margins by reducing distribution and material costs.
Competitive Advantage
Natural Grocers stores are concentrated in one region located in the central United States. This close proximity of stores allows the company to distribute new products to stores faster than if they were scattered throughout the country in large cities like Los Angeles, Chicago, and New York. This close proximity also brings the potential of lower distribution costs than if the stores were located across the country. Natural Grocers plans to continue expansion in states where it currently has a presence, as well as new states surrounding states it currently occupies, allowing the company to manage its infrastructure as it expands.
The nutrition coach in each Natural Grocers teaches free health education classes. Customers are informed how to make health-conscious choices, and are then in the store to purchase products that suit their needs.
Eating organic/gluten-free food is a lifestyle, and studies show that those who buy organic will do so even when prices are slightly higher than non-organic foods. Natural Grocers has established a loyal customer base, with a 7% increase in total customers in Fiscal Year 2012, complemented by a 4.3% increase in average total paid per customer. Natural Grocers has been able to retain and grow its customer base and, in my opinion, it will be able to continue this trend moving forward.
Management Team
Natural Grocers is a family owned business, and the top management team consists of many of the founding Isley family members. This is not necessarily automatically a strength or weakness, however, I think it is important to be noted. Some family owned businesses are content with the current state of the company and do not wish to take risks to improve shareholder value. In other cases, they are even more effective than an outsider in control because they understand the culture and want to continue to build on their past success.
The current CEO, Kemper Isley, has been on the top management team since 1998, and with Natural Grocers since 1977. At 50-years old, that means he began working there at age 15. According to its website, he has held the position of Store Manager, Warehouse Manager, Director of Marketing, Director of Purchasing, Director of Operations, and Director of Finance. With such a broad base and exposure to the company's operations by working in different functions at different levels, I believe he has relevant experience to give him a firm knowledge of the many different aspects of the company, allowing him to make wise decisions regarding the future of Natural Grocers.
Sandra Buffa, the company's current CFO, joined Natural Grocers in 2008. She began her career in public accounting at PWC. After holding an array of Finance and President leadership positions at various companies from 1993 to 2001, she served as the CFO of Mrs. Fields' Original Cookies from 2001 to 2005, and the CFO of the parent company to Quizno's from 2005 to 2007. With over a decade of leadership experience in the food industry, I believe Ms. Buffa has the experience to complement the experience of Mr. Isley.
Natural Grocers has seen strong growth under the current management, and I believe it will continue the current trend. On November 13, Natural Grocers had 7% institutional ownership. By November 28, it had increased to 38%. Funds are beginning to take notice of the company's performance, and I believe that will be affected in the share price in the near future.
Adjusted Net Income and EPS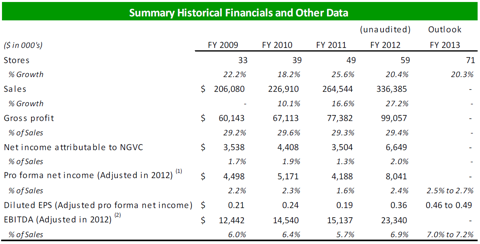 The adjusted financials above exclude the one-time IPO costs the company incurred during its public offering this past summer.

Disregarding these one-time expenses, Net Income increased 92% in FY 2012, and increased 64% in Q4. Natural Grocers posted an adjusted FY 12 EPS of $0.36, an increase of 89.5% over the $0.19 EPS in 2011. The company expects FY 13 EPS to be between $0.46-0.49, while analysts project EPS of $0.47.
Capital Structure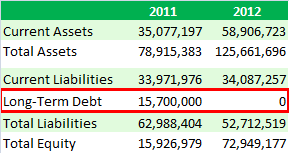 Before going public this summer, Natural Grocers had a $20 million Line-of-Credit and $15.7 million in long-term debt. With the cash raised from its IPO, the company paid off all of this long-term debt and also lowered the Line-of-Credit from $20 to $15 million. The remaining long-term liabilities consist of deferred rent, leases and income tax liabilities.
Cash Flow & Capital Investments

From 2011 to 2012, Natural Grocers increased its cash flow from operations by over 50%. The amount re-invested in the company through capital investments also increased by 23.5%. The increase in cash flow and the cash generated from the IPO this past summer will allow Natural Grocers to increase its capital investments going forward, accelerating its growth.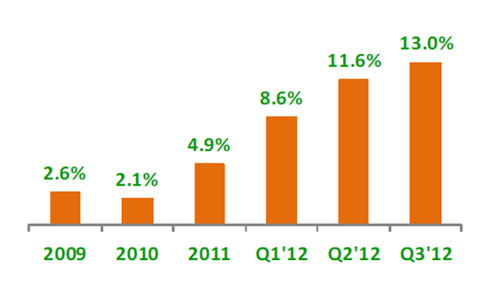 Sales increased 27.2% in 2012. Organic sales grew 11.6% in Q2, and 13.0% in Q3. Including the information in the graph above, Natural Grocers has seen positive organic growth for over five years.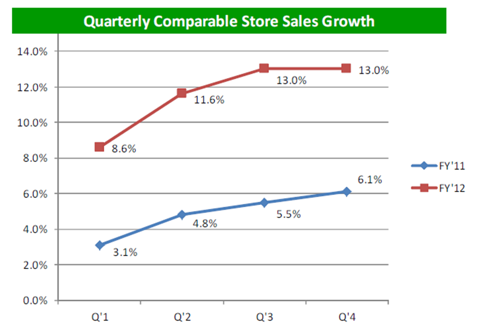 Natural Grocers has seen an increase in organic growth over the past eight quarters. Will the company be able to continue to maintain, or even increase, this organic growth?
Opportunities for Growth
Analysts project the U.S. market can support at least 1,100 Natural Grocers stores, including more than 180 additional Natural Grocers stores in the 12 states in which it currently operates or has signed leases. There are currently 39 states with no presence, and 48 states in which it has a fairly small presence (ranging between 1-4 stores).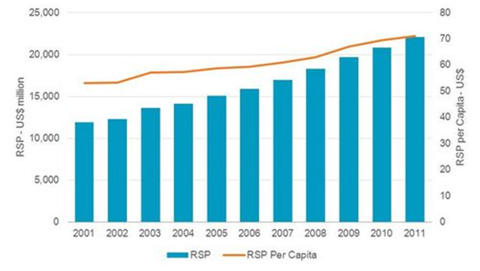 U.S. demand for vitamins and supplements has increased every year for the past 10 years. The amount spent per capita has increased as well.

Since 1990, U.S. sales of organic food and beverages has increased from $1 billion to $28.682 billion. From 2010-2014, the growth is projected at a 12.2% CAGR. With such outstanding growth for 20 years, is it still probable that organic sales will continue to grow?

Consisting of only 4% of the total sales of U.S. food, I believe it presents a huge opportunity for growth of organic food sales.

In 2010, the U.S. organic food industry grew 7.7% compared with the total U.S. food industry, which grew 0.6%. Test scenarios show organic growth will outpace total U.S. food sales by at least 5.1% in economic downturns, giving Natural Grocers an edge over traditional grocers if the fiscal cliff becomes a reality and U.S. economic growth slows.

Even with the consistent growth of organic sales, natural retailers like Natural Grocers do not yet hold the majority market share over mass retailers like Costco (NASDAQ:COST), Safeway (NYSE:SWY), or Kroger (NYSE:KR) ("Other" sales consist of the internet and farmers markets, etc.). This leaves significant room for growth in the existing organic food market, giving specialty retailers like Natural Grocers the opportunity to steal existing market share from the big-box retailers through customization.
Risks
What could go wrong with Natural Grocers? The annual report and financials indicate its recent new stores have been very successful. There is a possibility that going forward new store openings are not as successful as openings in the past three years. There is also the possibility that the company has mastered the process of opening new stores, and the recent rapid expansion will continue to drive sales growth.
Another risk that Natural Grocers identifies in its SEC filings is that the payback period for a new store is just under four years. Market conditions and consumer trends can change significantly over four years, and Natural Grocers may not recoup its investment in a specific store if consumers are not shopping there. Stores opened this year are projected to do better than new stores opened in the past, so the future continues to look bright for the company.
The recent legalization of marijuana in Colorado may affect the way consumers spend money. With 30 stores in the state (over half of the currently existing stores), there is no way to accurately measure what effects this will have on the spending habits of consumers. I believe it is important to keep the recent legislation in mind; however, I do not believe the effects will be negative to Natural Grocers' performance.
Investment Thesis
Natural Grocers is a rapidly growing company, posting 89.47% adjusted EPS growth in 2012 and consistent organic sales growth for over 10 years.
Natural Grocers has zero long-term debt, as well as an available $15 million Line-of-Credit.
The company boasts an operating margin higher than the grocery store industry average, and increased its cash flow from operations by over 50% in this past year.
Natural Grocers' business model matches consumer trends. Sales of organic foods in the U.S. has grown consistently over the past 20 years, and is poised to continue its growth indefinitely.
The organic food industry in the U.S. is poised for growth, and I believe Natural Grocers is well positioned to capitalize on that growth.
Disclosure: I am long NGVC. I wrote this article myself, and it expresses my own opinions. I am not receiving compensation for it (other than from Seeking Alpha). I have no business relationship with any company whose stock is mentioned in this article.