Closed-end funds' (CEF) performance in October essentially mirrored year-to-date. The significant downdraft in equity prices during both periods again favored debt security categories on average—particularly investment grade funds.
(Click to enlarge)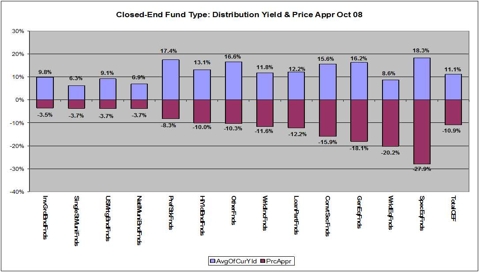 CEFs on the whole posted a decline of 10.9%. That compared to the equity market decline of 16.5% (as measured by the SPDR ETF (NYSEARCA:SPY) and down 2.9% for the bond proxy: the Vanguard Total Bond Market Index (VBMFX). Overall, on an annualized total return basis (adding together distribution yield and price appreciation), the bond proxy fared the best of the 3 during October '08.

Below is a chart with an equity fund that might do better in a bull market and a bond fund that might do better in a bear market. The criterion I weighted the heaviest was the greatest difference in the change in the share price and NAV, YTD. The assumption being that the discount was widening during the period and the price may snap-back more quickly to its previous relationship.
The Chile Fund (NYSEMKT:CH) is hampered by the importance of cooper to its economy and is viewed as a natural resource and early recovery play. I don't know much about BDF, but there was heavy insider buying in April and May of this year.