Although I find it much more intriguing to trade options on more volatile and speculative names in the healthcare sector like Amarin Corporation (NASDAQ: AMRN), I realize that there is a natural demand for highly defensive stocks that also offer substantial dividend yields and relative immunity from stock market conditions.
The purpose of this article is to explain how investors can take advantage of the options market to (safely) boost their returns on their core big pharma investments. This guide is especially useful to the kind of investor who is already holding a large stake in one or more of the following big pharma stocks:
Pfizer (NYSE: PFE); Merck (NYSE: MRK); Johnson & Johnson (NYSE: JNJ); and Eli Lilly (NYSE: LLY)
These behemoths barely move (for the most part), and investors usually buy them for the fat dividends they pay. Since investors who hold these names are mostly keeping them as core investments that build wealth over long periods of time, any improvement on the returns should accelerate the process dramatically.
The covered call strategy is able to do this without adding much risk. Especially beautiful is the ability for any investor to adjust the risk of their covered call strategy to their level of comfort. Let's start the discussion with Pfizer.
How you boosted your 3.52% yield on Pfizer into a 6+% yield
Here is a snapshot of Pfizer's options market at the closing bell of Friday, November 30.
Ignore the put options, just focus on the calls. Notice that PFE December 2012 Call Options are very cheap, and notice that the contracts at a strike price of 26.00 only offer $.04 per share of gains through premiums. That's only .15% in extra gains for a waiting period of about three weeks, but it's better than nothing. Pfizer is very unlikely to break $26.00/share before Christmas.
Still, Pfizer has been a very good performer this year, especially for a big pharma stock (it's up 15.6% YTD). If you don't expect to see this kind of performance next year, you might want to sell covered calls. If you're willing to do it every month, you can easily double your dividend (or better). If you went with $25.00 call options (even safer), there's a good chance you'd temporarily lose your Pfizer shares at $25.00 each, but you are guaranteed $.32 in premiums for each of your shares. That is 1.28% in gains for free - not too shabby if you could pull it off each month (for yearly gains of roughly 15%.)
Enhancing Johnson & Johnson - The King of Dividends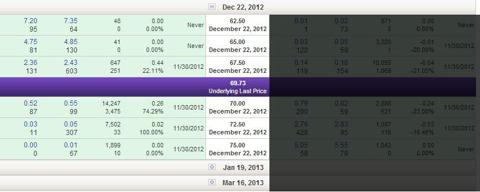 Johnson & Johnson is probably one of the (if not the) most popular dividend stocks on the NYSE. It has experienced extremely boring range-bound trading for the better part of the last decade, and has virtually no potential to show outsized gains. Nonetheless, the stock is adored because of its large and constantly growing dividend yield of 3.5%. It also distinguishes itself from Pfizer or Merck due to its business in medical devices and generic healthcare products.
JNJ has been unusually bullish this year, shown by its break of $70/share in October 2012 (a level that hasn't been seen since 2008.) This has certainly attracted some speculation, although the company is still considered a low-beta and highly defensive play in the healthcare sector. What we're interested in is the 3.5% yield, and the extra yield that can be brought from covered calls.
Someone who sold December 2012 calls on JNJ would be able to generate an extra .75% in returns with the $70.00 call option. If this trade were successfully matched every month, the JNJ shareholder could expect an extra 9% in yield from options premiums. Reliable 12.5% returns each year on an ultra-safe holding like Johnson & Johnson sounds good to me.
Making Merck Work (Harder) For Your Portfolio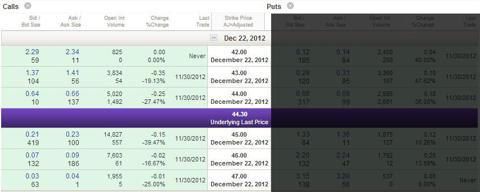 Merck is another pharma giant, much like Pfizer, but it distinguishes itself with its R&D-focused strategy. Pfizer is actually shifting toward an acquisition-focused strategy, which means that it is downsizing its R&D budget to raise more cash that can be used to buy other companies' drugs during their development.
Merck currently yields 3.88%. Right now, a Merck shareholder could sell MRK December 2012 45.00 calls for a premium of $.21/share - an extra gain of .47% for their position regardless of what the stock does. This is an extra 5.6% in yield every year, assuming that all options expire worthless.
Eli Lilly: A welcome addition to the party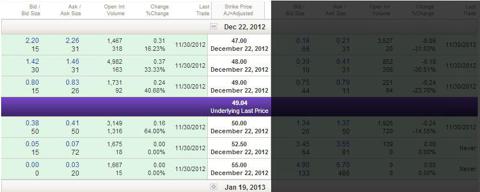 Lilly has the highest dividend yield on this list, and offers some of the best premiums on its options. Part of this may be due to a somewhat bearish outlook for LLY based on analyst estimates which increases speculation on both sides of the LLY market.
Nonetheless, a quick analysis of Lilly's recent options pricing can show just how lucrative a covered call strategy on this stock can be. The 50.00 calls give the writer $.38 in premiums, which is an extra .76% return each month if done consistently (implying an extra yearly return of over 9%). Even more attractive is the 49.00 call, which gives a quick 1.6% return on the position and increases the chance that you sell your Lilly at a price of $49/share.
Conclusion
The calculations in this article aren't perfect, because a few things were overlooked. First, the data was collected from the options pricing on November 30, 2012. This is a full week after the last round of options expirations (on November 23). Since options become cheaper as they approach their expiration (due to "time decay"), we could have used calculations with larger call option premiums from November 26, to show bigger returns.
We also didn't account for situations where the investors sells covered calls on a stock that rallies above the strike price. In the Eli Lilly example where the investor sold December 2012 50.00 calls, we can calculate that the investor would receive gains of $1.34/share (or 2.7% in gains) if the contracts were exercised prior to expiration. This would only happen if LLY moved above $50/share.
Although selling covered calls (especially strike prices that are just slightly above the market price) can be very profitable and advantageous for certain investors, those who are more keen on "lazy investing" (buying something and letting it sit for years - aka "Warren Buffett style") will not find covered calls all that useful for their strategy.
Covered calls are best utilized by investors who are willing to sell contracts every month with the possibility of having their shares called away. If shares do get called away, covered call-sellers will have to buy back the shares at a later date to continue their strategy.
I also want to note that this is an incredibly good strategy in a flat market, or weak bear market. In a strong bull market, covered call strategies generally fall flat on their face - even if they are based on defensive stocks. Trade accordingly.
Disclosure: I have no positions in any stocks mentioned, and no plans to initiate any positions within the next 72 hours. I wrote this article myself, and it expresses my own opinions. I am not receiving compensation for it (other than from Seeking Alpha). I have no business relationship with any company whose stock is mentioned in this article.