Since Altria (NYSE:MO) split from the international tobacco giant, Philip Morris (NYSE:PM), Phillip Morris has been the growth company, responsible for all tobacco sales outside of the US that previously came under Altria's umbrella.
However, with tobacco opinions changing worldwide, does Philip Morris still have room for growth?
The battle is between Altria, which has diversified into smokeless products and other markets vs. Philip Morris', which has worldwide rights to one of the most iconic cigarette brands in the world.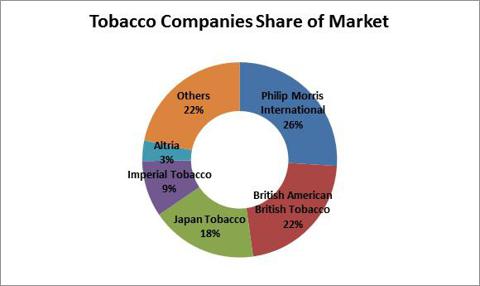 Click to enlarge
Products
As I have already mentioned. Altria is a much more diversified company. Philip Morris is really only involved in smoking products.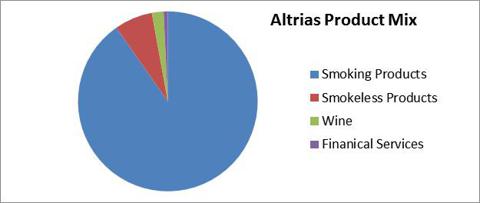 Click to enlarge
The majority of Altria's revenue is generated through smoking products. However based on the most recent Q3 results, smokeless products, wine, financial services and a investment in SAB Miller are rapidly accounting for more and more of Altria's revenue.
On the other hand Philip Morris generates entirely all of its revenue from smoking products. Although historically this would have been OK, recently this lack of diversification is now starting to harm the company's growth story.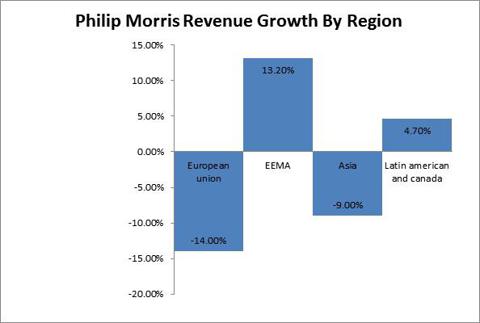 Click to enlarge
Philip Morris has mixed global growth.
The aggregate global revenue growth YoY for Philip Morris International is -5.1%. Strong growth within Eastern Europe, the Middle East and Africa is being offset with poor growth within the European Union and Asia.
In reality PM's products are being undercut by black market substitutes and the cheaper alternative of rolling tobacco.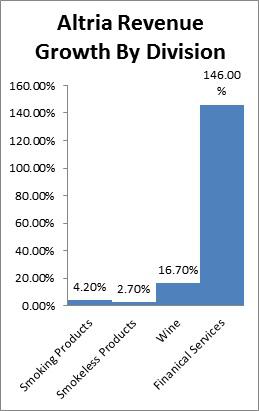 On the other hand Altria's recent Q3 results showed strong YoY growth in its wine and Financial Services division. There was also growth within smoking and smokeless product divisions.
There was still growth however, unlike PM.
Although PM is responsible for cigarette sales outside the US, Altria has a strong presence inside the US as Philip Morris USA. Within the US, Altria has the majority market share.
Tobacco US market share
| | | |
| --- | --- | --- |
| Company Name | Brand Examples | Market % |
| Philip Morris USA | Marlboro, Basic, Virginia Slims | 46.40% |
| Reynolds American Inc. | Camel, Doral, Winston, Kool | 25.50% |
| Lorillard | Newport, Maverick, Kent | 12.30% |
| | | |
| All other companies | USA Gold, Sonoma, Montclair | 15.80% |
This is still a strong area of revenue for Altria.
There are a lack of international and low cost competitors within the US market - British American Tobacco, Imperial Tobacco and Japan Tobacco all have little to-no presence within the US market. In comparison to European and Asian markets, the United States has a lower level of black market imports, resulting in less competition for Altria.
Most of Altria's revenue growth in the US comes from price rises. However, market share is declining slowly as consumers move to lower cost, value brands such as Lorillard's (NYSE:LO) Newport.
Foreign Exchange
Due to its international presence Philip Morris has significant impacts on revenue, including different regulations in countries, different tax rates and foreign exchange rates. As an example PM's 9 month EPS, excluding FX effects, would have been $4.11. The actual EPS came in a $3.92, still an increase of 4% YoY. The strong USD removed $0.19 from EPS that's a reduction of 5%.
With the effect of the strong dollar Philip Morris would have seen a YoY improvement in EPS of 11%.
Altria does not have the same problems.
Smokeless
As I have already mentioned, Altria has a strong presence within the smokeless product market.
Smokeless products market share.
| | | |
| --- | --- | --- |
| Company Name | Brand Examples | Market % |
| United States Tobacco (Altria) | Copenhagen, Skoal | 44.30% |
| American Snuff | Grizzly, Kodiak | 27.90% |
| Swedish Match | Timber Wolf, Red Man | 17.70% |
| | | |
| All other companies | Redwood, Kayak, Beech-Nut | 10.50% |
While Altria's smokeless revenue grew at a rate of 2.7% in the nine months to September 2012, this was down to a poor performance by the higher priced Skoal brand. The lower priced more competitive product, Copenhagen, actually grew a faster double digit rate of 12.5%.
These smokeless products are seeing strong growth across the market and have significantly higher margin than smoking products.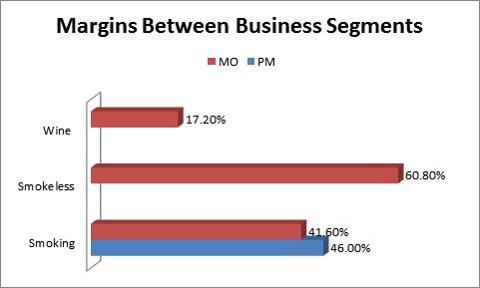 Click to enlarge
Although PM does have a higher margin on its Smoking products, MO does have other products that have a significantly higher margin.
On the other hand PM smoking margins do vary greatly, from 30% in Canada and Latin America to 50% within Europe.
The Issue of Falling Revenues
With falling volumes and revenues across all markets, tobacco companies are increasingly relying on share buybacks to bolster EPS. The effect of these falling revenues and volumes are having a significant effect on Philip Morris.
| | | |
| --- | --- | --- |
| 9 months to September 2012 | EPS with Buybacks | EPS without Buybacks |
| PM | $3.90 | $3.70 |
| YoY change | 4.30% | -0.50% |
| MO | 1.51 | 1.48 |
| YoY change | 22.80% | 20.00% |
This is where Altria becomes attractive. Without buybacks PM would have suffered a YoY fall in EPS.
Altria on the other hand still managed to increase EPS 20%, without the need for buybacks. This shows the strength of MO's fast growing non-tobacco sectors. While Altria's smoking products provide a steady income stream, this allows the firm to invest in other areas and focus on non-smoking products that will drive growth outside of the declining tobacco market.
As I have already covered the financials of each company, I will not go into depth here but based on these findings Altria could be the better diversified investment for the future.
Disclosure: I am long MO. I wrote this article myself, and it expresses my own opinions. I am not receiving compensation for it (other than from Seeking Alpha). I have no business relationship with any company whose stock is mentioned in this article.