Introduction
There is a sea change going on in the mining industry. Changes are taking place in that industry which will have effects on the firms involved, their suppliers and customers, for years to come. The three largest of these changes are:
A resurgence of resource nationalism, the #1 risk to miners
Tighter restrictions on capital expenditures
Dismissal of top management
Other issues are changing the way mining will go forward. On the surface, the risks do not look all that different from those of the past. However, the "disconnect" between shareholders and mining management regarding financial expectations caused a quantum shift in CAPEX strategy. This has increased the significance of the risks facing the industry; they must be accorded more weight in the changing investment environment. As well as resource nationalism, these risks include:
Labor issues including strikes, sometimes resulting in violence; increased labor costs
Environmental concerns
Lack of skilled workers
Poor Infrastructure in new locations - water, power, roads, railroads
Inconsistent and changing government policies
Environmental concerns, including global warming
We will explore those issues in this article. Clear perspectives of the issues will enable the reader to take the appropriate investment actions.
1) Resource Nationalism

Argentina is perhaps the foremost example of the worst kind of mistaken government authority. In confiscating the assets of the oil and gas company Repsol of Spain, Argentina has slammed shut the door to much needed foreign investment.
Indonesia - The power of a government to tax can be nearly as disruptive to ongoing operations as outright confiscation. In Indonesia, battles rage through the legislature and the courts regarding the validity of old agreements between the government and mine owners. So far, Freeport-McMoRan Copper and Gold (NYSE:FCX), sustains its favored position.
In Mongolia, the government waxes and wanes on its commitment to Rio Tinto (NYSE:RIO) and its development agreement with that company. Mongolia, the vast central Asian country, entered into the Oyu Tolgoi Investment Agreement with Ivanhoe Mines and Rio Tinto in October of 2009. Just one year ago this month, I published an article Mongolia In Partnership With Ivanhoe Mines And Rio Tinto. As of now, that partnership is dead. The Mongolian minister of

mining

continues to demand a complete renegotiation of the 2009 and 2010 agreements. Seeking Alpha author Jon Springer brings the messy entanglement up to date this month with "Rio Tinto vs. Mongolia, Destination Unknown

".
In the Philippines a new presidential edict, EO79 , is being studied. It seems at least temporarily to put new mining on hold and require refilling of regulatory paperwork on previously approved projects. It addresses a common concern of both the national government and the

miners

. A local government cannot create a regulation that contradicts national law. Provincial governments ignored the national law and the courts in the past.
I wrote in a Seeking Alpha article last year, "The $5.9 billion Tampakan copper-gold project of global miner Xstrata Plc (OTC:XSRAY) was put at risk last year by a mining ban instituted by the Province of South Cotabato on the Philippine island of Mindanao. The nearby Province of Zamboagna del Norte subsequently passed a similar provision."
Australia - Even in the very civilized and mining friendly country of Australia, the taxman is extracting his ever-increasing due. In a recent article, the BBC declared the Australian mining boom over. A new tax is part of the added burden.
"Another key area that has been a cause of concern, especially among miners, has been the introduction of taxes such as the mineral resources rent tax (MRRT) and the carbon tax. Under the MRRT, the government will impose a 30% tax on mining firms with an annual profit of more than A$75m ($79m; £50m). It will apply to firms that mine iron ore, coal and petroleum and impact about 30 of Australia's biggest miners, including BHP Billiton (NYSE:BBL), Rio Tinto and Xstrata (XTA.L)."
The Congo - It seems endemic in third world countries that tax treatment and ownership treaties are subject to unilateral modification by each successive administration of the sovereign. The Congo is no exception.
The Central African country, which has about half of global cobalt reserves and major deposits of copper and gold, is revising ten-year old mining regulations to boost revenue. Randgold and AngloGold Ashanti Ltd.'s Kibali gold project is scheduled to start production in 2013.
"Democratic Republic of Congo's decision to increase taxes under its mining code will harm investment," Mark Bristow, chief executive of Randgold Resources Ltd. (RRS) said today in Kinshasa, the capital. "We must all resist the temptation of having short-term gains from an industry still in its infancy," Bristow said. Congo's mines ministry just announced it wants to increase the government's stake in mining projects from 5 percent to 25 percent.
Mandated Beneficiation, a type of resource nationalization, is the concept, which enables a sovereign state to require that the ore from the mines have value added to it before leaving the country. Thus, the country benefits from the product enhancement through increases in employment, increases in supportive service industries and from the increase in taxable capital assets. In mining, this often means that a permit for a new mine would be tied to the funding and development of a smelter.
"Many governments are now seeking to have minerals beneficiated in-country prior to export. South Africa has announced a beneficiation strategy, as has Zimbabwe, Indonesia, Brazil and Vietnam. In theory, this will capture more of the value-chain as the products will achieve higher prices. " Ernst and Young.
2) The Investor Who Spoke Up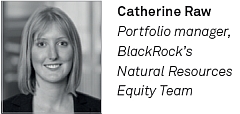 BHP Billiton was the largest holding in BlackRock's $14 billion global mining fund, a position that made them BHP's largest shareholder. It was the last week in March 2012. It was an easing of their position to about 6.5 percent of the World Mining Fund, down from about 9 or 10 percent before. Catherine Raw, who heads the fund for BlackRock said, "For us that's quite a big shift out of BHP."
She later said, "Some of the decisions they are making are very good in terms of long term strategy but are you going to make money from it in the next three years, which is our investment horizon?" She continued, "I struggle to understand how they are going to do that."
The Capital Budget
The seeking and discovery of resources, the operational expertise in extracting and refining them are not today's only concerns. The focus has shifted across the table from the tough operators and engineers to the accounting and finance people. There is more scrutiny of capital expenditures, a more reserved approach to investment during this long downturn in the business cycle than there was in the past. Owners would rather have cash in their pockets as dividends than see long-term capital expenditures, which may extend capacity beyond foreseeable demand. The creation of a 100-year resource is a vague concept compared to the presentation of hard data on internal rate of return on invested capital and payback periods. Mining management must now govern their firms' capital expenditures like other large corporate entities and with similar accountability.
The Growing Disconnect In Mining:
Investors At Odds With Management
The above is the title of a Seeking Alpha article I wrote which was published on August 8 of this year. "Investors are demanding capital discipline to increase shareholder returns while miners are looking to use cash from record results to develop new projects." The miners contend that mid-term and long-term demand requires the initiation of projects now. Investors are clearly not buying the demand story. They want to see higher dividends and more stock buy-backs. They want to see the mining industry defer capital investment. The owners have prevailed.
In mining, the up-front costs are immense and the timeframes do not fit conventional finance models. In 2001 the discovery of the immense mineral deposit at Oyu Tolgoi, Mongolia was made. Permitting and negotiations between the government and miners Rio Tinto and Ivanhoe Mines took until 2009; production will start in early 2013, and the mine will be running at full capacity in 2018, 17 years after the discovery of the resource. Major projects may cost from $5 billion to $30 billion. In a sense, the mining industry was spoiled by success. From 2002 through 2011 there was an increase in profits every year except 2009.
The downturn in earnings in 2012, however, was the catalyst that caused the tabling of a planned $100+ billion in CAPEX and a massive dismissal of mining leadership.
3) Dismissal of Top Management
Bad Deals and Regulatory Rejection

The planned BHP Billiton project at Olympic Dam is one of the largest ever. This is a resource of immense proportions, probably the largest single deposit on uranium on the planet plus a deposit of copper, which is also of global proportions. The Olympic Dam uranium-copper-gold mine would have an estimated development cost of over $20 billion. Not only would there be no money made from the mine in 3 years, estimates are that it will take 5 to 6 years just to remove the overburden of sand to get to the ore body. By the financial standards set forth by Ms. Raw, the project is simply not economically feasible.
The company formally shelved the expansion on the same day in August, the same day BHP reported a fall in profits for FY 2012 ended 30 June 2012, the first decline in three years. Attributable profit was down 35% as demand for commodities slowed around the world, particularly in China, the biggest buyer of Australian exports. According to Mining-Technology.com, "Now, the company will investigate an alternative, less capital-intensive design to the open-pit copper expansion, involving new technologies to improve the economics of the project."
This month, Chairman Jac Nasser announced that the firm would be seeking a replacement for CEO Marius Kloppers. On November 7, 2012, Business Day, a publication of the Sidney Morning Herald, gave a rundown of the events his detractors hold up as evidence of his failings.
The talk (of his departure) emerged thanks to last year's ill-fated $20 billion acquisition of shale gas assets in the US - on which the company has already needed to take a $US 2.8 billion write-down. It was a tipping point for some at the time it was acquired, an embarrassing and potentially expensive investment decision.
His detractors also point to Kloppers' failure to clinch a merger with Rio Tinto in 2008. While that deal that was stopped by the European competition regulators, it was Kloppers' misreading of the regulators that took up inordinate BHP management time for no result. Then there was the failed $40 billion bid for the Canadian Potash Corporation, which the Canadian government quashed.
At Anglo American, the Shareholders Examine the Record

On October 26, 2012, The Financial Times reported the resignation of Cynthia Carroll. The lead sentence read, "Cynthia Carroll has bowed to shareholder pressure by stepping down as chief executive of Anglo American after six years in the job, plunging the global mining group into uncertainty at a critical juncture."
Profit for the first half of 2012 dropped 55%, and this drew further stockholder attention to her longer-term record. Since she took over in October 2006, Anglo American has delivered a negative total shareholder return, while rivals BHP Billiton and Rio Tinto have returned 127 percent and 51 percent, respectively.
While it was ultimately the dismal numbers that triggered her departure, Carroll was bemired in serious issues. On August 16, 2012 the police opened fire on striking miners outside a mine in Marikana, South Africa, killing 34 and wounds many others. In October, Anglo American Platinum fired 12,000 workers who failed to show up for work. In Mid-October, the New York Times reported, "About 75,000 miners are believed to be on strike, representing nearly a fifth of the industry's work force."
Glencore - Xstrata

It has not been a happy courtship, which begs the question of how the marriage will go. Over the course of several months, Glencore had to raise its takeover offer to the reluctant Xstrata several times. The suitors have greatly different backgrounds, but there are apparent synergies. Anglo-Swiss Glencore is the world's largest commodity trading company, involved in over half of the copper markets. It produces minerals and metals, oil, gas and coal and agricultural products worldwide. The $30 billion takeover of Xstrata gains it one of the world's larger miners, and the fourth largest producer of copper.
Shareholders voted to accept the offer on November 22, 2012. However, a multi-million dollar bonus package for executives was voted down. The Xstrata board and top management felt the $200 million bonus package for executives was essential in retaining key staff in the mining organization. Xstrata chairman John Bond, who was in line to be chairman of the new company, resigned over the matter.
Leadership at Vale Mining
Resource Nationalization at Work

The Brazilian government's desire to have more domestic beneficiation of the country's mineral resources was probably the largest factor in the last leadership change at Vale, which happened in May of 2011. It is widely believed that the Brazilian government indirectly forced the former CEO, Roger Agnelli, out because he was opposed to Vale significantly increasing its investments in steel production in Brazil. Murilo Pinto de Oliveira Ferreira, the new CEO, reaffirmed the company's focus. It is clear that the Brazilian government has reclaimed the control of Vale.
Leadership at Rio Tinto

This world-class miner has had the same CEO, Tom Albanese, since 2007. He has been with Rio Tinto since 1993. His time as CEO has included one of the steepest market declines on record. Rio stock stood at 140 in mid-May 2008, only to fall to 16 by early December of that year. This was primarily due to the collapse in the price of commodities. However, a costly merger was part of the problem.
Nils Pratley, writing for The Guardian reported that, "Many would say Tom Albanese, chief executive of Rio Tinto, received a bonus when he kept his job. His bet on Alcan in 2007 started to go sour almost from the moment $38 bn in cash left Rio's coffers. The miner is still counting its losses on the deal, with today's $9 bn impairment charge making $18 bn in total. Not many chiefs of FTSE 100 companies would have survived that."
It seems that many of the CEOs of the large miners above have yielded to the temptation to become a hero by making the "big deal." Pratley continues, "The corporate trauma, and the threat to Albanese's career, passed, thanks in large part to the astonishing post-2009 rebound in the price of iron." Rio has returned to its conservative ways and Albanese is proving to be a capable operator. He is now the most seasoned CEO of the large miners.
Barrick Gold

While the focus of this article is the major diversified miners, it is noted that similar concerns about CAPEX and total return on stockholder investments in the industry has had wider effects.
These include the fate of Aaron Regent of Barrick Gold (NYSE:ABX), the world's largest gold producer. An article in Forbes reported "A weak stock performance claimed the job of a CEO on Wednesday, with Barrick Gold's Aaron Regent axed by his board." The stock price gained nearly 30% under Regent's three year tenure, but failed to keep up with the 49% rise in the price of bullion. Barrick's share price has been in line with its peers, Newmont Mining gained 29% and Goldcorp was up 31%. AngloGold Ashanti and Kinross are up 39% and 52% respectively. The board stated, "We are fully committed to maximizing shareholder value, but have been disappointed with our share price performance."
Kinross Gold Corp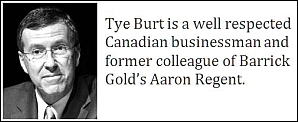 Canada's third-largest gold company, Kinross Gold Corp., abruptly replaced its chief executive officer also. Kinross shares are trading at about a third of their value of one year ago, and this was clearly the reason for the dismissal of Tye Burt, who was accused with value destruction.
Evolving Industry Policies
Institutional investors, investment bankers and stockholders are now greatly influencing mining decisions. Certainly, publicly held corporations must heed their owners. "We interpret that lack of capital discipline and stock underperformance has reached a breaking point in the mining sector and we expect further management changes to come," wrote Deutsche Bank analyst Jorge Beristain, shortly after the firings at Barrick and Kinross. With close examination of CAPEX, the miners can be profitable at today's commodity prices. Costly merger and acquisition activity that does not come to fruition will not be tolerated. Demand continues, and will continue, for metals and other mined materials, albeit at a slower pace than in the past.
Current supply of resources is adequate and the pressure to withhold investment is very strong. Some metals, including copper, will be in short supply by 2015. It will be imperative that mining management balances the need to provide for shareholder returns with the need to spend capital for expansion. For any expenditure, all risks must be evaluated with due diligence.
A turnaround should be well underway by 2016 as the demand for copper passes the available supply. A study by Wood Mackenzie speaks to this issue. It is included in BlackRock Investment Institute's "MIND YOUR MINE!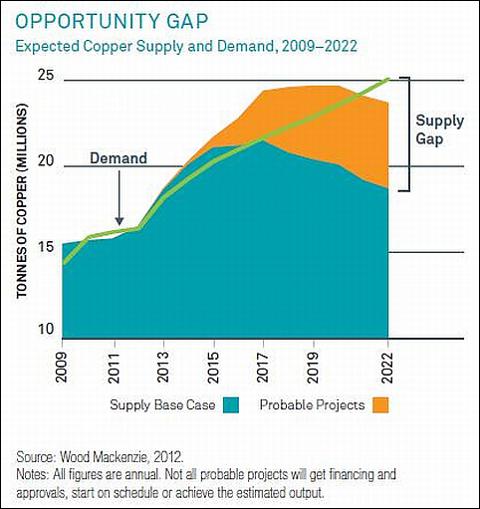 BlackRock goes on to sum up the situation in a tidy manner, "Our bottom line: Mining is not about discovering deposits and developing them. It is about extracting commodities at a profit… "
Investing in the Large Diversified Miners

BHP Billiton: Of the three largest miners, BHP Billiton is the largest and best positioned as far as product mix goes. It has large and profitable iron ore and copper mines, mines other industrial metals, has petroleum resources, energy coal and met coal mines. Diversified geographically, it has less critical exposure to high-risk countries than its peers. It is an exceptionally well-managed company at all levels; however, one cannot ignore the fact that it is replacing its CEO. BHP has a progressive dividend policy, and states its intention increase dividends each year. The long-term dividend growth investor can expect reasonable and growing returns; the yield is now about 3.5%. This stock, BBL, is a hold and a potential buy for income investors.
Rio Tinto is a large and sophisticated miner and is ready to bring what will be the second or third largest copper mine in the world into production in 2013. This is at Oyu Tolgoi in Mongolia. The timing on this project should be ideal as it reaches full production in 2018, a time of expected copper shortfall. In other locations, products include aluminum, diamonds, thermal and metallurgical coal, uranium, gold, industrial minerals (borax, titanium dioxide and salt) and iron ore. There are major investments in Australia and North America with significant businesses worldwide. Leadership appears to be stable and the strategic direction well defined.
CEO Tom Albanese announced last week that the miner was taking "tough action" to "roll back" the unsustainable cost rises of the past few years and cut $5 billion from costs in the next two. Friday's Financial Times quotes him, "The theme for this year, next year and probably for an extended period will be costs… and not just operating costs but capital costs." It appears Rio may be ahead of curve, as Albanese articulated a well thought out plan to reduce costs in several areas. Morningstar and FinViz give a forward P/E of 7.0, which is probably more meaningful than the Yahoo/Google TTM number. RIO is a buy.
Vale Mining is the world's largest iron ore producer and its fortune rises and falls on the worldwide demand and price of that commodity. It is best located to serve Europe, and that market is very soft. It is at a disadvantage with seaborne ore as it costs $20 a ton more to get the ore from Brazil to China than it does from Australia, the shipping point of Rio and BHP. It has two weaknesses, lack of product diversification and the necessity of serving as an instrument of the Brazilian government. If I owned VALE I would sell it, regretting only that I had not done so sooner.
Anglo American is significantly smaller than the top three miners discussed above. While I do not doubt the long-term viability of the firm, its near term outlook is fraught with turmoil. They are the world's fourth largest producer of iron ore, and have resources in metallurgical coal and thermal coal, as well as copper, nickel, platinum and diamonds. They operate in Africa, Europe, South and North America, Australia and Asia. Because of the labor issues in South Africa, flagging stock performance and the abrupt change in leadership, I would sell Anglo American and reevaluate a position at some future time.
Glencore - Xstrata
The merger between these two firms was approved last week by Xstrata's shareholders. Xstrata is a global miner that is a large copper producer. Glencore is primarily a commodity trading company but it is also involved in the production of minerals and metals, including copper. The degree of synergy between the firms is not completely clear; certainly, there will be some economies involved in the marketing of mined products. It is beyond the scope of this article to explore this merger in depth. I do not invest in companies that are splitting or merging.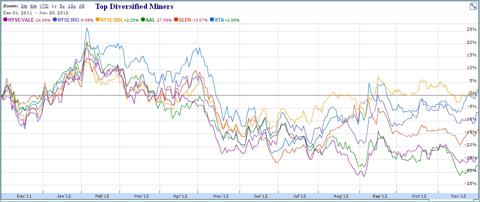 Industry Outlook
One of the good things about the business cycle in a free economy is that it forces efficiencies upon even those perceived to be at the top of their game in better times. That task is well underway, and a profitable future lies ahead for the mining industry.
Disclosure: I am long BBL. I wrote this article myself, and it expresses my own opinions. I am not receiving compensation for it (other than from Seeking Alpha). I have no business relationship with any company whose stock is mentioned in this article.