Corporate Executive Board Company (NYSE:CEB) has now delivered five straight positive earnings surprises with an average beat of more than 26%. Its third-quarter report from early November also included raised guidance, which helped send earnings estimates higher for this member-based advisory company. It reached Zacks No. 1 Rank (Strong Buy) status on Nov. 17.
The stock offers an attractive investment opportunity for growth-seeking investors, owing to its strong earnings momentum, year-to-date return of more than 18%, and long-term growth projection of 16.3%.
Sturdy Third Quarter
On Nov. 1, Corporate Executive Board Company reported adjusted earnings per share of 74 cents for the third quarter. That exceeded the Zacks Consensus Estimate of 46 cents by nearly 61% and the year-ago earnings of 47 cents by more than 57%.
Revenue surged 35.5% year over year to $164.7 million. Following the acquisition of the SHL business on Aug. 2, 2012, the company now has two segments: CEB and SHL. CEB revenue gained 14.4% to $139.1 million, while SHL generated revenue of $25.6 million.
Upbeat Outlook
To reflect the solid performance from CEB and the addition of SHL, management raised its outlook for 2012. The company now expects adjusted earnings per share between $2.45 and $2.55, vs. the previous projection of $1.90 to $2.05. Revenue is now expected between $610 million and $620 million, compared to the previous expectation of $535 million to $555 million.
Earnings Momentum on the Rise
Both earnings estimates for 2012 have been revised higher in the last 30 days, boosting the Zacks Consensus Estimate by 12.6% to $2.23. This represents year-over-year earnings growth of 33.5%.
All four estimates for 2013 moved higher over the same time frame, sending the Zacks Consensus Estimate higher by 20.6% to $2.69. This represents a year-over-year increase of 20.5%.
Premium Valuation
Corporate Executive's valuation looks expensive compared to its peers by most metrics. Its trailing 12 months P/E of 19.24 times is well above the peer group average of 17.94 times. Moreover, the stock is currently trading at a forward P/E of 19.67 times, higher than the peer group average of 18.92 times. The price-to-book ratio of 12.78 times is significantly higher than the peer group average of 1.37 times. The P/S ratio of the company stood at 2.62, a 184.8% premium to the peer group average of 0.92.
However, favorable earnings growth prospects in the current and ensuing year warrants the premium valuation of the company. Moreover, it has a trailing 12-month return on equity of 80.2%, far above its peer group average of 9.6%.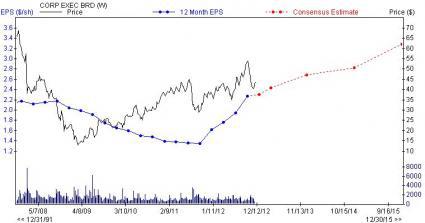 Corporate Executive Board Company is based in Arlington, Va., and was incorporated in 1979. The company provides the best practices research and analysis by focusing on corporate strategy, operations, and general management issues. Corporate Executive has a market capital of about $1.47 billion and competes with Booz Allen Hamilton Holding Corporation (NYSE:BAH), among others.
Read the full Snapshot Report on CEB (email registration required).