One consistently contentious topic amongst investors is the proper role of the Federal Reserve. There is a high level of conviction on both sides. One side argues that the Fed has already done more than enough and many of its policies are contributing to the very problems it seeks to solve. Many also believe that the Fed's interventions will lead to rocketing inflation in the future.
The other side is equally certain that the Fed has been too cautious. They cite the current "Liquidity Trap" as a special circumstance in which the Fed can be more aggressive without worrying about repercussions that would be normally felt in ordinary times. Essentially, this is the "New Normal"'s take on the eternal hawks vs. doves debate.
Whichever side one lands in this debate, both sides would agree that in the short term, dovish policies boost asset prices. In this article, I will be looking at the shift in the FOMC in the coming year from slightly dovish to very dovish due to new voting members and possible impact on asset markets.
Rotation in FOMC
The FOMC is basically the group in charge of monetary policy for the United States. It consists of 12 members, 7 from the Federal Reserve Board appointed by the President and the remaining 4 are rotated amongst the 12 regional Fed Bank Presidents. The last seat is permanently slated for the Federal Reserve Bank of New York President. Every year, the votes are rotated to a new set of regional Fed Bank Presidents.
The incoming members are slanted towards more aggressive action to deal with unemployment. The two most dovish new members are Charles Evans of the Chicago Fed and Eric Rosengren of the Boston Fed. In fact, Evans has come out in support of continuing current rates at zero percent until unemployment comes in below 6.5% or as long as inflation remains under 2.5% which would be remarkable in terms of its aggressiveness.
"We have the ability to go even further in reassuring financial markets and the general public that policy will stay appropriately accommodative and that such steps would provide the stimulus to growth," the Chicago Fed chief said at the C.D. Howe Institute Benefactors' Lecture and Dinner. Since 2008, rates have been near 0 and already current policy remains to keep them at low levels until mid 2015.
I disagree with Evans that the problem is that the markets are not taking the Fed at face value they are going to keep rates low for an extended period of time. However, I do feel that unemployment is as important of a crisis that we have faced throughout our history other than the times our survival was at stake. Nevertheless, I don't see much benefit to this policy beyond a "sugar high" type spike in asset prices. I think the real benefit may be due to the perception that the Fed is prepared to act even more aggressively than in prior years to economic weakness.
The question I grapple with, don't have an answer for, and hope never gets answered: What tools does the Fed have left, if we do slide into a recession before rates return to normal levels?
Impact on Asset Markets
The biggest change will be a continuation of interest rates below inflation which is unprecedented for such an extended period of time. Over the long term, this makes assets more desirable unless you are convinced deflation is on the horizon. Below are the charts of stocks, bond yields and gold, respectively over this QE era. Comparable ETFs are the SPDR S&P 500 ETF Trust (NYSEARCA:SPY), iShares Barclays 20+ Yr Treas.Bond (ETF) (NYSEARCA:TLT), and SPDR Gold Trust (NYSEARCA:GLD).
(click to enlarge)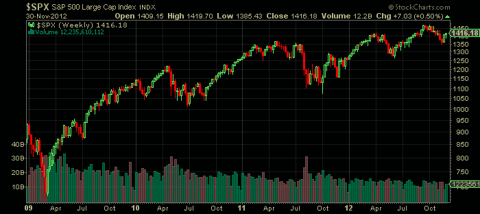 Click to enlarge
(click to enlarge)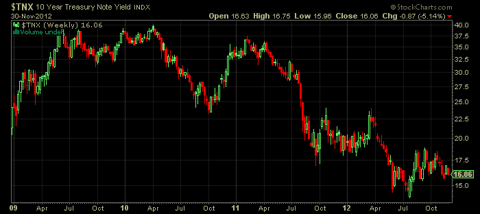 Click to enlarge
(click to enlarge)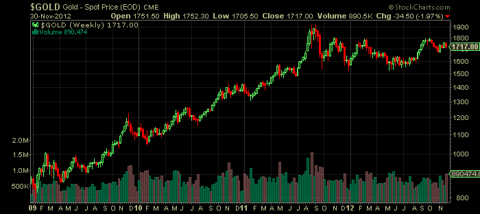 Click to enlarge
All three markets have been trending steadily over the longer term in this period, and a more aggressive Fed at least over the next couple of years will extend these trends. The perception of a Fed that is more aggressive will certainly goose markets in the short term but also continue the "Bernanke put." The "Bernanke put" is essentially the idea that significant weakness should be bought because the central bank is willing to move to support asset prices. In 2013 with new voting members, the "Bernanke put" will only get stronger.
Disclosure: I have no positions in any stocks mentioned, and no plans to initiate any positions within the next 72 hours. I wrote this article myself, and it expresses my own opinions. I am not receiving compensation for it (other than from Seeking Alpha). I have no business relationship with any company whose stock is mentioned in this article.