Even though I am not a long term investor, I don't see anything wrong with holding on to a stock for long periods of time, if the fundamentals merit.
However, when attempting to hold for the long term, one should also look at management's policy of issuing new shares, especially via stock options, which many times comes at a great cost to current shareholders. For over the long term, dilution will eat into appreciation, which is probably the number one reason to buy stocks anyway.
Past dilutive policies are not necessarily indicative of what will happen in the future, but it never hurts to look at past dilutive practices to determine whether management has been friendly to shareholders or not.
Also something else to consider. If management had no other choice but to sell shares via a secondary offering for the company to survive, that might mean that it didn't do a good job of managing risk. It's one thing to forgive past mistakes, but it's another to forgive mistakes that proved to be detrimental to shareholders, to such an extent, that they will never recoup their money ever again.
Below I have a list of 7 housing stocks that I think deserve attention. Some of these stocks have been very naughty with shareholders. Some of them have diluted shareholders beyond the point of no return. In other words, beyond the point that these shareholders, if they did not sell several years ago, will ever be able to recoup their money, no matter how many new houses are built from now on.
TOLL Brothers (NYSE:TOL) has increased its float about 13% from 2004. It's not a whole lot and I think that this dilution is manageable and acceptable by shareholders, if the company does well. I rate management's dilutive practices as B+.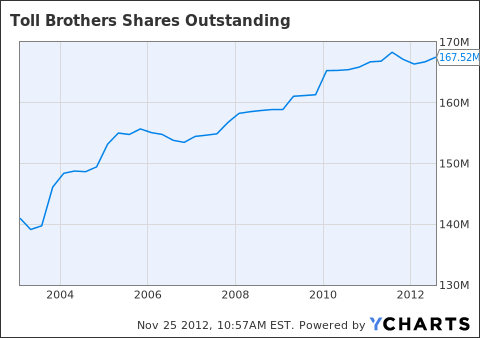 TOL Shares Outstanding data by YCharts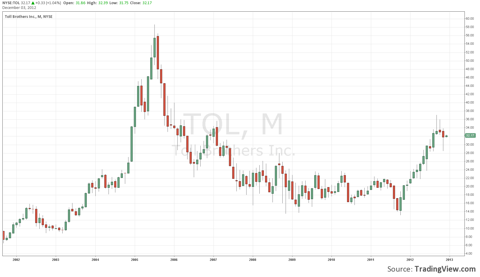 Lennar (NYSE:LEN) is a little bit more naughty. Total dilution from 2004 is 35%. Surprisingly, the stock is up about 1000% from its lows in 2009 and only $24 from its all time high in 2005. I assume they have handled the situation quite well and the market has priced this in. I will rate them a B, mostly because the stock has done well.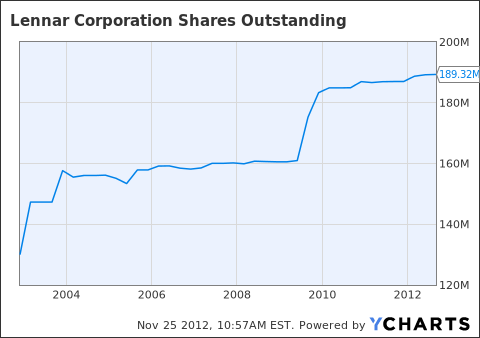 LEN Shares Outstanding data by YCharts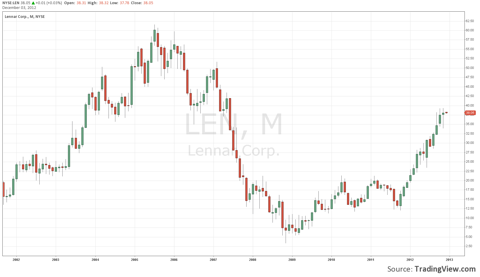 D.R.Horton (NYSE:DHI) gets an B+. About a 5% dilution since 2004.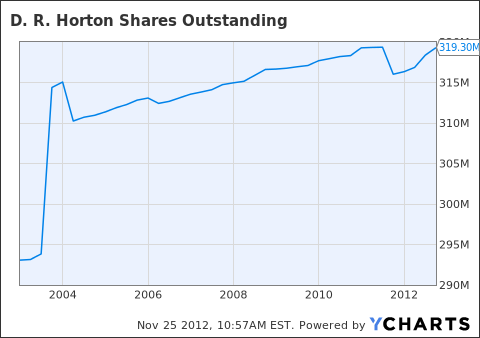 DHI Shares Outstanding data by YCharts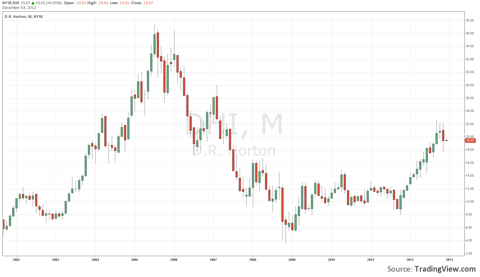 Hovnanian (NYSE:HOV) has doubled the float from 2004. Automatically that means a D-. If you add to that the poor performance of the stock and how low the stock still is from its 2005 highs, then we end up with a DDD-.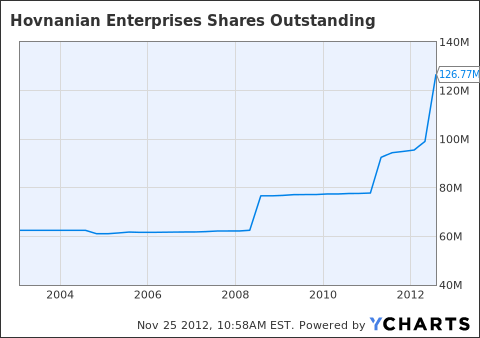 HOV Shares Outstanding data by YCharts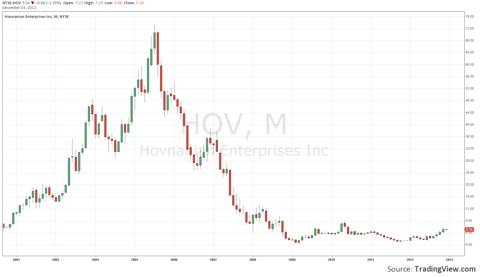 Beazer (NYSE:BZH) has increased the float by almost 400%. This is the definition of dilutive practices and by definition, management did a very poor job of managing risk. Far too many naught things have been done by this company to mention. My dilution rating DDD-.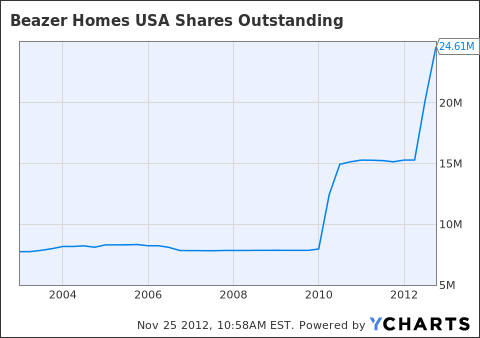 BZH Shares Outstanding data by YCharts
And just to give you some insight on what the above chart means, the chart below shows Beazer's stock adjusted for the above dilution.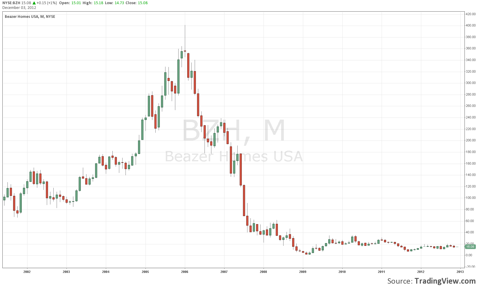 Pulte (NYSE:PHM) automatically gets a D.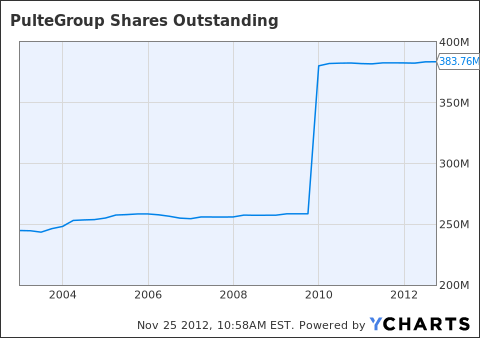 PHM Shares Outstanding data by YCharts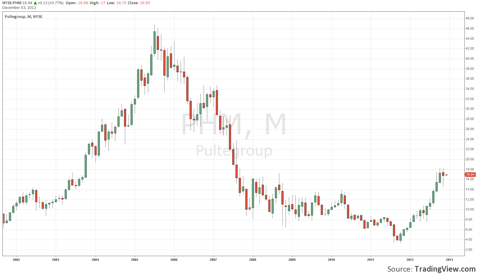 In the case of KB Home (NYSE:KBH), management has done a very good job of shrinking the float, however the stock has not performed much.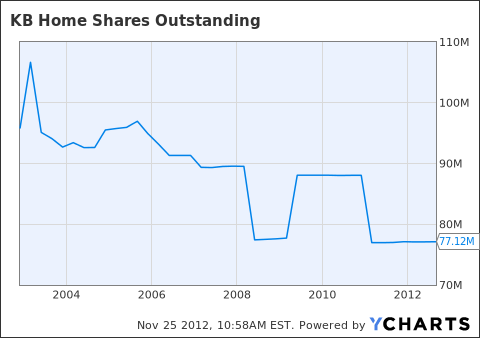 KBH Shares Outstanding data by YCharts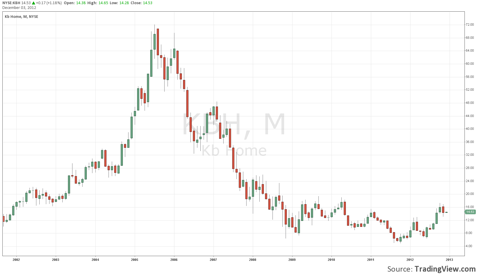 Bottom line:
It's hard enough to make money in the market in the best of times, it becomes harder if you have to go up against management printing shares like Ben Bernanke.
A shrinking float does not mean you will make money, but at least if you are not diluted by much, you have a chance to get your money back. if something goes wrong.
From the above selection, long time investors that have a chance to get their money back, assuming they bought in the housing bubble years are TOL, DHI and LEN. PHM will take much longer and shareholders of BZH, KBH and HOV, I think have little chances.
Disclosure: I have no positions in any stocks mentioned, and no plans to initiate any positions within the next 72 hours. I wrote this article myself, and it expresses my own opinions. I am not receiving compensation for it (other than from Seeking Alpha). I have no business relationship with any company whose stock is mentioned in this article.