Several developments are clouding Interactive Brokers Group's (NASDAQ:IBKR) future since the last discussion seven months ago and the company appears to have an unimpressive 2012. These include a worse than expected second and third quarterly performances, a steep decline in shares of a competitor, Knight's Capital Group (NYSE:KCG), a negative impact from hurricane Sandy, and a decrease in market volatility. All of these factors could put pressure on Interactive Brokers Group share price going into next year. This article will discuss these trends and why they are important for shareholders in the company.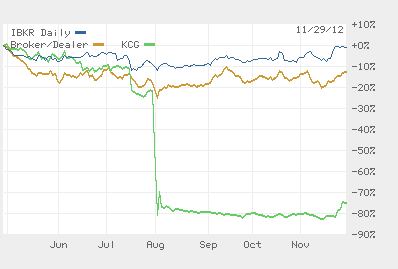 Quarterly Performance
Interactive Brokers failed to meet the average analyst earnings estimate in the second and third quarters of $0.18 and $0.35 per share by $0.09 (50%) and $0.05 (14%), respectively. In the second quarter, the company experienced a 20% decline in stock volumes or a decrease of 3.7 billion shares. While other metrics had a positive growth in the second quarter, in terms of volume, this decline far outpaced the combined gains in other areas. As a result, revenues declined by 12% to $260.9 million, compared to the second quarter of 2011, pre-tax margin decreased from 50% to 42%, and pre tax income dived 27%.
This trend continued in the third quarter and somewhat worsened as all business segments experienced volume declines, with the exception of customer accounts (up 11%) and equity (up 35%). Unsurprisingly, revenues decreased by about 17% to $318.6 million quarter over quarter, pre tax margin saw a decline to 52% from 54%, and pre tax income was about 21% lower.
In the fourth quarter and for the year, the company is expected to earn $0.27 and $0.97, respectively. This gives a price to 2012 earnings ratio of 15.8 based on the recent stock price. The company pays a quarterly dividend of $0.10 per share for an annualized dividend yield of 2.6%. While the dividend is attractive, a possible decline in the stock price due to current performance and factors, discussed later, could erase any income gains. On the positive side, Interactive Brokers common stock appears undervalued compared to the iShares Dow Jones U.S. Broker-Dealers Index Fund (NYSEARCA:IAI), that has a price to earnings ratio of 18 and a dividend yield of 2%. Also, the ETF has a beta of 1.6 compared to a beta of 0.8 for Interactive Brokers, implying greater volatility for the index.
One Investing Lesson from the Knight Capital Group Fallout
Perhaps, the most important lesson for investors from the problem Knight Capital had on August 1, 2012 is that electronic trading firms are subject to a major software failure, among other risks, and they should trade at a discount to other financial service companies. The stock trading disruption caused Knight Capital's stock price per share to plummet from a close of $10.33 on July 31, 2012 to a close of $2.58 on August 2, 2012, or a decrease of 75%. The single day software glitch affected 148 NYSE listed companies and cost Knight Capital an estimated $440 million. In addition, Knight Capital had to quickly secure financing in the amount of $400 million that had burdensome terms and was also dilutive to current shareholders. Finally, Knight Capital recorded a 3Q loss attributable to common shareholders in the amount of $764 million or $6.30 per share. First Call consensus was for a Q3 loss of $2.45 per share.
It is clear, from this unfortunate event, that other companies, such as Interactive Brokers, are susceptible to similar one-day risks. Even if Knight Capital has recovered operationally, its market capitalization is damaged permanently as the company is in the process of selling itself for less than $4 per share or a mere three times its 2011 earnings of $1.22 per share. A downward revaluation of the multiples for similar companies might be warranted.
Competition, Volatility and Sandy
Competition in electronic brokerage and market making is heating as the decrease of market making activities by major banks post Lehman Brothers seems to be over. For example, Goldman Sachs (NYSE:GS) market making business improved 47% in Q3 in terms of revenues, reversing an earlier trend of decline. In addition, Interactive Brokers was consistently among the top ten firms by liquidity on the NASDAQ and NYSE for the first eight months of 2012. However, the company is not found in the top ten lists for October. It is clear that investment banks and other market makers are taking back some of the lost ground.
In addition to increased competition, Interactive Brokers is facing headwinds from reduced volatility. The company profits more when there is volatility, however, volatility has largely decreased this year (see graph below). While volatility might increase as we approach the "fiscal cliff," a return of the volatility levels experienced in the last several years would be surprising.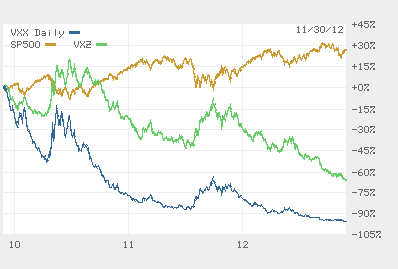 Finally, Sandy had a negative impact on most market makers and brokerages as U.S. stock markets were closed for the first time since 1888 for two consecutive days due to weather. Two trading days represent about 10% of the trading days in a month and 3% of the quarterly trading days. Hurricane Sandy certainly had a noticeable effect on Interactive Brokers. Should such weather become more common in the future, as many people predict, it would certainly have a longer-term negative effect on market makers and brokerages.
Conclusion
In a recent article about Interactive Brokers' founder, Thomas Peterffy, Barron's almost assured investors that a special dividend is on the way. While this might have a positive effect on the stock price, it could be short-lived. Interactive Brokers is experiencing a decrease in business volumes and increase in competition after investment banks and other severely impacted market makers and brokers recover from the financial crisis.
It seems that Interactive Brokers was not able to take a sustainable advantage from the financial crisis. In addition, the sharp decline in Knight Group shares hints that electronic broker stocks should trade with a discount to account for any possible disruption, even if this event occurs for a single day. Given all this, Interactive Brokers' common stock appears fairly valued and investors might be better off if they avoid it until its business performance improves.
Disclosure: I have no positions in any stocks mentioned, and no plans to initiate any positions within the next 72 hours. I wrote this article myself, and it expresses my own opinions. I am not receiving compensation for it (other than from Seeking Alpha). I have no business relationship with any company whose stock is mentioned in this article.