That "nickel" was burning a hole in my pocket! I always talk about having a nickel in my pocket when I have sold a portion of one of my holdings at a gain. Indeed on Tuesday my recently purchased holding, WMS Industries (NYSE:WMS) hit a first appreciation target and I sold 1/7th of my small holding. These sales are the barometers I use to determine my own equity exposure in the market. With that sale, I started to look for a new position that met my own criteria for a holding, and a purchase that would be at the 'average' of my remaining holdings in size.
Looking first to the list of top % gainers, I came across Rock-Tenn (RKT) which closed at $32.94, up $3.79 or 13% on the day, and I purchased 93 shares at $33.06.
Rock-Tenn climbed Tuesday after releasing fourth quarter 2008 results. The company reported that it earned $28.4 million or $0.74/share, up from $19.7 million or $0.50/share last year. "Excluding one-time items, Rock-Tenn earned $34.5 million or $.90/share."
I place great significance on expectations of earnings in trying to determine how 'good' an earnings report really is. In this case, the company easily outperformed expectations as analysts polled by Thomson Reuters had been expecting earnings of $0.84/share. 
But of course, a single quarterly result isn't enough to get my own 'seal of approval' on a stock! Reviewing the Morningstar.com '5-Yr Restated' financials on RKT, we can see the steady growth in revenue from $1.4 billion in 2003 to $2.3 billion in 2007 and $2.7 billion in the trailing twelve months [TTM].
Earnings, however, have been far more erratic, dipping from $0.85/share in 2003 to a low of $0.49/share in 2005. Since 2005, earnings have grown to $0.77/share in 2006, $2.07/share in 2007, and per Morningstar, a dip to $2.07/share in the TTM.  However, with the latest quarterly result, we can see that the increase is 'back on track.'
The company has a record of paying dividends and has been increasing that dividend from $0.32/share in 2003 to $0.39/share in 2007 and $0.40/share in the TTM.
Outstanding shares have been fairly stable with 35 million outstanding in 2003 increasing to 38 million in the TTM.
Free cash flow is positive and growing with $99 million in 2005, $160 million in 2007 and $175 million in the TTM. The balance sheet appears adequate with $57 million in cash and $618 million in other current assets, compared to $636.5 million in current liabilities - a current ratio just over 1.0, and $1.7 billion in long-term liabilities on the balance sheet.
This isn't a perfect fit to my own strategy of steady earnings growth and solid balance sheets. But the overall fit works for me.  
Let's take a quick look at the 'point & figure' chart from StockCharts.com:
click to enlarge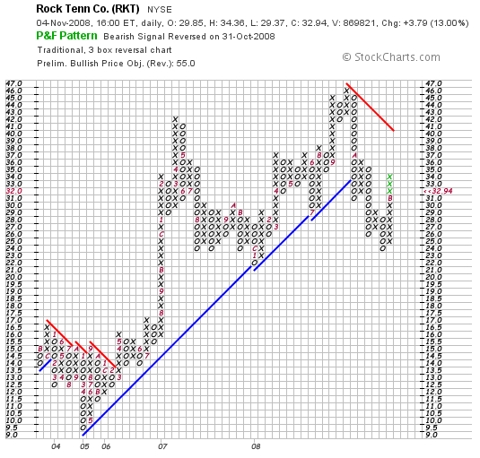 We can see that the price moved higher between April, 2005, when it dipped to a low of $9.50, to a peak of $46 in September, 2008. The stock broke down after that dipping to a low of $24 in October, 2008, just last month, and the stock appears to be attempting to break through resistance at $40, but actually has a ways to go.
Like so many stocks in today's bear market, the charts are under pressure.
With my own 'leash' on every investment, and my own signal to be adding a position, this one works for me. This company that "manufactures packaging products, paperboard, and merchandising displays in North America" according to the Yahoo "Profile."  This is a mid-cap stock with a market cap of $1.26 billion, a P/E of 17.33, and a PEG of 1.18 per the Yahoo "Key Statistics."
Wish me luck. I will try to keep you posted with all of my holdings, my own trades, my own thoughts and fears and hopes and aspirations in the market.
Disclosure: Author owns RKT.