Well it's been a wild ride for every asset class in the last three months; and few wilder than emerging markets and their equities.  There is considerable concern about the strength of export nations like China, India and Brazil and rightfully so as consumer nations like the US continue to flounder in their economic trough.  However, there are still a few small areas of bright spots (though they are hard to see through the denseness of the gloom and darkness). 
One of these bright spots is in emerging markets, particularly in China.  In September domestic retail sales again surged 23.2% higher from a year ago.  This is very significant because this indicates retail strength even after the Olympics have come and gone.  In the midst of the worst credit crisis globally since the Great Depression and without the influence of Olympic sized marketing hype the Chinese people still sought after a better standard of living. 
As I have said before the people of China are in a significantly different position than those of the US, India, Europe and others in that they are A) without personal debt....something their US counterparts can't brag about and B) flush with a significant percentage of savings and cash....something most of the world can not brag about.  When you add in the pressure the Chinese government is applying to increase domestic sales you continue to have a strong recipe for increased domestic sales.  So if the domestic sales of China are growing how do we as investors capitalize on it?
To capitalize on China's domestic sales growth one has to first realize what the infrastructure looks like...and it is somewhat of a tangled mess of street vendors and unorganized inventory records.  As growth continues and the world economy and China's export economy weakens it has become increasing important to obtain efficiencies in maintaining inventory and maintaining supplier and retailer contacts.  Many of these small to mid sized retailers and suppliers are looking to software and the internet to help maintain their inventory and supplier contacts and they want to deal with local companies who understand their needs.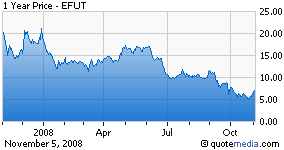 eFuture Information Technology (NASDAQ:EFUT) has become one of the largest and most respected of these local software companies.  eFuture has won the business and trust of a number of small and mid-sized retailers, while at the same time, won the respect, trust, and business of large global companies looking to China to enhance their global sales.  Companies such as Johnson and Johnson, Ford, Kimberly-Clark and Proctor and Gamble have all signed up with EFUT to enhance their domestic retail sales and make more efficient their control on suppliers and their inventory. 
In October EFUT announced they had won the trust of yet another global company in L'Oreal cosmetics, and the CEO of the company specifically addressed the credit crisis in the West, indicating that it was not affecting the fundamentals of EFUT.  The share price of EFUT has been hit significantly hard as hedge funds and individual investors fled emerging markets and equities in general.  This however, has made a significant value opportunity.  EFUT is currently trading at one times its 2008 revenue and the market cap is only 3 times the size of cash it has on hand while it has become debt free!  EFUT will announce results for the third quarter on Thursday after the close.  During the third quarter they paid off 4 million or 80% of their outstanding debt via convertible shares, which converted at a minimum of 19 dollars per share. 
The management of EFUT has continued to show their strength and savvy as they grow the company, pay off debt, and maintain strong cash on hand balance sheet.  Management has indicated they would like to continue to acquire competitors to enhance growth but they are also generating a lot of cash through their monthly service fees.  I believe that this will allow EFUT to maintain a strong balance sheet going forward even as they continue to purchase competitors to enhance their market share and offerings.