Precious metals are opportunity buys for long-term investors. My primary thesis is that the endless easy money policies from central banks around the globe have created a long-term tailwind for the various precious metals. In recent articles I have suggested that gold prices have long-term tailwinds in the form of extensive inflationary pressures and have recommended considering several gold plays, most notably the SPDR Gold Trust (NYSEARCA:GLD) and the iShares Gold Trust (NYSEARCA:IAU). I believe all precious metals will benefit from inflationary actions of by central banks worldwide in the coming years. While gold is a straightforward way to benefit from the currency debasement occurring globally, I have opined that platinum could outperform gold, but I further believe that silver is poised to outperform both of these metals.
Aside from silver being a precious metal it also has many industrial applications and therefore will always have demand, especially when the global economy comes fully out of recession. Common ways silver is utilized include:
Currency; coins and bullion
Jewelry
Silverware; utensils, cutlery
Dentistry
Photography
Electronics
Mirrors and optics
Musical instruments
Medical devices and instruments
Textiles
Nanotechnology
While this list is not nearly exhaustive, it demonstrates that silver, as opposed to gold, has real-world everyday uses. It's one of the most conductive metals out there and a key part of many electronics and batteries. It remains in high demand for film photography applications, even in a digital age. Silver even has antibacterial qualities, making it an important element of surgical tools and other medical devices.
The biggest growth area is in technology and that is where a lot of demand will be generated as we further delve into an era dominated by apple (NASDAQ:AAPL) iPhones, iPads etc. and its competitors' similar products. Silver is utilized heavily in these high-tech devices. On average, 6 cents of silver is used in each cell phone, according to industry reports. On its own it is not much, but considering there were nearly six billion mobile subscribers worldwide in 2011, an number that's growing here in 2012, it becomes clear that new phones will always be in demand. Using the average of 6 cents a phone, we generate demand for $360 million of silver in just new mobile devices alone. There is a lot of silver in old cell phones, photography chemicals or medical devices that already has been taken out of the market. Although there is a push to recycle electronics and reclaim costly elements like silver within them, in situations where silver is used in very small portions (such as new smart phones), it is not cost-effective or even practical to recover the silver. Thus, new silver will be utilized in these devices.
Right now silver is priced around $33.44 an ounce, approximately 32% off its all time highs set in April of 2011. Gold is currently priced at about $1,715 an ounce. That represents a 51.3 gold-to-silver price ratio, whereas the historical ratio is 16-to-1 (figure 1). The respective prices of gold and silver have not approached this historical ratio in years, and I believe a reversion is overdue. In order to see this reversion, gold would have to fall over $1,000 an ounce or silver will have to rise at a greater rate than gold in value in the coming years. I believe the latter is far more likely than the former, especially in a climate of endless monetary easing. Combine this with the rising demand in the technology sector and the fact that industrial demand will return in full force once we have moved completely out of the recession and we have a strong case for an investment in silver.
Figure 1. Historical Prices of Gold and Silver in the Last 100 Years.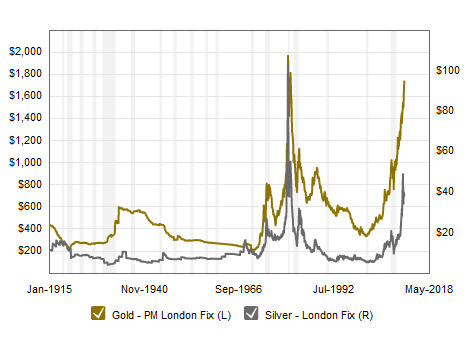 I always recommend investing on dips and after the drop in silver prices we have had in the last few weeks silver seems to be presenting another lucrative entry point. There are three ways investors can get exposure to silver. My top approach for silver exposure is purchasing physical silver bullion and coins, followed by purchasing shares of ETFs that track silver prices, and finally through the stock of the individual silver companies/miners.
Physical assets
The best way to invest in silver in my opinion is through physical bullion or coins. There are numerous dealers in most cities and on the internet where you can buy silver bullion bars and/or coins. I not only consider physical silver as a wise investment given government stimulus, but I also consider it to be a form of insurance in case of a total meltdown of the fiat currencies and modern financial systems we have in the world today. If you decide to invest in physical silver assets, do so by only buying from a reputable dealer. This is especially important if you're purchasing over the internet, where you will want to look for a well established dealer with a long history and stability in the business. The only downside from internet purchases is high shipping and insurance costs as well as the possibility of a required minimum purchase. Whenever possible, buy locally to avoid such excessive shipping and handling fees.
Silver ETFs
One option for those who do not feel comfortable with purchasing physical silver is through an ETF. The iShares silver trust (NYSEARCA:SLV) is a popular investment that seeks "to reflect the price of silver owned by the trust, less the trust's expenses and liabilities. The fund is intended to constitute a simple and cost-effective means of making an investment similar to an investment in silver. Although the fund is not the exact equivalent of an investment in silver, they provide investors with an alternative that allows a level of participation in the silver market through the securities market." The fund has $8.9 billion in assets with an annual expense ratio of approximately 0.5%. Shares in SLV currently trade at $32.36 and have a 52 week range of $25.34-$36.44.
ETFS Physical Silver Trust (NYSEARCA:SIVR): This is another less popular ETF that tracks the price of silver. SIVR is "an investment trust. The trust holds silver bullion and issues shares in exchange for deposits of silver and distributes silver in connection with the redemption of baskets. The investment objective of the trust is for the shares to reflect the performance of the price of silver, less the trust's expenses and liabilities. The trust is designed to provide an individual owner in the shares an opportunity to participate in the silver market through an investment in securities." SIVR has about $600 million in assets, far less than the $8.8 billion in assets of SLV. In contrast SIVR has an expense ratio of 0.3% which is 20 basis points lower than the expense ratio of SLV. Over recent months the performance of SLV has been superior to SIVR. SIVR currently trades at $33.09 with a 52 week range of $25.92-$37.10.
Sprott Physical Silver Trust (NYSEARCA:PSLV): The PSLV is an ETF that is backed entirely by physical silver bullion. The fund's goal is to provide a secure, convenient and exchange-traded investment alternative for investors who want to hold physical bullion. The Trusts offer a number of compelling advantages over traditional exchange-traded bullion funds, including bullion storage in Canada which is not held with a bank owned custodian. Further, the fund allows investors to redeem units of the ETF for delivery of an equivalent amount of physical bullion. In this regard the fund is unique relative to the SLV and SIVR. Currently PSLV trades at $13.27 a share on average daily volume of 1.4 million. The 52 week range of PSLV is $10.87 to $16.13.
Other ETFS to consider that invest in silver
ProShares Ultra Silver (NYSEARCA:AGQ): This ETF applies a 2X exposure leverage to silver using forward contracts and futures. The investment seeks "to provide daily investment results (before fees and expenses) that correspond to twice the daily performance of silver bullion as measured by the United States dollar fixing price for delivery in London. The fund invests in any one of or combinations of financial instruments (swap agreements, futures contracts, forward contracts and option contracts)." This is a play for short-term appreciation in silver prices. Like other daily funds of its nature, it should not be held for periods longer than a month in general. AGQ currently trades at $53.84 on average volume of 1.44 million. AGQ has a 52 week trading range of $34.50-$74.65.
Powershares DB Silver (NYSEARCA:DBS): This investment fund seeks to "track the price and yield performance, before fees and expenses, of the Deutsche Bank liquid commodity index optimum yield silver excess return. The index is a rules based index composed of futures contracts on silver and is intended to reflect the performance of silver." It currently trades at $55.31 on low average volume of 17,000 shares. DBS has a 52 week range of $45.06 to $65.44.
Stocks
Finally there are the silver companies/miners to consider for exposure to silver. The best way to gain exposure to silver miners as a whole is through the Global X Silver Miners ETF (NYSEARCA:SIL). SIL currently trades at $22.89 on average daily volume of 350,000 shares. SIL has 52 week range of $16.54 to $26.62.
For those willing to take on more risk and do the necessary homework an individual silver company or miner could be considered in place of SIL, which potentially could offer better returns.
A few of my favorite silver companies are:
Silver Wheaton (NYSE:SLW): SLW operates as a worldwide silver streaming company. Silver streaming is basically a process by which the company purchases a mining firm's silver production in order to distribute that silver in the market. SLW has contracts to purchase silver in bulk at prices well below market value and then proceeds to sell the silver at a higher price. The company has "14 long-term silver purchase agreements and two long-term precious metal purchase agreements whereby it acquires silver and gold production from companies located in Mexico, the United States, Greece, Sweden, Peru, Chile, Argentina, and Portugal." SLW currently trades at $36.76 and has a 52 week trading range of $22.94-$41.30. On average, about 4.6 million shares exchange hands daily. The company trades at a 23 multiple but only a 0.97 PEG ratio and currently yields 0.8%.
Central Fund of Canada Limited (NYSEMKT:CEF): CEF is a closed-ended commodity mutual fund launched and managed by Central Group Alberta, Ltd. It "invests in the precious metals commodity markets. The fund primarily invests in silver and gold. The Company provides an alternative for investors in holding marketable silver related investments. It invests its assets in holdings of unencumbered, allocated and segregated silver bullion and holds its assets in international bar form. CEF's nominal holdings of bullion certificates are deposited with Canadian Imperial Bank of Commerce." Shares of the company currently trade at $22.94 on average volume of 840,000. CEF has a 52 week range of $18.44 to $24.46.
Silvercorp Metals (SVM): SVM engages "in the acquisition, exploration, development, and mining of precious and base metal properties in China and Canada. It operates four silver, lead and zinc mines comprising the Ying, TLP, HPG, and LM mines located in the Ying Mining District in the Henan Province of China. The company also holds interests in the XBG silver, gold, lead and zinc mine with a mining permit covering 26.36 square kilometers; and the XHP silver-gold, lead and zinc mine comprising a 14 square kilometer mining permit located in the Ying Mining District in Henan Province of China. In addition it engages in operating the BYP gold, lead and zinc project in Hunan Province, as well as mining at the GC silver, lead and zinc project in Guangdong Province in China." It currently trades at $5.50 with a 52 week trading range of $4.89-$8.45, with average volume of 1.3 million shares exchanging hands daily. It has a multiple of 20 yet a high PEG of 3.9. SVM does pay a decent dividend as it yields 1.8% annually.
Pan American Silver Corp (NASDAQ:PAAS): PAAS explores, develops, and "operates silver producing properties and assets. The company engages in silver mining and related activities, including exploration, mine development, extraction, processing, refining, and reclamation. It produces and sells silver, gold, copper, lead, and zinc. The company has seven mining operations in Mexico, Peru, Argentina, and Bolivia; the Navidad silver development project in Chubut, Argentina; and the La Preciosa joint-venture project in Durango, Mexico." It currently trades at $19.05 a share with a 52 week range of $13.49 to $27.11. It trades at 11.7 multiple with a 1.65 PEG ratio and yields 1.0% annually.
Some of the speculative silver companies to consider:
Mag Silver (NYSEMKT:MVG): MVG is an exploration-stage silver company that could be a winner if it can execute its long-term growth plans successfully and work out some of the property issues it is facing. MVG is engaged in the mineral acquisition, exploration and development business with properties located throughout Mexico. MVG's properties include the Juanicipio property, which covers over 19,000 acres and is located in Zacatecas State, Mexico. MVG's Cinco de Mayo property is located approximately 190 kilometers northwest of the city of Chihuahua, in northern Chihuahua Sate, Mexico. MVG's Mojina Property is located in northern Chihuahua State, five kilometers from the town of Ricardo Flores Magon and 40 kilometers south of the company's Cinco de Mayo property. MVG also has other smaller properties such as the Lorena claims, the Nuevo Mundo claims, the Guigui claim options, and the San Ramone claims. For 2013, the company is also expected to lose money ($0.15 per share), attributable to the companies investment efforts in expanding operations. The four analysts covering the company have one buy and three outperform ratings on the stock. The stock currently trades at $9.74 on average volume of 115,000 shares daily. The stock has a 52-week range of $5.95-$13.42.
Great Panther Silver (NYSEMKT:GPL): GPL is a speculative silver mining and exploration company. GPL's operational activities are focused on the mining of precious and base metals from its wholly owned properties in Mexico. GPL is also pursuing acquisition opportunities throughout Latin America to add a third mine to its portfolio of properties. GPL has two primary mining properties, the Topia mine and Guanajuato mine. GPL also owns a development stage property, San Ignacio, which is approximately 20 kilometers from its Guanajuato processing plant, and an exploration stage property, Santa Rosa, which is located approximately 15 kilometers northeast of Guanajuato. The stock currently trades at $1.72. GPL has a 54 p/e multiple with average daily trading volume of about 634,000 shares. The stock has a 52 week trading range of $1.51-$2.94.
Bottom line: Precious metals stand to gain significantly from balance sheet expansion at central banks. While gold is certainly an excellent play off of the stimulus coming from governments worldwide, I believe silver and silver companies may outperform gold in the next year. While this list is not exhaustive it represents my preferred ways to gain exposure to silver. At current levels I believe silver and silver companies are opportunity buys, especially for the long-term investor.
Disclosure: I am long SLV, MVG, AAPL, IAU. I wrote this article myself, and it expresses my own opinions. I am not receiving compensation for it (other than from Seeking Alpha). I have no business relationship with any company whose stock is mentioned in this article.
Additional disclosure: I have a standing order for GPL shares at $1.62 and SLW at $35.25