It's been nearly three months since I last wrote about Bank of America (NYSE:BAC), but not much has changed. You may have also noticed that yields, for the most part, have not budged.
To illustrate just how boring the last three months have been, I have superimposed the yield curve from Sept. 10, 2012, on top of the yield curve from Nov. 30, 2012, in the following image:
Click to enlarge image.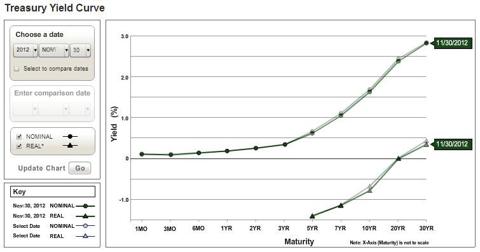 The lighter green line is from September. Notice how "real" yields have actually moved down, too. It's hard to see how Bank of America (along with other major banks) can grow in an environment like this or justify a significantly higher valuation in stock price.
The most recent quarterly results (Q3 2012) show virtually no positive signs in net interest income relative to Q3 2011 (net interest income actually declined 5.6% year over year to reach $10.167 billion). Even worse was non-interest income, which declined over 41% relative to 2011 to reach a total of $10.49 billion. While the company's balance sheet is getting quite strong at this point, it's also disturbing to see the adverse effects that "safety" is having on the company's ability to earn money. The only major trend in BAC's data that deserves applause is the huge reduction we're seeing in provisions for credit loss, although this is not nearly important enough to counteract the shrinking revenue.
Consumer banking, the division of Bank of America that I'd be most interested in as a hypothetical investor, has not been posting good numbers lately. Although we're seeing major improvement in other areas -- like mortgage lending -- seeing the bank's pool of loans shrink from $151.5 billion in 2011 to $133.9 billion in Q3 2012 is discouraging. This also explains why the bank's revenues have been so weak.
Although Bank of America and other major banks have made great efforts to strengthen their balance sheet and reduce expenses, they have dug themselves into a rather unpleasant hole. Bank of America has been unable to post reliable revenue growth for years and has not been able to increase the size of its loan pool due to post financial crisis regulations. It's also virtually impossible for a major bank to find opportunity in an environment where the yield curve resembles a lopsided pancake, since banks borrow at short-term rates and lend based on long-term rates.
The situation remains as it was on Sept. 10, and my three-month old conclusion still applies:
The Federal Reserve seems convinced that a low yield curve will result in cheap lending that could stimulate the US (and global) economy. This may or may not be true (there's conflicting evidence), but one thing is certain -- banks aren't exactly helped by the situation.

Bank of America is still a cheap stock, that should probably be trading at double where it is now (maybe as high as $20/share based on its book value), but the market will probably not get interested until the bank can show everyone some solid top-line growth.
Since we did not get a new president, we can expect more of the same at least until the next major round of congressional elections.
Disclosure: I have no positions in any stocks mentioned, and no plans to initiate any positions within the next 72 hours. I wrote this article myself, and it expresses my own opinions. I am not receiving compensation for it (other than from Seeking Alpha). I have no business relationship with any company whose stock is mentioned in this article.