Shares of McDonald's (NYSE:MCD) have dropped by 14.9% from their 52-week high of $102.22 attained early this year. The stock is currently trading at relatively low valuations of 9.5x NTM (next 12 months) EV/EBITDA and 15.5x NTM P/E. Due to both the pullback and the recent 10% dividend hike, MCD's dividend yield has increased to a tempting 3.5% level. Has the stock price bottomed? In this article, I will elaborate on the value analysis that may help you in determining the investment's risk/reward profile.
Relative Valuation
MCD appears to be somewhat undervalued based on the company's solid financial performance relative to its peers' (see comparable analysis chart below). Analysts on average predict the company's revenue, EBITDA, and EPS to rise by 2-year CAGRs of 3.5%, 4.0%, and 5.0%, respectively, over the current and next fiscal years. The consensus growth estimates are markedly below the averages of 8.0%, 12.4%, and 20.4%, respectively, for a peer group consisting of MCD's primary competitors such as Yum! Brands (NYSE:YUM) and Wendy's (NYSE:WEN). Similarly, MCD's EBITDA margin is forecasted to expand by just 0.4% over the same period, compared to the peer average of 1.1%. However, the company has demonstrated a superior margin performance over the peer group as most of MCD's profitability margins and capital return metrics are considerably above the par. MCD's leverage is in line with the peer average level as reflected by the firm's higher debt to capitalization ratio, but lower debt to EBITDA rate. In terms of liquidity, MCD has the highest trailing free cash flow margin at 12.9%, compared to the peer average of only 5.8%. Although the firm's interest coverage ratio, current ratio, and quick ratio are all below the par, their absolute values are still within a healthy zone.

Click to enlarge
To summarize the financial comparisons, MCD's relatively weak growth prospects would be the primary drag on the stock's valuations. However, the company's high dividend yield at 3.5%, strong brand equity, significant global presence, as well as superior profitability and cash flow generating capability should be able to justify a valuation that is fairly in line with the peer-average level. Nevertheless, the current stock valuations at 9.5x EV/EBITDA and 15.5x P/E represent an average discount of 16.1% to the peer-average trading multiples, suggesting that MCD is likely oversold in the pullback.
Moreover, MCD's trailing P/E multiple is now trading at only 2.9% premium over the same multiple of the S&P 500 Index (see chart below). The trading multiple premium has decreased from 31.5% in a year ago. I believe MCD's valuation multiple should command a solid premium over the market level provided that 1) the company's estimated long-term earnings growth rate of 9.2% is largely above the average estimate of 7.9% for the S&P 500 companies; 2) MCD's profitability, free cash flow margin, firm size, geographical revenue diversification are all higher/better than the market averages; and 3) the stock's 3.5% dividend yield is considerably above the average 2.2% yield for the S&P 500 Index.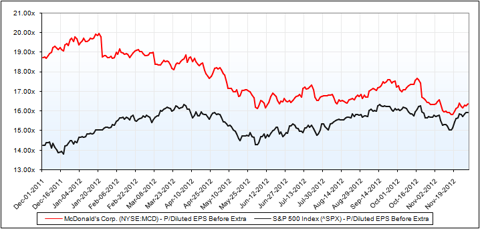 Click to enlarge
As such, based on a 17.0x NTM P/E multiple, which is still below the peer average of 21.3x, and assuming that the analysts' estimated fiscal 2014 EPS of $6.41 can be sustained, one can calculate a 1-year target stock price to be $108.97. Using a cost of equity of 11.9% (details are discussed below) as the discount rate, the present value of the 1-year target price can be calculated as at $97.38, representing an 11.8% upside even without the consideration of the 3.5% dividend yield.
DCF Valuation
My DCF analysis incorporates the market's consensus revenue and EBITDA estimates from 2012 to 2016 (see DCF chart below). To account for the financial projection risk, a company specific premium of 3.0% is used in the cost of equity calculation. To be conservative, a normalized 2.3% risk-free rate is applied instead of the current 10-year US Treasury Bond yield. The levered Beta of 1.18 used in the model is based on the peers' average 5-year Beta, instead of MCD's current 5-year Beta of just 0.41. In addition, the DCF model uses a cost of debt at 6.0%, which is slightly above MCD's existing debt yields with roughly a 10-year maturity.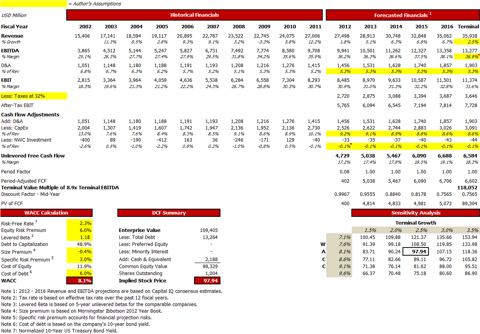 Click to enlarge
The fairly conservative but reasonable DCF model yields a stock value of $97.94, which supports my conclusion in the relative value analysis. It should be noted that the current share price at $87.04 likely implies a low terminal growth rate below 2.0% or a relatively high WACC of almost 9.0% (see sensitivity table in the DCF chart).
Dividend Valuation
The dividend value analysis can be employed to gauge the price support provided by the level of the dividend yield and the potential dividend growth. MCD's annual dividend per share had been raised by a 10-year CAGR of 28.2% from $0.24 in fiscal 2002 to $2.87 in fiscal 2012 (see chart below). Despite a significant dividend growth slowdown between 2003 and 2008, the growth rate appears to stabilize at slightly above the 10% level in recent years. Given the company's robust free cash flow margin at 12.9%, I believe MCD still has an ample capacity to sustain an average 10% dividend growth rate going forward.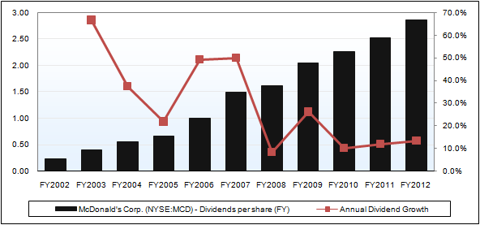 Click to enlarge
Now, let's look at the stock's historical trend of the dividend yield (see chart below). At 3.5%, the yield is not far away from its historical high at about 4.0%. However, given a strong demand for high-yield assets from the income-oriented investors due to the current low-interest market environment, I believe it is unlikely that MCD's dividend yield would exceed the 4.0% ceiling.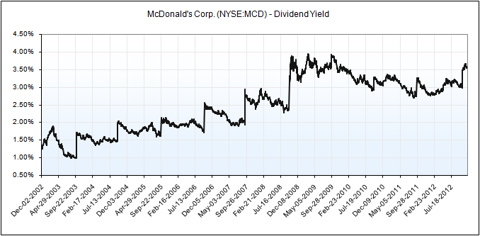 Click to enlarge
As such, assuming a yield range between 3.0% and 4.0% and supposing that MCD's annual dividend per share would be raised by 10% from the current $3.08 level to $3.39 in the November 2013 payment period, these assumptions would suggest a 1-year stock value range between $84.70 and $112.93, representing a very attractive 1-year return range between -2.7% and 29.7% without the contribution from the current 3.5% yield.
Deutsche Bank's analyst, Jason West, elaborated on his long-term bullish view on MCD in his recent research note (according to Thomson One, Equity Research):
"…While we continue to be surprised by the persistent and broad-based nature of MCD's sales weakness, we remain bullish on the LT prospects for the business given a superior asset base vs. peers, an owned real estate model that leads to very stable and significant cash flow, a healthy, well capitalized franchisee base, and a management. team with a strong track record for operational execution."
Bottom line, although it is difficult to call a bottom for the stock price, MCD's current low valuations and attractive dividend yield should provide investors a solid downside protection. Given the existing growth concern, the stock may trade sideways for a while. However, over a longer term, I believe MCD's quality fundamentals should allow the valuations to normalize. As such, investors should buy the stock now.
The comparable analysis and DCF charts are created by the author, all other charts are sourced from Capital IQ, and all financial data in the article and in the DCF charts (except for the highlighted figures, which are assumed by the author) is sourced from Capital IQ.
Disclosure: I am long MCD. I wrote this article myself, and it expresses my own opinions. I am not receiving compensation for it (other than from Seeking Alpha). I have no business relationship with any company whose stock is mentioned in this article.