The update of the Smoothed U.S. Recession Probabilities chart published on FRED showed a dramatic revision downward in the September data. This chart uses concurrent indicators to try to match the criteria that the National Bureau of Economic Research (NBER) typically uses to call recessions. The September reading came out at 2.94% and the October reading was revised down to 3.80% from 19.8%.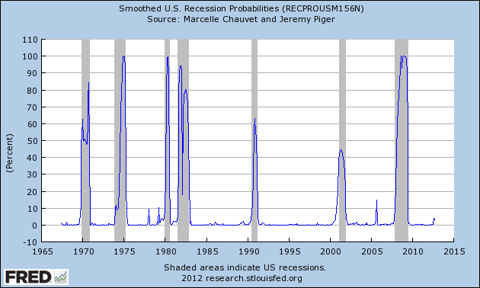 The previous chart (below) had a peak of in October which would have been strong evidence that the US is currently in a recession if it been maintained in September. It wasn't confirmed so the current recession likelihood has been pushed off.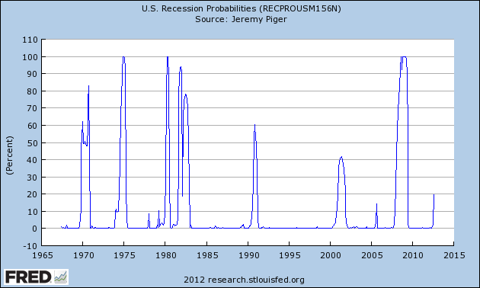 However, levels are still elevated so this is not a sign that we are not going into recession in early 2013. In addition, the concurrent indicators used to make up this chart are subject to major revision as we just experienced.
Overall, the future of the economy remains murky. While housing and energy are positives, manufacturing appears to be a drag. The latest Institute for Supply Management (ISM) manufacturing index came in at 49.5, the lowest reading since the recovery from the recession in August 2009 as shown in the chart below. This indicator has to get down to it 42.6 before it indicates general economic recession. Just to confuse things, note that the PMI index from Markit Economics showed an increase from 51.0 to 52.8.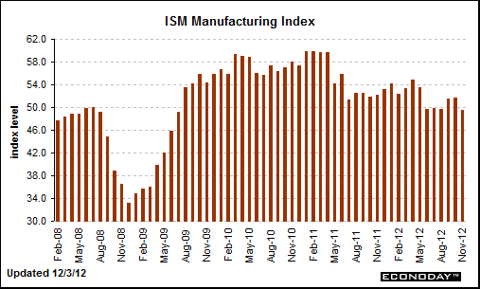 The increasing likelihood of euromagedon and the political brinkmanshipover the Fiscal Cliff makes it difficult to be comfortable with extremely positive outlooks. At best, the U.S. economy will muddle through. At worst it can get very bad.
Investors should be extremely cautious and consider safe haven investing to offset portfolio risk.
Disclosure: I have no positions in any stocks mentioned, and no plans to initiate any positions within the next 72 hours. I wrote this article myself, and it expresses my own opinions. I am not receiving compensation for it (other than from Seeking Alpha). I have no business relationship with any company whose stock is mentioned in this article.