Commodity Chart Of The Day
Daily S&P
(click image to enlarge)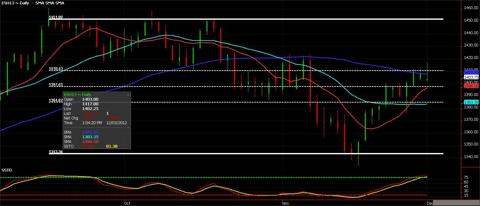 Click to enlarge
After a 6% appreciation in the last three weeks, I feel the latest rally has run its course. As one can see on the chart above, a 61.8% Fibonacci retracement is complete and prices are failing at their 50 day MA -- represented by the blue line at 1407 in March futures. My stance is that prices back off from their current overbought status and we see a correction into the end of the year. Yes, we generally see a Santa Claus rally, but expect coal in your stocking this year, as past performance is not always indicative of future results.
I am not sharp enough to know if it will be a mediocre jobs number, more bad news out of Europe, or a miss on the fiscal cliff, but what I do think is that aggressive traders can get positioned in bearish trade. My suggestion to some clients today was to get short March futures while at the same time selling out of the money puts 1:1.
We should see some risk off, in my opinion. I've advised bearish exposure in the metals, exited my long energies for clients, and lightened up on a number of bullish plays. In fact, most of my recent trades have been bearish, so though I could be wrong, it is my opinion that we see some risk off into the end of the year. For those with sizable equity exposure, this could be viewed as a hedge, but I'm looking at it for my clients as a speculative play to take advantage of what I perceive to be a 2-3% correction forthcoming in equities.
Risk Disclaimer: The opinions contained herein are for general information only and not tailored to any specific investor's needs or investment goals. Any opinions expressed in this article are as of the date indicated. Trading futures, options, and Forex involves substantial risk of loss and is not suitable for all investors. Past performance is not necessarily indicative of future results.
Disclosure: I have no positions in any stocks mentioned, and no plans to initiate any positions within the next 72 hours. I wrote this article myself, and it expresses my own opinions. I am not receiving compensation for it. I have no business relationship with any company whose stock is mentioned in this article.