This will be the most detailed quantitative analysis of J. C. Penney (NYSE:JCP) one can find for free on the internet. We will go through 4 different scenarios about what can happen to the company and outline the likely stock price they will generate. We previously posted about J.C. Penney's liquidity and how "issues" there were being overblown by panicky investors: JCP Liquidity
First let's talk about the company, J. C. Penney is a department store that has been around since 1902 when James Cash Penney opened The Golden Rule Store. For a long time the company did extremely well growing sales at an impressive pace. Over the last 2 decades, however, their performance has disappointed, their stock price didn't do much over that period nor has performance over the competition. Sales have not meaningfully improved over this period.
Hedge fund manager Bill Ackman bought a stake in the company in 2010 and started to push for changes so the company would improve their operating results. In June 2011 the company announced that Ron Johnson would become the CEO, he was the mastermind behind the Apple Store success and the enthusiasm for his leadership sent the stock of JCP soaring to a high of as much as $43 a share. As 2012 rolled out however, the performance of their stores have disappointed given that the new pricing strategy implemented sent comparable sales down as much as 26%. As a result the stock collapsed all the way down to $15.
Johnson is rolling out a bold strategy that is reinventing the way retail is being done in the US. He is getting away from price wars with the likes of Walmart and Target but focusing more in the customer experience in the store betting that people will pay premium for a better overall experience and for special brands.
In this article we will show the results of a model of potential scenarios of his strategy and how that will impact EPS of the company. There will a link to two excel files with the models that we used so anyone can plug-in numbers and assumptions that they wish to see what kind of return do they get in terms of profits for the company and stock price.
Let's go through the 4 main scenarios. SQF is sales per square foot of all stores (small, medium and large):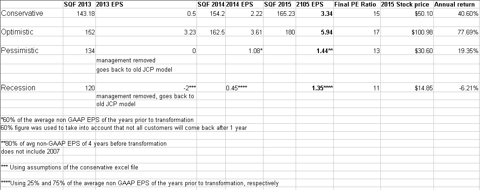 Before showing how we got to the conservative and optimistic estimates let me talk about the pessimistic and the recession ones.
In the pessimistic we assume that management will not deliver growth in 2013, the new stores that the company is rolling out are a failure, they either fail to increase sales or they don't increase sales enough to justify all the capex and the underperformance that was shown in 2012. Next year there will be a lot of earnings events where Johnson will have to show slides demonstrating the new stores performance compared to the old ones just like he did in the last earnings presentation. If he fails to show any meaningful improvement at a time that cashflow is under pressure (due capex and underperforming old stores) we believe it's safe to assume that Ron Johnson would be removed. The new CEO would have to go back to the old model or perhaps some kind of hybrid model that uses discounts/coupons plus whatever part of the Johnson strategy that worked.
Our assumption in that scenario is that sales will begin to go back to the old levels from the years before the transformation. One might say "But how can you know that the customer has not been lost forever?" because that customer is value oriented and doesn't care about anything other than getting a good deal, there is no brand tarnishment in the eyes someone just looking to get a bargain. It's safe to assume that by 2015 the old JCP would be mostly back thus we assumed that in 2015 EPS would be 80% of avg of the non-GAAP EPS of the years before the transformations (non-GAAP due a number of non-operating items that tend to affect the earnings of the company, these items will tend to decrease over time, does not include 2007 results).
At a conservative 13 PE, JCP would be at $30 with a compounded return of 19.35% for someone buying at $18.
In the recession scenario we did something similar. We assumed sales per square foot would decline 10%. (This is in line with the last recession during the financial crisis, so it's a very steep drop.) EPS would go to -$2.00 a share and the management would be removed due investor lack of satisfaction with performance. Then gradually through 2014 and 2015 sales would tend to go back to what they were in the years before the transformation as the company goes back to the old model or some kind of hybrid. In 2015 they reach 75% of the non-GAAP EPS of the years before the transformation. The stock price at a 11 PE would be $14.85 for a compounded return of -6.21% for a buy at $18. No doubt it would go much lower during the recession but if one didn't panic and held their stake they wouldn't lose much money.
The risk here would be if they did an equity offering after the sales decline to deal with cash issues, since the company has a lot of real estate that they can sell (both core and non-core) and access to a large credit line (with no covenants until 90% drawn) it seems safe to assume they won't have to do an equity offering unless the recession is really very deep (such risk can be hedged by buying way of the money puts, it's something we will consider if the economy looks like it will worsen significantly).
Keep in mind that the recession scenario can be considered as well for a situation where management continues to deliver negative growth in 2013 instead of no growth. In other words, this is the scenario that the shorts are salivating so much for, low single digit gains a year (minus the cost of borrowing the stock of JCP), hardly anything to get excited about.
On the conservative scenario, let me show that assumptions that I made.
Excel Files: JCP Model Conservative
2013 conservative projections: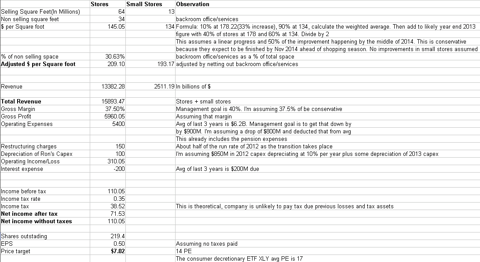 Key assumptions: 37% gross margin (management long-term guidance is 40%+), the improvement in gross margin over current year would come from the end of the inventory liquidation that they are executing and the rolling out of the new stores.
New stores produce 33% increase in sales per square foot (in line with current trends as outlined in the last earnings presentation), these new stores represent the new way of doing retail that Ron Johnson is developing, the idea is to have 40% of the stores converted by 2013, 70% by 2014 and 100% by 2015(Small stores are not included).
We believe it's safe to say that they will reach these conversion rates because it's all a matter of spending the cash and making the changes, it's not something that depends on customers preferences or difficult predictions.
$800M in cost savings (management guidance is $900M). Capex depreciating at 10% a year ($850M is what the management said they plan to spend every year). We did not break down internet sales and already used them in-built in the sales per square foot figure, this probably will not yield a precise result but I don't think the difference will be material, JCP was never much of an online business anyway. The $134 sales per square foot is where the company stands now. No taxes due previous losses and tax assets.
EPS for 2013 would be 0.5. At 14 PE, the stock would be at $7 or so. But we don't expect it to go there because people will see that the turnaround is working and start to put a premium on that (EPS right now is negative and yet the stock is at $18, all due future expectations), plus there are a lot of short interest in the stock. It's likely that on that way to that $0.50 there will be a large rally as people bet on 2014 expectations playing out.
2014 conservative projections: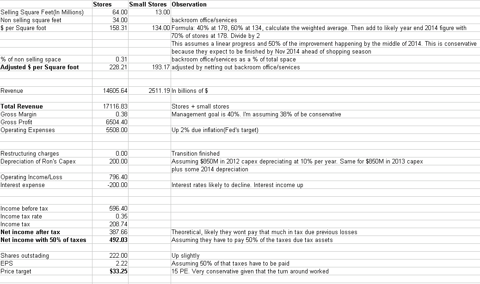 Key assumptions: 38% gross margin, 33% increase in sales productivity, new stores rolling out helping sales, restructuring charges end (transition finished only capex left now).
Depreciation of capex at 10% a year. Half of taxes paid due previous losses, it could be less than 50% or more, this would need an extensive research of tax laws and details of the assets, for the sake of simplicity we are assuming 50%. We don't think this matters much over the long-term.
Full year EPS ends at $2.22 or so, with a stock price of $33 at a 15 PE. I'd expect more as people see that the Johnson method works and puts a "Ron" premium in the stock for future growth as they see that store transformation will boost sales and earnings for next year.
2015 conservative estimates: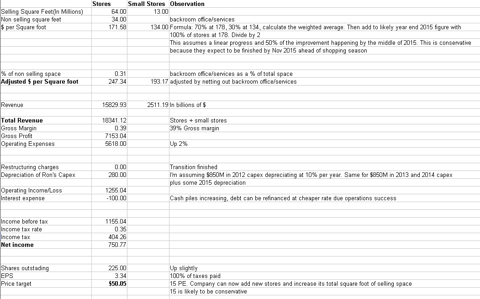 Key assumptions: store transformation continues to reach 100% of stores by year-end, 39% Gross margin (bellow management goal), depreciation at 10% a year of previous years capex plus some depreciation for the current year.
Full year EPS is $3.34 and the stock at a 15 PE would be at $50 a share. This is likely too low given that the company would start buying more real estate, rolling out new stores and start to expand. Market would likely to put a premium on that given that the business model was working and it's PEG ratio would look really good relative to the sector, as a result is quite likely the stock would go above $60 or more.
Through these projections we assumed some numbers that were worse than management believes they can get in order to make sure its a safe estimate that won't be affected by the fact that management has been consistently wrong so far.
Now what if the management has been wrong but ultimately they will be right? What if the Johnson method produces improvements of more than 33% in sales per square foot as they roll out new stores and it compounds every year like it did in Sephora?
This is the 2015 optimistic scenario. 2013 and 2014 can be found in the excel file: JCP Model Optimistic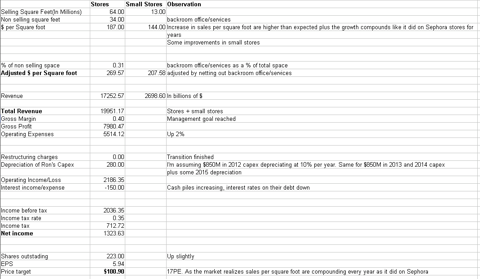 Key assumptions: 40% Gross margin by 2015 end, increase in sales per square foot faster than conservative estimates and current trends, $900M in cost savings realized, interest expense down due cash piles increasing and cost of debt decreasing (allowing cheap refinance of debt). Some improvements in small store sales.
EPS at $5.94 by 2015 end (Management guidance is $5). 17 PE as people put a premium for future growth. Premium could be larger due the compounding factor of specialty stores and company being able to buy real estate and create new stores. Stock would go to $100.9, a 77.69% compounded return for someone buying at $18.
The idea behind these projections is not to be precisely correct, that is impossible since there are so many little details that outsiders can't know.
Maybe you disagree with the assumptions made in a specific scenario or you think sales should lower or higher, fair enough, the point here was not to get everything precisely but is to show how skewed the risk/reward is right now. Even in the most gloomy projections the company won't do that bad as they have the option to go back to the old model at anytime (this would boost sales instantly and trigger a short squeeze as coupons and discounts return). There is also the chance the company would be LBO'ed if they stock were to decline more.
Here is what lots of skeptics miss, structurally the company is superior to the competition given that they face a lower cost structure (they own a lot of real estate unlike competitors), over the long-term they should at least match the performance of the competition if management is average. This is just economics 101. Whether they go to the average performance or to an excellent performance it's unclear but over the long-term the company will be around (barring apocalyptic scenarios) and should do well given it's advantage and in both scenarios the stock price will rise.
Wall Street tends to be too short-term oriented, and as a result this creates profit opportunities if one is willing to bear short-term volatility and uncertainty. This looks to me as a clear case of time arbitrage since this company has significant cost advantages over the competition, operating improvements (new stores showing 33% more sales per square foot with stores being changed for up to 100%, CNBC also reports they had a strong Black Friday) and management with strong track record (Johnson worked with Steve Jobs for a decade and did not get fired, this is an accomplishment in itself. He had great operating results during that period). Yet the market is concerned about liquidity problems that don't exist and current performance of stores that will be gone in a year or two.
With all this operating leverage combined with high short interest and bearishness in the stock, any hint of even the conservative scenarios outlined playing out should send the stock flying ( the 5% pop in the stock after CNBC said they had a strong Black Friday just confirms that, lots of people have their finger the in the buy button and are waiting for good operating news, kind like a reverse greater fool theory). We are long JCP with a price target of $50.
Disclosure: I am long JCP. I wrote this article myself, and it expresses my own opinions. I am not receiving compensation for it (other than from Seeking Alpha). I have no business relationship with any company whose stock is mentioned in this article.