INTRODUCTION:
We have been writing about Frontier Communications (NYSE:FTR) on SA since late February 2011 when the stock was at $6.93 (adjusted for dividends). The stock closed at $4.81, down 31% at the time of this writing. The current attraction is the yield since this is not a growth story. Is now the time to add this high yielder to the portfolio or is there more pain ahead? The goal of this discussion is to give the reader a basic understanding of the "new FTR," assessing so the sustainability of the dividend and the potential for reversing revenue declines based on management's change in focus.
The term "new FTR" not only refers to the company expansion from the 2010 acquisition but management contention access lines are no longer a relevant measure going forward, changing the focus to customer metrics.
The discussion includes:
A brief history of the transformation tripling the size of the company.
A deeper look into revenue metrics.
FCF (Free Cash Flow) and dividends.
Risk
Conclusion
HISTORY:
FTR was founded in 1935 as Citizens Utilities and became a pure-play telecom network operator in 2004. Frontier announced a deal with Verizon Communications (NYSE:VZ) in May 2009. Frontier acquired approximately 4.8 million access lines from Verizon, tripling the size of the company. The Verizon properties were packaged into an entity called SpinCo and merged with FTR. The all-stock transaction was valued at approximately $8.6 billion and closed July 1, 2010. The transaction created the nation's fifth largest incumbent local exchange carrier (ILEC) operating in 27 states. The dividend was cut from $1.00 to $0.75 upon closing.
Once integration was underway management fell woefully short on both their leverage ratio and FCF guidance. As a result when FTR announced fourth quarter 2011 results the yearly dividend was reduced from $0.75 to $0.40.
REVENUE
We'll look at the following metrics:
Access lines
Break down for business and residential customers
Access Lines:
The following graph plots access line losses for both Spinco and FTR legacy per quarter.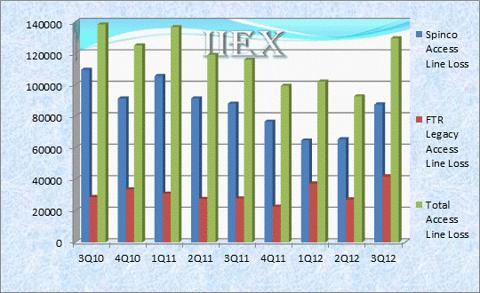 Line losses were trending down through the June 2012 quarter but had a large spike in the recent (September) quarter. At first glance this is enough to make many investors run for the hills but there is more going on here.
Donald R. Shassian - The CFO noted in the Q3 conference call that the spike in line losses were due to products that previously included access lines:

Total access line losses of 8% in the quarter were slightly higher than Q2, reflecting the successful introduction of Simply Broadband during Q3, which is sold without an access line.

Customers are the center of what we do and are the measurement critical to our success. Access lines are not a relevant measure any longer for our business, as we are now selling significantly increased volumes of both residential and business products that are not counted as access lines.

I highlight this because, going forward, our customer metrics of average revenue per customer and total customers served should be the metric you focus on to measure the success of our business.
This was followed up by the CEO - Mary Agnes Wilderotter
In the past, up until this last quarter, we sold a Simply Broadband product, but it included a free access line. So if you looked at the numbers for us in the third quarter for Simply Broadband and if you added a free access line, the net access line losses would have been around 85,000 to 90,000 for the quarter. So we actually would have seen continued improvement, but we made a conscious decision as a company because our customers expect to buy broadband on a stand-alone basis, to not provide a free access line just because we could do that. So I think that change in the mix gives you a sense that our access line losses have not accelerated, and we watch that very carefully. But I think, as Don mentioned and I mentioned in my script, we have to get away from focusing on access lines because they're really not a good measure for our business. We are moving many customers away from access lines, both residential and business, especially with the rollout of VoIP products and big data products… We're really focused on customer accounts and average revenue per customer.
This raises the question - is it reasonable to shift the focus from access lines to customer revenue metrics? The FCC published a report in June 2012 titled "Local Telephone Competition: Status as of June 30, 2011" which may provide some clues. The following graph from the report shows the relationship between interconnected VoIP subscriptions and retail switched access lines (in thousands):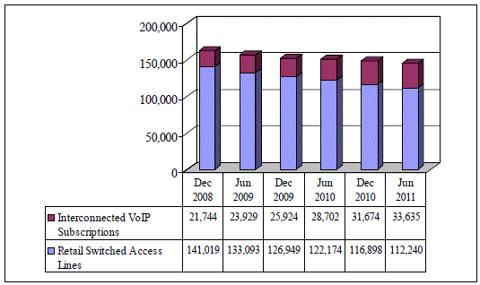 The above represents information collected from telephone service providers (the incumbent local exchange carriers; ILECs, competitive local exchange carriers; CLECs, and mobile telephony providers) for more than a decade. The FCC has required VoIP service providers to report subscribership information since December 2008 because the use of VoIP technology is growing rapidly and it increasingly is used to provide local telephone service.
FCC footnotes indicate the change to broadband VoIP is occurring at a more rapid pace than the reported data indicates. The point being moving toward broadband (or revenue metrics) has merit given management's comments on "Simply Broadband" and other initiatives to increase revenue per customer.
Business and Residential Customer Revenues:
Can FTR increase revenue from broadband fast enough to overcome access line losses? FTR has expanded broadband availability to 84% and 92% in the acquired properties and legacy operations in the current quarter from 67% and 91% at the time of the acquisition. The actual penetration going forward has room for major improvements from the historical penetration rate given below: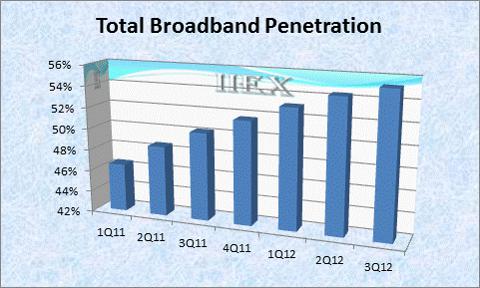 A better perspective is an increase of about 3.5% which adds another 100,000 broadband subscribers. If 3.5% of existing customers move to "Simply Broadband" the access line count is reduced by a similar amount.
Now that the massive integration efforts will be behind them at the end of the month management can focus more time on moving customers away from access lines and/or toward higher revenue metrics with the rollout of VoIP products, data and other initiatives as highlighted below.
Simply Broadband - 3Q12 launch
Hughes Net Satellite - Satellite broadband announced

in

2Q12
Tandem - VoIP and Broadband for small business in 12 markets; hosted, managed, and maintained by Frontier
AT&T (NYSE:T) Mobility Trial - 4Q12 launch

bundles

AT&T wireless service with Frontier products, i.e, AT&T devices can use FTR Wi-Fi at home bypassing AT&T's data plan.
Green Energy Trial - Launches

4Q12

Frontier Secure - Launched 2Q12, internet security, backup, identity protection, tech support
Customer Premises Equipment - Education, E911, hospitals, and businesses.
Some initiatives are just getting started so it will be a few quarters before trends start to stand out. We can look at where they are today and what to look for as each quarter passes starting with customer count totals: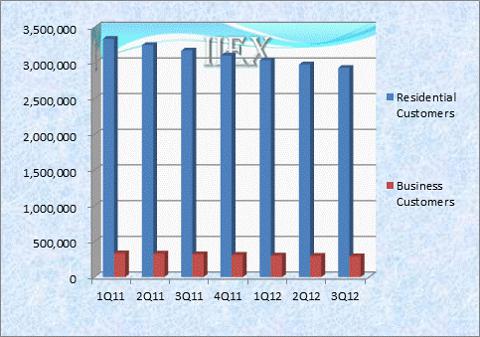 The bad news is the loss of customers in both segments. The good news is the sequential loss rate during 2012 is slowing - a necessity to improve FCF needed to support the dividend and pay down debt. The latest sequential loss rate for residential and business customers was 1.6% and 1.7%, respectively. There was a sharp drop in the residential loss rate in 3Q12 that management attributes to the "Simply Broadband" product.
A large disconnect is developing between access line losses and customer losses. There were approximately 82,000 more access line losses than customer losses in 3Q12.
The trend in the next two metrics (below) will guide the strength of revenue gains or losses going forward. They are monthly revenue per customer and total revenue for each segment.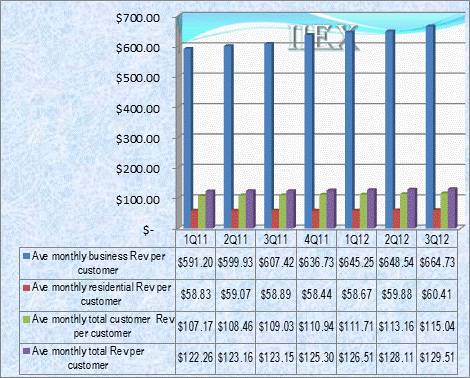 FTR is off to a good start showing average monthly revenue increases across the board. The better news is the increases in monthly revenue (below) are starting to offset the loss rate of customers: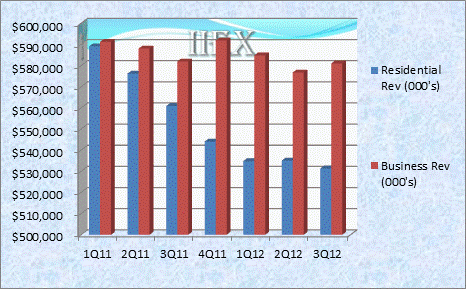 Whether the uptick in business revenues is an anomaly or the start of a trend remains to be seen but the leveling off of residential revenue is a trend that appears to be firmly established. What the new and current initiatives need to do over the next few quarters is retain existing customers, driving revenue higher.
FCF and Dividends:
The following measures FCF as calculated by FTR (red) and the generally accepted measure (cash from operations minus capex) for most companies (purple) in relation to the dividend (green).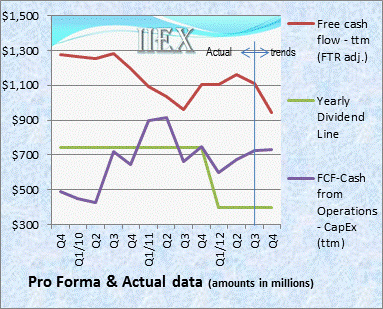 FTR's adjusted FCF measure will continue to converge with the traditional measure as integration costs end after 4Q12. Currently FCF is well above the dividend line providing cushion for unforeseen problems. The 4Q12 projection is based on slide 23 of FTR's presentation found here.
RISK:
We're not going to list all the risks that can be read in section "1A Risk Factors" listed in the 10-K found here but highlight a few concerns.
They are losing customers primarily because of competition (due to changing technology and consumer behavior such as wireless substitution), and/or economic conditions. Early signs from new initiatives are encouraging but more time is needed to establish definitive trends. Any sustained uptick in customer losses is a red flag.
The politicos in Washington seem content with the idea of a possible recession next year by digging in along ideological lines where no middle ground is to be found. Pension returns are already lagging far behind expectations returning 3.6% for the first nine months of 2012 vs. expected yearly returns at 7.75%. A recession could produce negative returns requiring large cash infusions.
A recession would not bode well for increasing customer revenues. Customers may reduce services to weather any economic storm should it occur. The economic environment going forward is a major risk or tailwind depending on what direction it takes.
The final concern is the huge debt burden carried by the company, although this is only a risk if the company cannot refinance debt scheduled not to be paid down. The risk at this point seems low. A more detailed discussion on the debt can be found here.
Conclusion:
The near-term dividend is easily sustainable given the cushion between FCF and dividend payout illustrated earlier. Early signs gleaned from customer revenue metrics are encouraging. That said a conservative approach might be:
Wait to see how the fiscal cliff plays out to avoid possible risks of a recession.
Wait to see stronger customer trends established in the next quarter
Of course any decision depends on each individual's tolerance for risk and personal financial situation.
Disclosure: I am long FTR. I wrote this article myself, and it expresses my own opinions. I am not receiving compensation for it (other than from Seeking Alpha). I have no business relationship with any company whose stock is mentioned in this article.