Much has been made, both in the media and in refiners' profits, of the spreads between Bakken crude, WTI and Brent. The spread is due primarily to a glut of oil in Cushing, OK and the costs of transporting Bakken crude to market. Lack of pipeline infrastructure over the past couple years has led producers (and refiners) to resort to rail, truck and in some cases even barge to get crude to market.
That said, imagine my surprise on November 27 when ONEOK Partners (NYSE:OKS) announced it did not have sufficient long-term commitments to move forward with the Bakken Crude Express Pipeline. As I reported in my Seeking Alpha article Investment Potential in Bakken Pipeline Takeaway Infrastructure, the Crude Express was to connect the Williston Basin in North Dakota and Montana to Cushing, OK.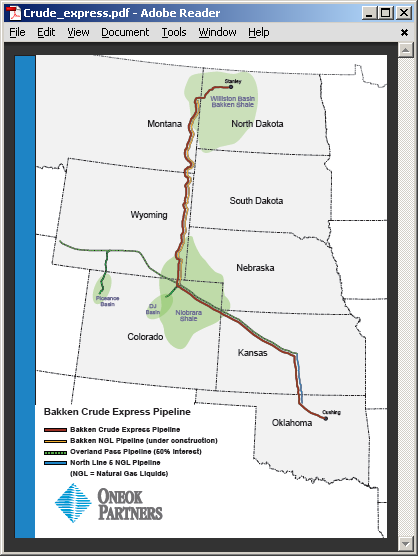 The pipeline was to have been 1,300 miles long with a capacity of 200,000 barrels per day. Construction was expected to begin in late 2013 or early 2014 and be completed by 2015. But Terry K. Spencer, ONEOK Partners president, said:
Despite the robust outlook for crude-oil supply growth in the Williston Basin in the Bakken Shale, we did not receive sufficient long-term commitments under the terms we needed to construct the Bakken Crude Express Pipeline.

While we are disappointed with the results of the open season, we remain committed to serving Williston Basin producers for their natural gas, natural gas liquids and crude-oil infrastructure needs. We still believe the Bakken Crude Express has a competitive advantage over other competing projects due to its proximity to the route of our Bakken NGL Pipeline currently under construction and other ONEOK Partners natural gas liquids pipeline corridors.
This was very surprising news to me. For quite some time Bakken oil producers have complained about the lack of adequate pipeline takeaway infrastructure. It was, they said, responsible for low realized prices for their crude. I can only assume from the ONEOK announcement that major Bakken oil producers like Continental Resources (NYSE:CLR) and Whiting Petroleum (NYSE:WLL) did not agree to ONEOK's financial terms. I have no idea what the project financials looked like, but there must have been a good reason for these producers not to agree to ONEOK's terms and thus the pipeline. As far as I can tell, there was a good reason: Railroads.
Railroad companies like Union Pacific (NYSE:UNP), Kansas City Southern (NYSE:KSU), and Berkshire Hathaway's (NYSE:BRK.A) Burlington Northern Sante Fe, or BNSF, have been increasing rail capacity in the Bakken. The railroads have taken a hit as natural gas displaces coal in the electrical power generation sector. Coal shipments were down 17% compared to last year. What better way to make use of spare capacity than by filling up rail cars with Bakken crude?

Click to enlarge
In September, Burlington Northern announced it had increased its capacity to haul Bakken crude to 1 million barrels/day. That's saying something considering total North Dakota oil production in August amounted to just over 700,000 barrels/day. BNSF has announced that it would spend $1.1 billion on locomotives, freight cars and related equipment to boost its crude-shipping capability from the Bakken. The company is developing over 35 facilities for unloading crude oil from trains in several states.
According to John Lanigan, BNSF Executive VP and Chief Marketing Officer:
Historically, oil and gas producers have used pipelines to transport crude from production to refineries and ultimately on to end users.

Because this shale development growth came about so quickly, there has been a shortage of pipeline capacity to deliver production from new unconventional sources to coastal refiners. BNSF has responded quickly to enable producers to move crude to the most attractive markets and secure the best prices.
In the five years since BNSF began hauling crude out of the Williston Basin, it has seen a huge increase in the amount it ships, said Dave Garvin, BNSF group vice president for industrial products. It went from 1.3 million barrels in 2008 to 88.9 million in 2012.
Likewise, the company is also benefiting from the boom in crude production by shipping lumber and fracking propants into the Bakken area.
Buffett is literally making money coming and going.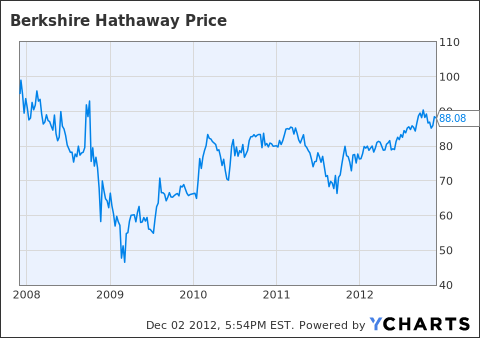 What are Bakken Oil Producers Saying?
While railroads typically cost 50-75% more to ship crude than do pipelines, the added rail capacity is really good news for the Bakken oil producers. Not only is railway capacity here today, but refiners such as Valero and Phillips 66 (NYSE:PSX) have become more aggressive in locking up Bakken crude deliveries. The rails also are much more flexible in terms of delivery destination whereas pipelines are point-to-point.
The Bakken oil producers seem to be benefiting from the new rail infrastructure. From Whiting Petroleum's Q3 earnings announcement:
"Our Bakken crude is currently trading at a slight premium to NYMEX crude prices as take-away capacity from the Williston Basin continues to expand. The narrower basis differential added to our discretionary cash flow in the third quarter and should have a greater impact in the fourth quarter. For example, on October 15th our crude oil price was as follows:"

| | | | | | | |
| --- | --- | --- | --- | --- | --- | --- |
| | NYMEX | | | $ | 91.85 | |
| | Clearbrook Differential | | | $ | 1.25 | |
| | Gathering and Transportation | | | $ | (6.34 | ) |
| | Wellhead Price | | | $ | 86.76 | |
| | Oct. 15th Bakken Differential to NYMEX | | | $ | (5.09 | ) |
| | | | | | | |
From Continental Resources Q3 earnings release, President and COO Rick Bott said::
We've recently seen a significant improvement in Bakken oil price differentials, reflecting higher volumes being shipped by rail to the coasts and the anticipation of increased pipeline capacity. In mid-October, Continental was railing 21,000 barrels per day of operated production to the West Coast, a similar volume by rail to the Gulf coast, and 8,000 barrels per day to the East Coast. In November, we plan to ship 65 percent of our Bakken operated oil production by rail.

We now have excess transportation capacity in both pipe and rail, and, with additional infrastructure projects in the planning and construction stages, capacity should remain ahead of Bakken production growth. Our primary focus today is identifying the highest-value opportunities to market our oil to the refinery end-customer.
In the "Operational Highlights" of EOG Resources' (NYSE:EOG) Q3 earnings release, Mark Papa, EOG Chairman and CEO said:
Simply put, EOG's excellent third quarter performance reflects the success of our groundwork. Over the last few years, we captured the best crude oil acreage in the United States. Now we are executing a development program that has exceeded our initial expectations. In addition, we implemented innovative marketing logistics such as our crude-by-rail transportation system. During the third quarter, higher volumes combined with higher realized crude oil prices and good unit cost control added substantial value to EOG's bottom line.
Meanwhile, receivers of Bakken crude, such as Phillips 66 (PSX), have been on an absolute tear. They buy the cheaper Bakken crude and sell the refined gasoline at prices tied more closely to the higher price of Brent.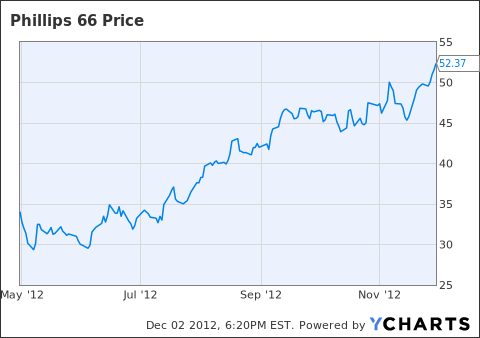 As long as Buffett helps top Bakken oil producers and refiners make money, Berkshire Hathaway's BNSF unit is going to ride the rail all the way to the bank. And that has put a kink in the growth prospects of at least one pipeline company.
Disclosure: I am long WLL, PSX. I wrote this article myself, and it expresses my own opinions. I am not receiving compensation for it (other than from Seeking Alpha). I have no business relationship with any company whose stock is mentioned in this article.