Phoenix New Media Limited (NYSE:FENG) is one of the most overlooked stocks that I've ever known.
Yes, it's a Chinese company.
Yes, many Chinese stocks listed in the US have stellar, yet very suspicious, fundamentals.
And yes, investors are not very keen to put their money into Chinese companies, due to fraud cases which have discouraged the entire sector.
Phoenix New Media Limited is, however, a case apart and deserves your full attention.
Why?
That's what I'm about to explain.
Profile:
Phoenix New Media Limited provides content on an integrated platform across Internet, mobile and TV channels within the People's Republic of China. It offers content and services through three channels, including an online channel on the website ifeng.com, a video channel, and a mobile channel, as well as transmitting content to TV viewers primarily through Phoenix TV.
Through its Website (ifeng.com), the company provides approximately 40 interest-based verticals, such as news, finance, entertainment, fashion, military affairs, history, commentary, real estate, digital books, philanthropy and Buddhism; interactive services, including blogging, micro-blogging, user surveys, comment posting, and discussion forums; and personalized features available through ucenter.ifeng.com.
Its video channel services are built around the v.ifeng.com platform, offering free online video on demand, live Phoenix TV broadcasts, online subscription video services, and a pay-per-view online video service; mobile subscription and pay-per-view video services, mobile video applications; and video content sales.
The company's mobile channel consists of the 3g.ifeng.com mobile website and mobile Internet and value-add services, including mobile newspaper services, digital books services, digital reading applications and mobile games services, as well as wireless value-added services comprising of SMS-based features, music, IVR-based, WAP-based services and MMS-based services.
The company is a subsidiary of Phoenix Satellite Television (B.V.I.) and was incorporated in 2007 and had an IPO on the NYSE on May 12th, 2011. Phoenix New Media is based in Beijing, the People's Republic of China.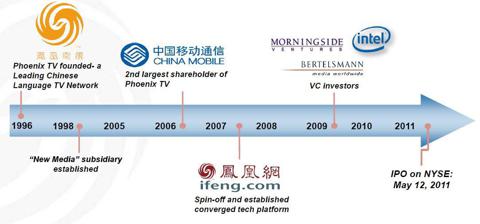 Click to enlarge
Facts:
- Superb balance sheet:
Phoenix New Media has a current ratio of 4.90, a debt equity ratio of 0.24, and a whopping $50.77M in cash (please note that the company has a $260M market cap).
- Persuasive Income:
The company saw advertisers' average spending increase in 36% YoY (September 2011 to September 2012).
For the full year of 2012, the company expects total revenues to grow 13% to 14% in comparison to 2011, with a revenue breakdown of 25% to 26% growth in total advertising spending and a 1.5% to 2.4% growth in paid services advertising.
Next year's average estimate for revenue is $193.35M. The average EPS estimate is $0.23. The company has a 10.06% net margin and a 42.10% gross margin for the trailing twelve months.
Ownership structure:
Phoenix New Media Limited is a subsidiary of Phoenix Satellite Television (B.V.I.), whose main shareholders are China Mobile (NYSE:CHL), News. Corp (NASDAQ:NWSA), the Bank of China and Liu Changle (CEO and founder of the company).
Phoenix Satellite Television owns 52% of Phoenix New Media Limited, the other 48% are owned by several investors and institutions, from which I would like to highlight the 6% ownership by Intel Capital, a company that invests in compelling growth companies around the world and which is entirely owned by the tech giant Intel Corporation (INTC).
- Share repurchase program:
The Company has a plan to repurchase up to $20M of its outstanding ADSs within a period not exceeding 12 months following August 2012.
- Convergence platform:
Phoenix New Media manages to take full advantage of its trident for connecting with end users: Internet (ifeng.com) + Video (v.ifeng.com) + Mobile (3g.ifeng.com).
o Ifeng.com: The 4th media portal in China. 57% growth in terms of unique visitors (March 2011 and March 2012).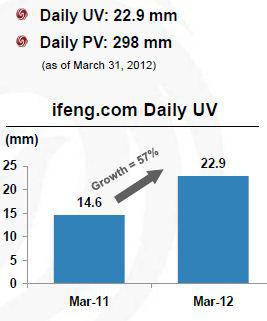 o V.ifeng.com: 119% growth in unique visitors (March 2011 and March 2012).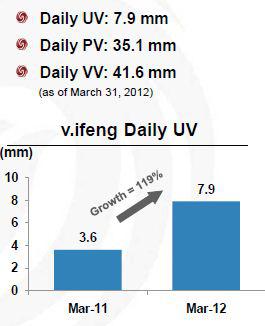 o 3g.ifeng.com: 178% growth in page views (March 2011 and March 2012) and 14M Apps downloaded.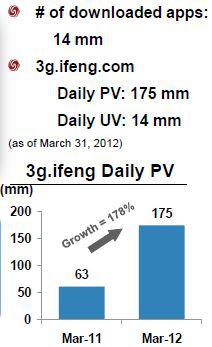 - Strong user growth: According to iResearch/iUserTracker, ifeng.com is the fastest growing media portal in terms of Daily Unique Visitors, Monthly Unique Visitors and Daily Page Views; easily surpassing the growth of NetEase.com (NASDAQ:NTES), Sina Corp. (NASDAQ:SINA) and Sohu.com Inc. (SOHU).
- Phoenix Television content:
The company has exclusive rights over the content produced and broadcasted by the Phoenix TV network. This premium exclusive content generated over 110% year-over-year growth to 38 million in ifeng's daily unique visitors in September 2012, the growth of which has continued to significantly outpace the company's competitors.
(Sources FENG SEC Filings , Company Presentation , Company's Q3 Conference Call)
Risks:
- Aggressive competition:
Phoenix New Media's main competitors, NetEase.com , Sina Corp. and Sohu.com Inc,. could lead to a decline in margins, thereby punishing the bottom line.
- Auto industry:
The auto makers represent the primary source of revenue for the company, totaling 28% of overall advertisement revenues. A slowdown in the auto industry in China in 2013 would cause a negative impact on the company's top line.
- China slowdown: A slowing in the Chinese economy would lead to cuts in advertising spending which would comprehensibly affect the company's business.
Final thoughts:
One of the reasons that makes me look at Phoenix New Media in a different way from most of the other Chinese stocks listed in the US is the fact that the company is a subsidiary of Phoenix Satellite Television.
Phoenix Satellite Television owns some of the most popular satellite TV channels in China and broadcasts to 150 countries, with an estimated 300M audience spread over 42 million households and more than 150 million viewers in Mainland China.
Phoenix Satellite Television is listed on the Hong Kong stock Exchange and has a market cap of $12B HKD.
The fact that Phoenix New Media has some notable shareholders such as Intel Capital, a subsidiary of Intel Corp.(NASDAQ:INTC) and mega caps like China Mobile (CHL) and News. Corp (NWSA), although indirectly through its parent company, gives me a high level of assurance over the company's accounting practices and trustworthiness of its fundamentals, which are some of the most critical aspects to consider when investors are looking at Chinese companies listed in the US.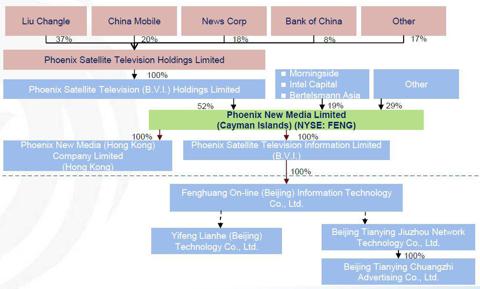 Click to enlarge
With next year's average estimate for revenue at $193.35M and the average EPS estimate at $0.23, the company is trading with a forward P/E of 14, which is considerably lower than most of its peers and lower than the average P/E of the industry, which is set at 25.
For Phoenix New Media to be trading under the industry's average P/E, it should be priced at 5.90, which would mean a 81% valuation based on current levels. Please take into account that this is a conservative projection, as I am not considering the impact of the $20M buyback program in next year's EPS.
The macro environment should also have a positive impact for the company, with eMarketer predicting that ad spending in China will reach nearly $53B in 2013, surpassing total spending in Japan for the first time and making China the 2nd country in the world in terms of ad spending. The US will remain far ahead, with more than three times as many ad dollars, but rising spending in China will narrow that gap over the coming years.
China is quickly expanding the online portion of its ad spending, which is set to reach $9.43 billion next year, $11.78B in 2014, $14.02B in 2015 and $16.48B in 2016, which represents a 74% increase in just 3 years.
Phoenix New Media is a genuine company with genuine fundamentals. It is in the right sector at the right time and in the right country. However, it is unjustifiably disregarded by the market ... I am confident, though, that not for long.
Disclosure: I am long FENG. I wrote this article myself, and it expresses my own opinions. I am not receiving compensation for it. I have no business relationship with any company whose stock is mentioned in this article.