Microsoft Corporation (NASDAQ:MSFT) had declined 15.42% after hitting the recent high of $31.46 on Sep. 20, 2012. According to the report from Reuters, since the launch of Windows 8 on Oct. 26, 2012, Windows laptop sales are down 24 percent, while desktop sales are down 9 percent compared with the same period last year, said NPD Group, which tracks computer sales weekly. Usually a new Microsoft release boosts PC sales as many consumers hold off from purchases for several months prior so they can get hold of the latest software immediately. While it is still too early to conclude the result of Windows 8 with only 5 weeks of sales, it seems that the new Windows series is making less impact on the PC market with its new launch. If Windows 8 sales do not meet the target after the shopping season, MSFT investors will be very disappointed.
Valuation
In the past 90 days, the analysts' EPS estimate for this quarter had declined from $0.90 to $0.78, whereas the current year (June, 2013) EPS estimate had also been lowered from $3.02 to $2.89. The 2014 estimate was also cut to $3.23 from $3.31, as compared to the 90 days ago, as seen from the table below.

Source: Finance Yahoo!
With the data obtained from MorningStar, MSFT's key stats will be compared to its peers. MSFT is lagging the industry with its revenue and EPS growth (3 year average) of 8.1 and 7.3, as compared to the average of 8.2 and 13.4. MSFT also recorded trailing operating margin of 27.5%, ttm, and net margin of 21.7%, ttm, as compared to the industry average of 31.3% and 23.1%, ttm, respectively. MSFT managed to achieve ROE of 24.5, which is higher than the average of 24.0, with a much stronger debt-to-equity of 0.1, as compared to the industry average of 8.8. MSFT is under-valued with P/E of 14.4, P/B of 3.3, and P/S of 3.1, ttm, as compared to the average of 16.3, 3.5, and 3.6.
Based on MSFT's declining EPS projection and lagging growth and trailing margins as compared to the industry average, it is expected that MSFT investors should be buying for its cash flow instead of strong growth. At first glance, MSFT may appear to be under-valued. However, by taking a deeper look, MSFT low valuation can be justified with its steady decline in gross margins and operating margins in last 7 years. A thorough, insightful analysis for MSFT's valuation can be read here. In the short-term, if MSFT cannot bring out success with its new Windows 8, valuation may continue to go lower; however, with its current annual dividend yield of 3.46%, MSFT will be on cash flow investors' watch list as its yield continues to go higher.
Positive Anticipation and Analysts' Calls
In the Company's annual shareholders meeting in Bellevue, Wash., CEO Steve Ballmer explained how the company is transitioning from being a software giant to being a company that is "great at software expressed through devices and services." MSFT will relentlessly focus on delightful, seamless devices and surfaces. A few analysts have been supporting this statement about Microsoft Surface. "We called or visited all permanent Microsoft Stores this week, and the feedback was that Surface sales have been steady, foot traffic has been above average, and restocking shipments have been consistent," wrote Phil Winslow of Credit Suisse. Brendan Barnicle of Pacific Crest said he surveyed a handful of Microsoft's stores, who reported "strong" sales of the tablet and that most had gone through at least one round of inventory replenishments. However, investors also need to keep in mind that Microsoft only has 90 direct sales locations for Surface and it is still a challenge for MSFT to meet the sales expectation.
On Nov. 28, 2012, MSFT's 'buy' rating was reiterated by Nomura with a price target of $37.00. As quoted by Nomura's analyst,
"Directionally, declining traditional PC units seems to have had a lot of press and may be largely discounted in Microsoft's stock as investors have been pessimistic on anything PC-related, but Street estimates still appear too high. We have reduced estimates about 4% to reflect recent PC data points out of Asia and the presumption that traditional PC units are in secular decline and the ramp of Windows 8 needs some time."
MSFT's 'buy' rating was also reiterated by analysts at Longbow Research with a target price of $36.00 on Nov 8, 2012. Analysts at Raymond James also reiterated an "outperform" rating with a target price of $34.00 on Nov. 6, 2012. Lastly, analysts' at RBC Capital reiterated a "sector perform" rating with a target price of $33.00 on Nov. 5, 2012.
Technical Analysis
MSFT closed at $26.61 with 1.24% decline on Nov. 30, 2012. The trading volume of 83.69M is 33.05% more than the 30 day average volume of 62.90M. As seen from the chart below, MSFT is trading below its 50-day MV of $28.61 and 200-day MV of $29.79. The MACD (12, 26, 9) was showing a bullish sign since Nov. 26; however, the MACD difference continued to converge and MACD to turn bearish anytime if MSFT continue to drop lower. The momentum indicators, RSI (14) is showing an increasing selling momentum at 36.68. The next support for MSFT will be $26.15, the S2 pivot point. The near-term trend for MSFT is very bearish.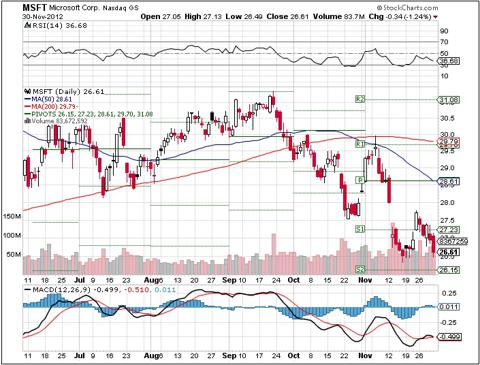 Source: StockCharts.com
Options Play
With the current short-term bearish trend, it will not hurt for investors to wait and see until the short-term selling pressure eases before setting up the long-term position to invest into this cash flow investment target. Once a solid support is seen for the MSFT price level (when RSI (14) starts to increase and approaches 50 and the MACD shows a bullish sign with diverging MACD difference), a credit put spread options play will be a good strategy to gain some upside potential while enabling the investors to buy MSFT stock at a discount price. A credit put spread by shorting 1x Mar. 16, 2013 Put at the strike price of $24 and buying 1x March. 16, 2013 Put at the strike price of $22 will be a conservative options strategy for investors to acquire MSFT at sub-$24 level with the limited downside risks.
Disclosure: I have no positions in any stocks mentioned, and no plans to initiate any positions within the next 72 hours. I wrote this article myself, and it expresses my own opinions. I am not receiving compensation for it (other than from Seeking Alpha). I have no business relationship with any company whose stock is mentioned in this article.