I have been doing some research on Oncothyreon (ONTY) in the last few weeks and have initiated a position recently. The analysis that I have researched shows me that ONTY has big potential going into 2013, and I believe the benefits outweigh the risks.
2013 will be a huge year for ONTY. In the first quarter of 2013, results for their drug Stimuvax will be announced. ONTY is partnering with Merck KgaA. ONTY stock price tumbled in March from $9 to $4 as the results were postponed from end 2012 to early 2013. My reasoning for the delay is the fact that patients are living longer and thus results are delayed.
The story
ONTY is producing an innovative cancer vaccine that is thought to work by stimulating the body's immune system to identify and destroy cancer cells expressing MUC1. MUC1 is a protein antigen widely expressed on common cancers. Stimuvax treats lung cancer, but the company is also studying other vaccines that can help head and neck cancer, prostate and skin cancer. The potential and the opportunities for this company are endless.
Stimuvax® is currently being evaluated in two Phase 3 clinical trials:
The global START (Stimulating Targeted Antigenic Responses To NSCLC) trial for patients with unresectable stage III non-small cell lung cancer (NSCLC).
The INSPIRE (Stimuvax trial In Asian NSCLC Patients: Stimulating Immune Response) trial in non small cell lung cancer
The results for the Phase 2b study have been very promising. 171 patients were studied. The median survival for that subset of patients with Stage IIIB NSCLC was 30.6 months for patients treated with Stimuvax plus best standard of care versus 13.3 months for the patients treated with best standard of care alone.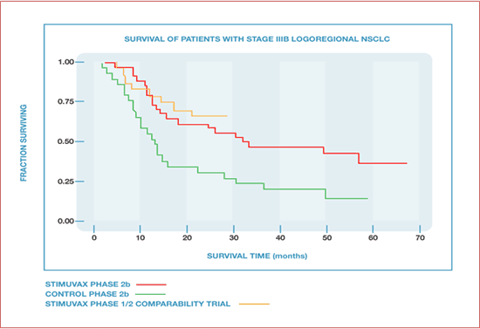 There were no major complications after the study was completed. Injection-site reactions were observed. No auto-immune reactions were observed which is a big plus, as this means the healing was not affected.
Prolonged treatment with Stimuvax was well-tolerated in this trial. The most common treatment-related adverse events were injection-site reactions, which tended to diminish after the first year of treatment. There was no evidence of autoimmune reactions with prolonged use.
Technical Analysis
On the daily chart, we can observe that there is a huge gap to $8. I expect this to be filled prior to the data being released in January. As the hype builds up, I think institutions will be loading this stock up in the next 4-6 weeks.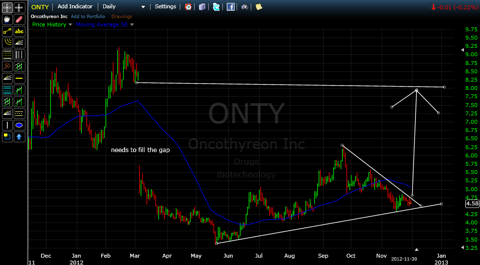 Of interest is also the descending trendline that I expect to be broken in the next few days. Notice how support levels have been held since the lows of May 2012.
On the weekly chart, one can observe how the stochastics and the RSI levels are reaching oversold levels. In technical analysis, this isn't always a bullish sign, but when one studies the daily, I believe the support levels will hold.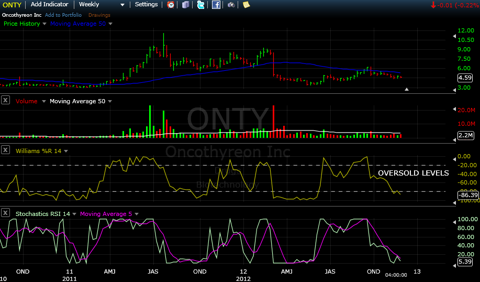 I have also been noticing huge number of option calls being bought in the last 2 weeks. On 25th November, a job opening for a Head of Cancer Immunobiology was posted, 2 days before Merck said that results are expected in early 2013. Interesting to say the least.
Fundamental analysis
Market cap of $265 million
Float of $50 million
% short of float is 22%
7% owned by Insiders
47% owned by institutions
$91million in cash
0 debt
Please note that ONTY estimates that its existing cash, cash equivalents and investments will be sufficient to fund operations for at least the next 12 months.
The future for ONTY
ONTY is also working on other studies. They have been studying the use of PX-866 which is an oral, irreversible, pan-isoform inhibitor of the PI-3-kinase/PTEN/AKT signaling pathway that is implicated in many types of human cancers including breast, glioma, colon, ovarian, prostate, melanoma, lung, and head and neck cancers. They also have ONT-10 which is a therapeutic vaccine designed to direct an individual's immune system to identify and destroy cancer cells. These studies are still in Phase 1/2.
Conclusion
I remain bullish on ONTY and expect the gap to 8$ to be filled in December/January. If results for Stimuvax come in as expected, this will be a new era for cancer patients and for ONTY. I give ONTY a target of $20 in 2013 and is part of my speculative list of stocks for next year.
Disclosure: I am long ONTY. I wrote this article myself, and it expresses my own opinions. I am not receiving compensation for it (other than from Seeking Alpha). I have no business relationship with any company whose stock is mentioned in this article.