From October 14 through October 29, iShares Comex Gold ETF (NYSEARCA:IAU) rejoined the Sector Momentum Tracker's top ten—holding the No. 3 spot in our rankings for that period. This performance harkened back to IAU's exceptional performance in late 2007, when the fund held the No. 1 spot in our rankings from November 20, 2007, to February 19, 2008. Commodities have weakened significantly since gold's high of $1,033 per ounce in March, but some investors now believe that gold's recent bounce may be a sign of an upswing.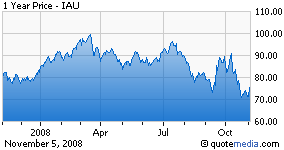 IAU's recent strength reflects the bounce that investors have seen in spot gold prices since late October—when gold hit a low of $680.80. Gold rose more than 3 percent on November 3 on a slightly weaker dollar, while investors eyed the currency going into Election Day.
Short-term events, such as the election, could affect IAU's price to varying degrees. Some analysts believe that an Obama victory could be better for the dollar, because Democrats already control Congress. Matthew Turner, an analyst at VM Group, noted, "An Obama-led dollar rally could hurt gold, but the effect will probably only be short-lived."
In addition to the election talk, analysts also look toward global rate cuts to boost gold. Major central banks are expected to continue cutting rates in the future, and the issues surrounding inflation could help to strengthen IAU's value. Australia cut interest rates by 75 basis points on Tuesday on the heels of cuts in China, U.S. and Japan last week. Analysts predict that euro zone countries and Britain will also cut rates next week, potentially making gold more attractive as interest rates decrease.
The rebound of oil has also strengthened gold prices. Both oil and gold are considered hedges for inflation, and the two commodities have been moving together recently—suggesting that a jump in one could result in a rise in the other. This correlation is important to those IAU investors who also have exposure to oil funds. While double exposure to commodities could raise returns in the short term, investors who own both oil and gold will be particularly vulnerable to volatility in these markets.
The demand for physical gold slowed in October. The Bombay Bullion Association reported that demand for physical gold had fallen 27% in a year-over-year comparison. Much of this decrease can be attributed to a slowdown in India's jewelry industry. Volatility in the price of gold has made Indian jewelers cautious, and as prices stabilize, imports to the country could begin to recover. One of the busiest times of year for gold jewelry—Christmas—is only a few weeks away, and holiday shoppers have yet to leave their mark on the price of this commodity.
Many investors have expressed concern and confusion over the falling price of gold, despite the advent of a global economic crisis. The historical role of gold as a hedge against damaged economies has been called into question as the recent global slowdown stretches toward the end of 2008. Despite an undeniable slowdown in the U.S. economy, gold is trading at the same level that it was a year ago.
While many investors still view gold as a good hedge for the broader economy, other investors have been pouring funds into a new hedge: cash. The U.S. financial crisis has left no sector unscathed, and Jeffery Nichols, managing director at New York-based American Precious Metals Advisors, recently noted that "gold is being pulled down by indiscriminate selling of virtually every asset—you could call it collateral damage." The shift toward cash has benefited the U.S. dollar, which is currently trading at multiyear highs in comparison to the euro.
Despite the recent slowdowns in precious metals, industry experts are looking toward a brighter future for gold. Standard Bank said in a recent note, "Looking past the current turmoil, the stimulus is bullish for precious metals—but we believe the current turmoil will likely linger for a few more months." Donald Doyle, chairman and CEO of New Orleans–based precious metals dealer Blanchard and Co., recently cheered gold fundamentals, noting, "Fundamentals will re-establish themselves as the driver of the gold market, and we believe we'll see $1,250 gold during this period."
For those investors willing to bet that gold's recent strength will continue, IAU's share price may present an attractive opportunity to enter the gold market. Recent bailouts by global governments—particularly the United States' $700 billion package—could prove to be inflationary in the near term. Whether the new administration decides to raise taxes or print money to finance this package, both options could weaken the dollar and strengthen the price of gold—and IAU—in 2009.