In our previous report we suggested that investors take a long position in the shares of entertainment and information services company, Walt Disney Company (NYSE:DIS) despite the slight revenue miss in the last quarter of the FY2012. We remain bullish on the stock based on the reasoning that the company's investment in various theme parks around the world as well as the recent acquisition of Lucasfilm would provide fuel for future growth. We also mentioned the possibility of a dividend boost considering its dividend track record as well as a modest payout ratio. The recently announced 25% boost in dividends as well as major investments which will push its earnings up going forward are sound reasons to reiterate our previous stance on the stock. The stock was up almost 2% after the announcement of dividend increase.
Walt Disney is a leading global entertainment and media company that operates through five segments, namely: parks and resorts, studio entertainment, media networks, consumer products and interactive. The company has a market capitalization of $86 billion and reported annual revenues of approximately $40 billion in the financial year ended 2012.
Drop in share price
In a press release issued on October 30, 2012, the company announced the acquisition of Lucasfilm for $4 billion. A few days later in the conference call, its management mentioned that the company would face some challenges especially in the first quarter of FY2013 largely due to a hike in sports rights cost as well as the expected deterioration in home-video sales. These announcements were the primary reason behind the stock's downward push that is currently trading near $50.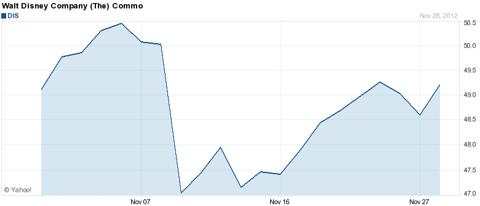 However, we believe that acquisition of Lucasfilm, even though dampening for the company's EPS in the short-term would help boost its earnings in the intermediate to long-term.
A year of major investments
Star Wars to bring top-line growth
The company recently announced its plans to acquire Lucasfilm in a stock/cash transaction. The company which is 100% owned by its founder, George Lucas, is the producer of hit series Star Wars. On top of the acquisition, the company also announced that it intends to make more than one Star Wars movie, starting with Episode 7 in 2015, and followed by episode eight and nine. This deal also means that Disney now owns the Indiana Jones franchise as well. Star Wars series have generated approximately $5 billion in worldwide ticket sales, second only to Harry Potter. This signals the importance and value of this product to Disney.
Disney will pay $4.05 billion for Lucasfilm which it will fund through a 50% cash and 50% equity. Funds from the equity will be provided by the company issuing 40 million shares based on the closing price on October 26 ($50). Moreover, the company also made public its intentions to repurchase the said number of shares over a period of two years which will be in addition to the existing share repurchase program. We believe the acquisition will dilute the company's earnings in the short-term, however, it would lead to a boost in earnings after the dilutive period is over and when the new Star Wars film is released.
Investment in parks
The company has invested heavily in theme parks and to a good reward which is starting to reflect positively in the segment's financials. The revenues generated showed growth of approximately 10% over 4Q 2011 revenues, largely due to an increase in visitors to its theme parks in Hong Kong and California as well as tourists spending more on cruise ships. Disney's recently finished Aulani project is also contributing to the impressive growth in the top line as well as operating income. The management mentioned in the latest conference call that its investments related to the theme parks would reach $500 million by FY 2013. However, the end of 2012 would also be the company's peak year for capital expenditures which will drop by about $1 billion by the end of FY 2013. We believe the company's latest investments in California adventure as well as full-year contribution of its cruise ships will bring top line and EBIT growth.
Dividend boost
Before the dividend increase announcement, investors were anticipating the company would increase shareholder returns. However, after the company went public with its agreement to buyout Lucasfilm for $4 billion, its stock price tumbled on fears that increased capital expenditure would result in lower shareholder distributions. Despite the increased investments the company has undertaken, it has announced a 25% hike in dividends.
The stock currently offers a dividend yield of 1.22%, which iswell supported by its free-cash flows that are growing at an impressive rate. In the financial year ended 2012, the free cash flows grew by a whopping 22% to reach a little over $4 billion compared to $3.4 billion in the previous year. The company has historically produced operating cash flows well in excess of its payouts which come in the form of cash dividends and share buybacks. In the financial year 2012, the company returned a total of $3.1 billion to its shareholders in dividends and buybacks while generating operating cash flows of approximately $8 billion which indicates its operational strength to sustain its modest payout (currently 19%).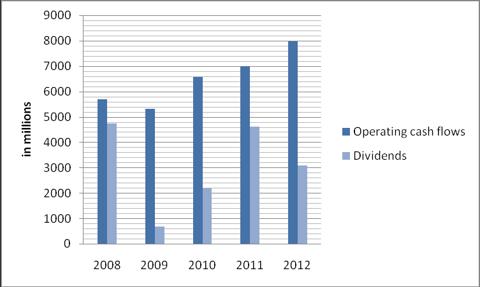 The primary reason behind a modest payout ratio for any company is that it is pursuing growth, either through acquisitions or strategic investments. By keeping the payout low, it can retain a major chunk of earnings for growth purposes. Disney has not only managed to keep its payout low which meant it was able to pursue strategic options, but it has also returned capital to its shareholders in the form of dividend growth. If we analyze the dividend track of the company, the growth in dividends is visible. Dividends have grown at a five-year CAGR of 16% after incorporating the recent 15-cent increase.

Source: www.dividata.com
The stock is trading at 13 times its forward earnings which is in line with Time Warner Inc. (NYSE:TWX)'s multiple and at a discount to its trailing as well as historic price to earnings. The company's P/E multiple has traded in the range of 12x and 17x in the last five years. Applying a multiple of 15x to 2014 EPS estimate of $3.86, we arrive at our target price of $58. This translates into a total return of 18% after accounting for its new dividend yield of 1.5%.
Disclosure: I have no positions in any stocks mentioned, and no plans to initiate any positions within the next 72 hours.
Business relationship disclosure: The article has been written by Qineqt's Media & Telecom Analyst. Qineqt is not receiving compensation for it (other than from Seeking Alpha). Qineqt has no business relationship with any company whose stock is mentioned in this article.