Over the past year, I've continued to describe the increasing competition that Netflix (NASDAQ:NFLX) faces. The streaming video giant has been one of the most volatile names over the past few years, and that seems unlikely to stop anytime soon. Netflix made some poor decisions during 2011 that sent the stock price plunging, and the company has had a hard time meeting some growth projections.
Netflix has also made some interesting international moves, but it has either entered spaces where competition exists, or a new competitor emerges soon after it launches. When it comes to Netflix, the number of competitors seems to grow each quarter. While there is no one competitor that I can say will drive Netflix out of business today, the competitive pile will keep chipping away. Eventually, enough holes in the boat will make it sink. Recently, we've gotten another new competitor, and an update on an emerging one. All of these moves increase the negativity surrounding Netflix, which is why it is still surprising that the stock is this high.
Recent announcements:
The first piece of news was that billionaire Carlos Slim is taking his aim at Netflix. Slim's América Móvil is launching a Netflix-style service in Mexico called Clarovideo. Clarovideo is already available in many other Latin American countries, and will cost about $5 a month. That's roughly two-thirds the cost of Netflix's service there.
As that article describes, Netflix has faced a challenge in the region due to a lack of broadband internet. Slim's América Móvil has a service called Infinitum, the leading provider of broadband in Mexico. The new Clarovideo service will be an effort by Slim to increase the bundling of services. Consumers might be more willing to tack on a service from a local company, than to try an outside service like Netflix.
Slim's move isn't just a move against Netflix. Recently, Ricardo Salinas, the TV and retail magnate, announced yet another TV internet venture, called Totalmovie. That service is expected to be launched sometime in the first quarter of 2013. I'm curious to see what Netflix has to say about these new counterparts on its conference call, or in the quarterly investor letter. I say this because I doubt you will be able to see any immediate impact in its international guidance, given that the company doesn't break it down by country or region. When Netflix reported Q3 results, it gave international guidance of 5.2 to 5.9 million subscribers for Q4. Just to throw out numbers, I don't think anyone can say "that's because of Mexico" if guidance for Q1 is say 6.5 million instead of 6.6 million, hypothetically speaking.
The other piece of news was a report that the Coinstar (NASDAQ:CSTR) and Verizon (NYSE:VZ) partnership might be close to launching. Initially, the report stated that December 17th would be the launch date, but that has not yet been confirmed. The expectation was that this service would launch before the end of the year, so if that is the case, I would expect an official announcement soon. Now, while nothing can be 100% confirmed yet, here are some of the rumors regarding the service:
$6 a month for unlimited viewing. Obviously, this service won't have the content library that Netflix does, as per the cost.
For $8 a month, you get the streaming package plus four Redbox credits a month to use on DVD rentals. Credits won't roll over, and expire at the end of each month. Users can use the mobile app or website to reserve the DVD.
Just like Amazon (NASDAQ:AMZN), a video on demand service is available for access to newer titles. You can rent or purchase other content, starting at $0.99.
The service will initially be available on the web, Android and iOS devices, the Xbox 360 and select Samsung TVs and Blu-ray players. Customers can register up to five devices to use the service.
Again, nothing has totally been confirmed, but those details seem rather believable. With Netflix's bigger content library, Netflix does provide a better value. The tie in with the DVD rentals is interesting, as Coinstar looks to bolster its Redbox DVD presence with Netflix trying to kill off its DVD segment.
The growing mountain:
The theme of Netflix versus the competition is not a new one, I've covered it several times, with the latest update in September. At that time, the big deal was that Netflix exclusivity with Epix was over, and that Amazon had struck a deal with Epix. Amazon's Prime is continuing to get stronger and stronger, as it is stocking up on more and more content. What's the cost of that content? Good question.
But the point here that many don't see, including Netflix management over time, is that it's not about one competitor. Go back and read the investor letters and see what they have to say about the competition. One statement was that the Coinstar-Verizon partnership would have trouble breaking into the top 3 in US streaming. Does it really matter who is in what spot behind Netflix? Probably not. It doesn't matter that a new competitor can't get into the top 3 if you're talking about say 8 competitors now versus only a couple in the past.
But everywhere Netflix is, the competition is, or will soon follow. Today I described the increase in competition in Mexico. Earlier this year, Netflix launched in the UK. That market already had Love Films, an Amazon subsidiary, and then cable giant BSkyB launched a new service. Netflix recently has entered the Nordic region. Soon after that happened, HBO announced a similar type service in the region.
To me, it seems like Netflix thinks it is a giant that can only be destroyed by another giant. For instance, Netflix thinks it is Coke and only Pepsi can destroy it. But Netflix doesn't seem to realize that a dozen smaller competitors can be just as dangerous as one large one. More players in the space push up content costs, as well as Netflix having to spend more on marketing. Just look at how its margins have fared in recent quarters.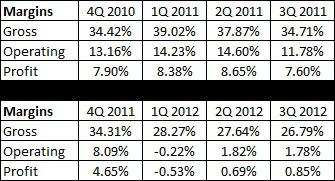 Think about it this way as well. Let's say Netflix has 30 million subscribers currently. That's a round number for argument's sake, but at the end of Q3, it had 29.41 million international and domestic streaming subscribers. Let's say Netflix wants to get to 35 million next year. To do that, it has to add 5 million more subscribers than it loses. Now, when you look at the competition, it's not just about stealing customers directly from Netflix. It's also about these new services preventing future customers signing up for Netflix. So even if this new Coinstar-Verizon partnership just prevents Netflix from signing up say 100,000 people next year, that's an issue, because it means Netflix has to find other ways to get those 100,000 subscribers. 100k on 30 million doesn't seem like much, but that's basically $10 million in revenues a year. Imagine now if each of say five competitors steal away that much. Current analyst estimates have Netflix increasing revenues by $480 million next year. Taking $10 million away from that doesn't seem like much, but what if it is say 500,000 people, or $48 million in revenues? Now you're talking about a significant hit to the growth forecast.
Remember, Netflix isn't exactly the most profitable right now. Netflix's costs are rising fast, so it is trying to increase revenues at a faster rate. Take away even $10 million in revenues, and the company needs to find a way to cut millions in costs, or the margins decline further. It's not a very appetizing situation either way.
The following chart shows Netflix's revenue growth in recent years, with the 2012 and 2013 figures being the current expectations from analysts. Dollar values in thousands.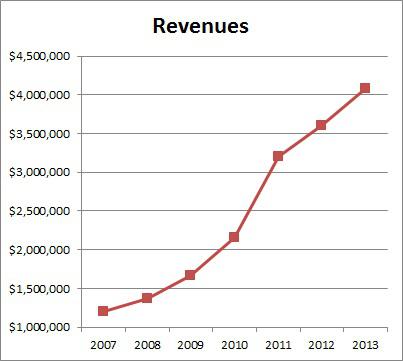 After a very good 2010 and tremendous 2011, revenue growth has stalled a bit and is expected to be in the low teens this year and next. Analysts currently project slightly higher growth in 2013, but that is mostly due to less of a loss of DVD subscribers. To accomplish that though, Netflix will have to gain a fair amount of domestic subscribers, and see very good international growth. Fourth quarter revenue guidance was a bit light, so we'll see if that trend continues.
Final Thoughts:
Netflix shares dropped nearly 7% on Monday to $76. It was the first break below $80 in nearly two weeks. Up until now, the $80 level held. On Monday it didn't, and it appeared the cause was a cautious Wall Street Journal article about Netflix's plan for original programming. As Netflix noted, original programming is more expensive upfront, and with the costly international expansion, Netflix is slated to possibly post more losses and burn through cash for a few quarters.
Netflix shares had rallied off their post-Q3 earnings lows on hopes of a buyout. For bulls right now, that might be the only hope. Netflix is currently trading at 172 times next year's forecasted earnings, and the 44 cent profit expected is a huge drop from the $4.26 profit we saw in 2011. Netflix is moving to a streaming only business model, which is a lower margin business at this point, and growth is definitely slowing. Add in the increased competition by the quarter, and Netflix remains a viable short candidate. Given Monday's fall, those interested in a short position might want to see if we see a little of a rebound first. But as Netflix showed Monday, once this stock starts moving lower, it can go much lower very quickly.
Disclosure: I have no positions in any stocks mentioned, and no plans to initiate any positions within the next 72 hours. I wrote this article myself, and it expresses my own opinions. I am not receiving compensation for it (other than from Seeking Alpha). I have no business relationship with any company whose stock is mentioned in this article.
Additional disclosure: Investors are always reminded that before making any investment, you should do your own proper due diligence on any name directly or indirectly mentioned in this article. Investors should also consider seeking advice from a broker or financial adviser before making any investment decisions. Any material in this article should be considered general information, and not relied on as a formal investment recommendation.