Kohl's Corporation (NYSE:KSS) is trading 20% lower this month due to a significant decrease in November same-stores sales by 5.6%. While a decrease of this magnitude should caution investors, I believe the long-term prospects of this retailer outweigh the short-term setbacks.
First, I've highlighted some negative news regarding the 10-Q quarterly report for the third quarter ended October 27, 1012:
Comparable same-store sales in the Northeast, Mid-Atlantic, Southeast, and West regions declined by low single digits year-to-date (YTD). Hurricane Sandy surely did not help the Northeast region. Gross margin as a percent of sales for the quarter decreased by .5% and 1.4% YTD. The reasoning behind this reduction was explained in the 10-Q, "As we focused on improving value for our customers." Also the report noted that distribution costs are included in their margin while other retailers exclude it.
Cash generated from operating activities decreased 36%, cash from investing activities increased 10%, and cash from financing activities increased 60%. The decrease in cash from operating activities was due primarily to more purchases in 2012 to bring inventory to "normalized" levels. The increase in investing activities focuses more on the E-commerce growth because Kohls spent more on technology and less on capital. Management seems to be making the right decisions in regards to improving their online capabilities.
The current ratio of a company is a liquidity measure that demonstrates the ability to pay short-term obligations. Kohl's current ratio decreased from the same quarter last year from 1.67:1 to 1.57:1 which is explained by higher accounts payable (from more purchasing) and less cash due to a share re-purchase program that is set to continue over the next three years.
Now I'll go over some of the positive aspects of the 10-Q quarterly report for the third quarter ended October 27, 1012:
Total sales increased 2.6% over the prior quarter October 19, 2011 and 1.2% YTD. Higher average unit retail increased for the quarter and YTD. Net income increased by four million or .11 per diluted share compared to the prior year quarter last year. Selling, general and administrative expenses improved in both periods. E-commerce sales increased 50% for the quarter due to an increase in the number of online transactions. The Midwest and South Central regions reported slight increases in same-store sales.
Brand penetration increased to 53% of sales for the quarter primarily due to new exclusive brands such as Jennifer Lopez, Marc Anthony, Princess Vera Wang, and Rock and Republic. Kohl's opened 21 new stores this year and plans to open 12 smaller stores in 2013. I emphasize "smaller stores" because I notice a trend that Kohl's is looking to reduce average square footage and continue to increase focus on E-commerce sales.
Overall the quarterly report was negative, however, I believe the market response has been far too negative and pessimistic. I see short-term and long-term positives for Kohls including the results of Black Friday and Cyber Monday which are yet to be released.
From a technical stand point this stock looks like a strong buy because the reward seems far greater than the underlying risk at the price level of 43. Please see the chart below and observe how the price has rallied strongly off the 43 price level in the last three years. The RSI indicator also reinforces the oversold state of this stock.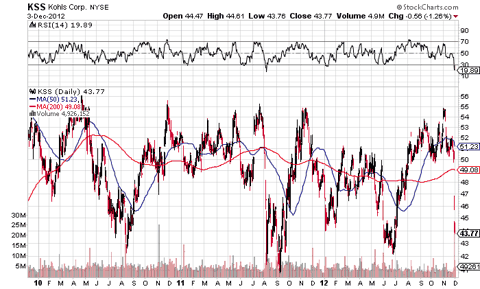 From a valuation perspective, Kohl's operates with a 15% return on equity, 8% return on assets, and trades at a low P/E of 10. Earnings per share look to increase slightly in 2013 and 2014. In summary, more profits are in store for this retailer and the future earnings projections and valuations make this both a great value play and a technical buy.
To quote Benjamin Graham, "Basically, price fluctuations have only one significant meaning to the true investor. They provide him with an opportunity to buy wisely when prices fall sharply and sell wisely when they advance a great deal..."
Good luck!
Disclosure: I have no positions in any stocks mentioned, but may initiate a long position in KSS over the next 72 hours. I wrote this article myself, and it expresses my own opinions. I am not receiving compensation for it (other than from Seeking Alpha). I have no business relationship with any company whose stock is mentioned in this article.