As Al Reiss and Jack Trout wrote in The 22 Immutable Laws of Marketing:
A company can become incredibly successful if it can find a way to own a word of the prospect. Not a complicated word. Not an invented one. The simple words are best, words taken right out of the dictionary.
The most effective words are simple and no matter how complicated the product, it's always better to focus on one word than two or three or four. The essence of marketing is to narrow your focus, and the brand becomes much stronger when you reduce the scope of operations and concentrate on your core product.
When it comes to retail and convenience, there is not one leader that dominates the "law of focus" but instead an entire category is differentiated by one simple but self-described word: DOLLAR.
The Dollar Store Model
Together, the top three dollar-store chains are growing considerable market share from a spectrum of retailers - from grocery stores to drugstores to pharmacies. These "rock bottom" discounters are expanding their stores and filling the aisles with nationally known bargain brands that lure in both the low-income shoppers who have been Wal-Mart's (NYSE:WMT) core customers and higher-income households now practicing thrift after getting hit hard from the last recession.
Dollar Tree (NASDAQ:DLTR), Family Dollar (NYSE:FDO) and Dollar General (NYSE:DG) have all grown into dominating dollar store chains that are nibbling away market share from a diverse spectrum of retailers. This aggressive expansion strategy has been somewhat of a surprise to many competitors as the mere swarm of smaller box stores has become aggravating for the big box boys like Wal-Mart and Target (NYSE:TGT).
Although the dollar stores were once a complementary co-tenant with the leading grocery and drugstore chains, the free-standing dollar stores are now penetrating practically every street block where a city bus is parked.
Dollar General, the largest dollar store chain in the U.S., opened its 10,000th store earlier this year in Merced, CA. The Tennessee-based chain recently expanded west this year by adding 27 new stores in California. The dollar giant is currently operating in 40 states, and the company plans to open another 625 new stores in 2013.
Going forward, Dollar General needs to average 1.8 new stores per day to hit its new-store expansion target of 625 units and seven percent square footage growth by the end of its fiscal 2013. With a current store count of 10,203, Dollar General needs to maintain or possibly accelerate that pace over the coming fifteen years in hopes to support upwards of 20,000 stores.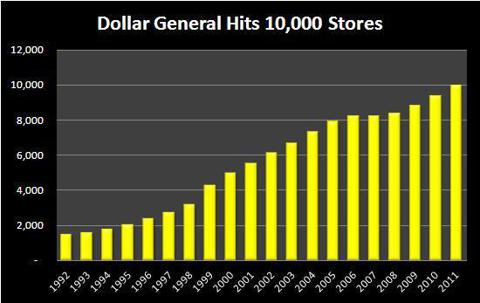 Family Dollar, the second largest chain, operates around 7,442 stores and, like Dollar General, the aggressive growth plans include a net new 500 stores in 2013 (Family Dollar opened 188 stores in the latest quarter). The real estate strategies for Dollar General and Family Dollar are similar in that the sites they occupy are typically along primary arteries near the low-income transit routes. This site selection strategy provides these two leading chains with impulse-oriented visits aimed to attract convenience minded consumers.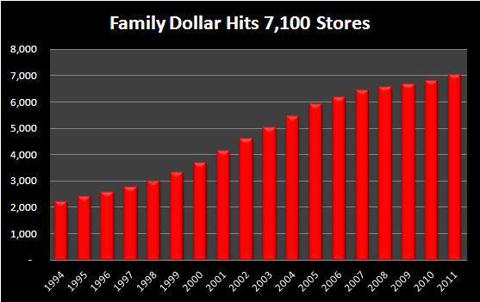 Dollar Tree is the third largest dollar chain with around 4,501 stores (in 48 states and DC and Canada). The Chesapeake, VA -based chain operates a differentiated real estate strategy in that the stores are typically located near a major discounter like Wal-Mart or Target. The products are virtually the same as Dollar General and Family Dollar; however, Dollar Tree has a little larger selling space (of around 10,000 square feet) versus the 8,000 to 9,000 square foot stores operated by the larger peers.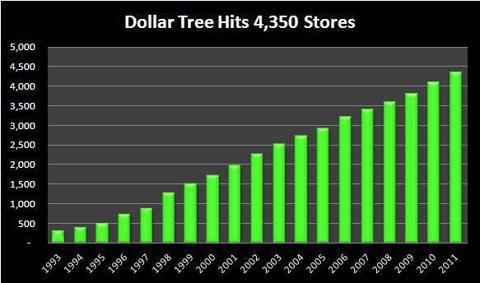 Alternatively, the dollar stores still provide customers with a more convenient shopping experience and these smaller stores allow shoppers to locate parking near the front entrance and get in and out quickly. With a combined 22,146 stores, the dollar store sector (top three chains) is now larger than many of the leading brands and is closing in on Subway, the largest chain in the U.S. With a forecasted 20,000 more dollar stores slate to open in the U.S., the deeply discounted sector should soon be the most dominating retailer on the planet.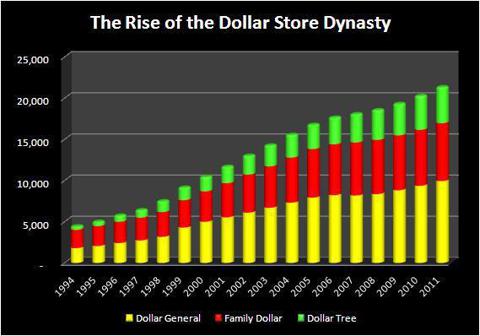 The Dollar Store Fundamentals
The dollar store dynasty has rolled out some impressive results as all of the top three chains have provided remarkable growth. For example, Dollar General with a $16.27 billion market capitalization ($48.76 per share), has returned around 109% since the company went public almost three years ago.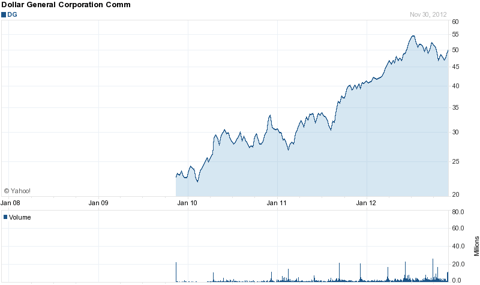 Family Dollar, with a market capitalization ($70.65 per share), has returned over 250% over the last five years.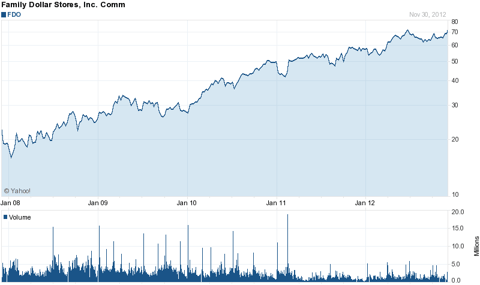 While Dollar Tree, with a market capitalization of $9.39 billion ($41.34 per share), has returned in excess of 328% over the last five years.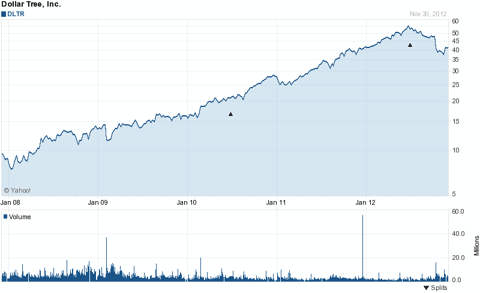 S&P also recently upgraded Dollar General's rating to 'BBB-' (investment grade) from 'BB+'
Family Dollar also has a 'BBB-' S&P rating and Dollar Tree is not rated (due to minimal long-term debt). These improved ratings are further evidence of the increased cash flow from store operations and the increased strength of the dollar store category.
Investor Demand Heats Up in the Dollar Wars
In commercial real estate, the triple-net sector remains at the top of most investor wish lists. This is not just because of the relative simplicity of being the landlord of a single-tenant triple-net leased investment, but also because of the security offered by some of the top users of these properties.
Since triple-net properties are essentially 100% leased, occupancy is the essence of the value proposition as there is zero lease-up risk, and the most sought after properties are those with long-term leases in place to high-quality tenants.
As real estate investors continue to gravitate towards the "flight to quality" triple-net leased assets, the demand has never been stronger. Conversely, the supply of new high-quality product - generating considerable cash flows from operations - has become the prize catch.
As mentioned above (the immutable law of focus), the dollar stores have carved out lasting differentiation by building and maintaining a repeatable strategy of providing necessity-based products in a manner that serves its core customers better and more profitably. The essence of the dollar sector's competitive advantage has been in the ability to provide tremendous scale and deliver the sharpest level of customer convenience: Location, Location, Location.
As Garrick Brown, Director of Research for Cassidy Turley, explains,
With the big box marketplace remaining challenged in terms of fundamentals, particularly for larger boxes, and with supply remaining very limited for drug stores and fast food buildings, dollar stores have emerged as a new alternative for net leased investors over just the past 24 months or so. We track pricing and cap rate trends for all net lease investment types and much of the current trend of cap rate compression is directly attributable to trading activity related to dollar stores.

Though lease terms are typically not as long for dollar stores as what we see from drug and fast food retailers, investor demand has skyrocketed. With the major dollar store chains alone guaranteed to open at least 1,600 new units next year, and most averaging in the neighborhood of 300 new stores per year, don't expect this to be a flash in the pan. Dollar stores are competing directly with grocery chains and category killers alike and are no longer just niche players in the retail landscape.
Triple Net REITs Casting a Wide Net
As cap rates have continued to compress across the commercial real estate sector, triple-net investment sales activity has remained healthy and robust. According to Cassidy Turley, the average cap rate on deals closed during the third quarter was 6.9% (skewed slightly due to a few exceptional deals).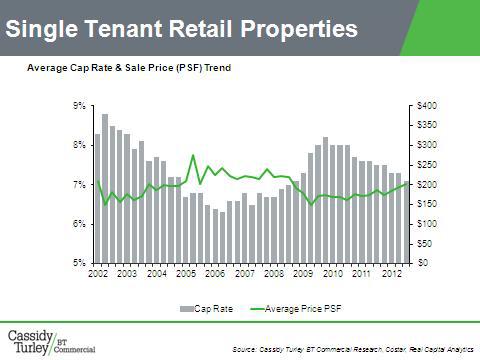 Since the dollar stores are the fastest growing retail category and because the operational fundamentals are solid, the institutional buyers have been active. Traditionally, the small investors - many of which are 1031 exchange buyers - have gobbled up the supply of new dollar store product. However, the industry dynamics have changed and now the big money players are lining up to invest in the durable dollar store brands.
To better align with institutional landlords, Family Dollar recently modified its lease structure by extending its base lease term from 10 years to 15 years. By tapping the sale/leaseback market, Family Dollar generated around $357 million, and in two separate transactions, the company was able to combine these sale/leaseback transactions to monetize the new stores as a source of capital for the company's ongoing fee development program. Earlier this year, Family Dollar created a new fee development program whereby the company works with developers to build stores using the company's capital and thereby lowering its occupancy costs. As Family Dollar's CFO, CAO, and Executive Vice President, Mary A. Winston explains (Q3-12 earnings call):
Upon completion of construction, we own the stores. While we are expanding our fee development program, our goal is not to own more stores. We prefer the flexibility of operating leases and do not believe that investing in real estate is an optimal use of our capital. Our goal is to convert these owned assets into leased assess through a series of sale-leaseback transactions.
One of those buyers was Realty Income (NYSE:O), the largest triple net REIT, with over 2,828 properties in 49 states. The triple-net landlord has grown its highly diversified platform into a stalwart REIT consisting of 144 different tenants and 44 different industries - one of which is dollar stores. As of the latest quarter, Realty Income owns 138 stores leased to Family Dollar, 93 stores leased to Dollar General, and 1 store leased to Dollar Tree.
Commenting on the company's strategy for investing in dollar store sites is Tom Lewis, CEO of Realty Income (source: direct email):
The Dollar Store concept hits the mark exactly for millions of middle and low income consumers today. They are looking for low prices, on the things they have to buy every day, in a location close to where they live. We believe that the companies in this segment will be in the right place for many years to come.
Another REIT with significant ties to the dollar store concept is American Realty Capital Trust (NASDAQ:ARCT), with a market capitalization of around $1.854 billion. As previously announced, Realty Income and ARCT have proposed to merge in a transaction valued at around $2.95 billion. ARCT currently owns 71 stores leased to Dollar General and another 10 stores leased to Family Dollar.
In addition, American Realty Capital Properties (ARCP), a smaller cap REIT ($156 million) with around 125 assets owns 36 Dollar General leased locations and 3 Family Dollar Store sites.
Several of American Realty Capital's non-listed REITs also own considerable interests in dollar sector tenants: ARCT III owns 175 Dollar General sites and 34 Family Dollar sites. ARC DNAV owns 2 Dollar General sites and 3 Family Dollar sites. ARCT IV owns 3 Dollar General sites.
As one of the largest institutional investors of dollar stores in the nation, CEO and Chairman of American Realty Capital (and founder and executive of other related companies), Nicholas S. Schorsch, explains (source: direct email):
We believe the dollar store concept is a very durable asset class that provides geographic diversity and long term growth.

National Retail Properties (NYSE:NNN) has also pursued a dollar store investment strategy. The Orlando-based REIT, with a market cap of $3.388 billion has invested in both Family Dollar sites and Dollar General sites; however, it appears that the concentration of dollar stores in less than 2% of the company's portfolio. (according to SNL Financial, none of the dollar stores represent more than 2% of revenues). As Julian E. "Jay" Whitehurst, President and COO of National Retail Properties explains (source: direct email),
NNN's concentration of dollar stores is a modest 1% of the portfolio. We focus on acquiring these properties one-off from a select group of preferred developers, in situations where we can underwrite the real estate quality and achieve higher yields than we would get by buying large portfolios in heavily marketed transactions.
As Whitehurst also describes the benefits of owning and investing in the dollar store concept:
We believe the value proposition for consumer necessities, coupled with convenient locations, parking and access bodes well for the continued growth of the dollar store sector. Moreover, the development of an institutional quality form triple net lease (driven in large part by NNN) has opened the gates for REIT investments to fund new store growth.
Summing Up the Dollar Store Value Proposition
Investing in a dollar store leased property is an attractive value proposition to both individual and institutional investors. Accordingly, the desire for high-quality income with a sustainable revenue stream is the mantra for a sleep well at night (SWAN) investor.
In order to achieve the highest return on investment, most major asset classes require a professional manager to assist with collecting rents, maintenance, and marketing, which eats away a substantial portion of profits. However, the SWAN strategy for owning a triple-net leased property (with a long-term lease) is also the strongest source of differentiation and why so many investors gravitate towards the bond-like alternative aimed to the number one rule of investing: Principal Preservation.
Investors are increasingly attracted to the dollar store value proposition as explained by Michael Bull, founder and broker at Bull Realty:
"The search for yield and safety has increased the popularity in the single tenant net lease sector. Unlike some commercial real estate in this cycle, lenders feel comfortable lending on these assets. The margin between cap rates and interest rates creates positive leverage that can turn an 8 cap property to a double digit return. The other factor is ease of ownership. Since the tenant typically handles all operating expenses and maintenance, many investors like the low management aspect of single tenant. When you combine safety, ease of ownership and higher returns than available in the market, you have a popular investment vehicle."
By owning one (or multiple) dollar stores, a net lease investor is getting a solid return (7% to 8% unleveraged) and also building a sound risk-aligned income stream. Unlike many of the other stand alone properties, the dollar store rent costs per square foot are at (or below) market and the values are generally closer to market when leases expire. This means that the investor is preserving capital while owning a generic structure and well-located property leased to a durable tenant whose model is rooted in repeatability - the essence of a sleep well at night asset.

Source: Cassidy Turley, Bull Realty, SNL Financial
Disclosure: I have no positions in any stocks mentioned, and no plans to initiate any positions within the next 72 hours. I wrote this article myself, and it expresses my own opinions. I am not receiving compensation for it (other than from Seeking Alpha). I have no business relationship with any company whose stock is mentioned in this article.