In the last 11 market sessions (about 2 weeks), the market has put on a show. The S&P 500 went up around 5.5% from its lows, and the Nasdaq 100 (NASDAQ:QQQ) did even better by climbing 7.6%.
The market had gotten ahead of itself on the downside, due to fiscal cliff fears. It took the favorable seasonality, continuing quantitative easing, extreme pessimistic sentiment and rumors of the fiscal cliff resolution to turn things around. And as we've seen, once things turned, they turned hard.
But what about now?
As we go forward, seasonality will continue to be favorable into December and January. The Fed will also continue to print money and buy assets -- MBS in this case. So these two factors will continue to weight on the positive side.
On the other hand, sentiment is no longer as negative. That's a minus. Also a minus, some economic numbers such as Monday's ISM index are clearly negative. Also, there's an ongoing steel plunge in China (monthly chart below, Source: Bloomberg) which is bound to hit several sectors - iron ore, steel makers, mining equipment makers and the Australian dollar, to name a few.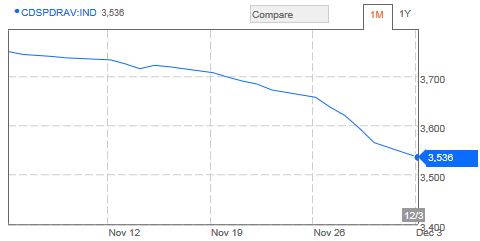 But most worrisome of all was the recent trend in seeing large spikes on many beaten down stocks. Several examples are easy to find: Nokia (NYSE:NOK), up 22% since the start of November; Research in Motion (RIMM), up 465 since the start of November; OCZ Technology Group (NASDAQ:OCZ) up 36% since the start of November; even Advanced Micro Devices (NYSE:AMD) is up 16% since the start of November.
Now, some of these names can conceivably have fundamental reasons for their moves. For instance I've written on how Nokia is probably selling its Lumia phones ahead of expectations. However, there seems to be more here than just stocks reacting to fundamental news. What we seem to have here is a widespread speculative orgy on beaten-down names, accompanied by large trading volumes. For instance, on the Friday after Thanksgiving, a reduced-hours trading session, Nokia traded more than 100 million shares where its 3-month daily average was around 50 million, RIMM traded 74.5 million shares versus a 3-month daily average of 26 million and even Alcatel-Lucent (ALU) traded 59.3 million shares versus its 3-month daily average of 16 million shares. Remember, this was a shortened trading session where for instance the popular SPDR S&P 500 ETF (NYSEARCA:SPY) traded around half of its daily average volume.
This kind of speculative move is usually not compatible with continued happiness. It must thus be seen in the context of the other not-so-positive signs mentioned earlier. While the seasonality and quantitative easing will probably keep any correction shallow, the implications of this speculative behavior should not be underestimated.
Conclusion
Although the market continues to have some positive factors going for it (seasonality, quantitative easing), of late we've seen several factors turning negative, including a more bullish sentiment, negative economic numbers such as the ISM, a continued steel plunge in China, and finally, a speculative rally on beaten down names. Taken together, these factors seem to warrant short-term caution from investors.
Disclosure: I have no positions in any stocks mentioned, and no plans to initiate any positions within the next 72 hours. I wrote this article myself, and it expresses my own opinions. I am not receiving compensation for it (other than from Seeking Alpha). I have no business relationship with any company whose stock is mentioned in this article.