Investment Conclusion:
TiVo (NASDAQ:TIVO) has a fair value of $17.00 with additional upside benefiting from: 1) Verizon's (NYSE:VZ) $250.4 million settlement; 2) New deals with Tier 2/3 US cable operators; 3) Continued progress on international deals; 4) New hardware and software technology being deployed to retail and cable partners; and 5) likely settlements with Motorola(Google)/Time Warner Cable. Last week's earnings report provides a hint that TiVo is finally cloning Virgin Media's (NASDAQ:VMED) success with US tier 2/3 operators and other partners abroad. TiVo's current stock price represents an asymmetric risk/reward for the investor with a 12-month time horizon.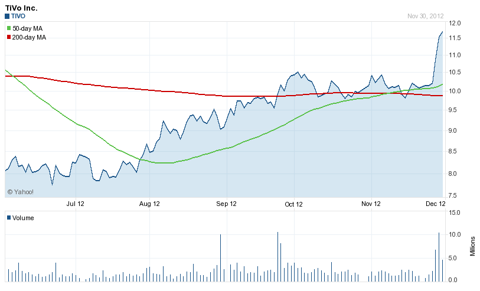 KEY POINTS:
Q3-FY13 Results - TiVo beat consensus and my estimates on nearly every business metric (service, technology, and hardware revenue; gross margins; G&A expense). Adjusted EBITDA excluding the one-time Verizon settlement payment but including litigation expense is approaching break-even. TiVo guides to cash flow generation next year (FY14) including litigation expense. TiVo generated strong quarter over quarter (QoQ) Average Revenue Per User (ARPU) growth even with Virgin Media's subscribers excluded due to deferred revenue rules. TiVo's retail/stand-alone ARPU numbers reflect a material contribution from TiVo's research and analytics business (TRA).
Pending Cases - Judge Gilstrap surprised everyone this past week by accelerating the Claims Construction (Markman) ruling timeline to the end of this month (December) while most expected it in the February 2013 timeframe. TiVo's litigation with Google's Motorola Mobility unit and Time Warner Cable (TWC) was scheduled for jury selection on May 6, 2013, but now the case goes to trial a week earlier at the end of April. The litigation with Cisco is scheduled for jury selection on March 3, 2014. I believe that Google (NASDAQ:GOOG), Motorola's current owner, has a strong incentive to settle since there are multi-source indications that Google is eager to sell the unit. I would handicap the chances of a settlement with Google very high (~90%) sometime in Q1 or Q2 next year after the claims construction ruling and before the trial commences. Once Google settles with TiVo, a settlement with Cisco (NASDAQ:CSCO) under similar terms and conditions is even more likely late in 2013. I estimate that the pre-tax value of settlements with MMI, TWC, and Cisco is in the range of $781 million to $2.4 billion.
Sum-of-the-Parts Analysis (SOTP) - I'm introducing a new analysis framework to capture the potential value of the various aspects of TiVo's business. This framework assigns conservative and balanced values to TiVo's cash and ,debt, guaranteed license payments from Dish, AT&T, and Verizon, TiVo's core business, and likely future deals and future litigation wins.
Reiterate Buy Opinion - TiVo can be viewed as an attractive buy at current levels with limited downside. TiVo's base value provides downside protection in the $9-$10 range. Factoring in likely future cash flow associated with new deals and current litigation represents a likely value of $16.50/share or a 42% discount from present share price. Any premium associated with a potential acquisition of the company or significant new international or domestic deals is not reflected.
Downside case - Negative EPS is likely through FY14 although adjusted EBITDA including litigation expense will turn positive in the next few quarters. ARPU is expected to move higher as Virgin Media's revenue will finally flow to the bottom-line in the next few quarters. A license agreement / settlement with Motorola and/or TWC would be enough to turn TiVo EPS profitable next year (FY14). In addition, there is the potential that improvement of operational efficiencies at TiVo (e.g., lower research and development expenses, lower G&A, improving hardware margins) could improve EPS projections in the nearer term. Continued pressure from perceived disruptive forces to TiVo's business mostly from Over The Top alternatives like Apple TV, Roku, and smart televisions will continue to give the bears/shorts something negative to embrace. Bears have also argued that TiVo will never be profitable, their core business is worth almost nothing, and

management's

continued emphasis on establishing their core business turn-around instead of focusing solely on litigation and operating expense control will result in the business burning through their huge cash reserves with key patent expiration looming in 2018.
Summary
A wise investment manager once told me,
[I]f the answer was abundantly clear, it's unlikely there would be as many good values available. Uncertainty is what creates investment opportunity. Certainty/Clarity - when people believe they have that - we get the tech bubble and the housing bubble. It's counter intuitive, but it's concern and uncertainty that create great investment opportunities, not the other way around.
Most sell-side analysts that cover TiVo place it in the "special situation" or "special opportunity" category due to the continued quarter over quarter (QoQ) GAAP EPS losses while at the same time recognizing the significant upside presented by the current litigation with Google, TWC, and Cisco. Current patent monetization recently crossed $1 billion with September's $250.4 million settlement with Verizon. In addition to the $100 million initial cash payment ($78 million recognized this quarter), Verizon will pay an additional $150.4 monthly license fees to TiVo through July 2018 (~$0.60/mo license fee). In a similar fashion to the AT&T settlement, Verizon will pay additional monthly license fees through July 2018 if Verizon DVR subscribers exceed certain confidential thresholds.
The licensing associated with TiVo's battle-tested patent portfolio is only one pillar of the TiVo turn-around story. TiVo's core advanced television business continues to show signs of value for the seasoned investor. The third pillar of TiVo's business is its TRA research business, which materially contributed to TiVo's bottom-line this quarter. Finally, the fourth pillar is the TV Advertising arm of TiVo which minimally contributes to the bottom-line. It's important to note that the advertising capability is an expected component of an advanced television solution for TiVo's cable partners.
In summary, the four pillars of the TiVo business - licensing associated with its compelling patent portfolio, advanced television with DVR and non-DVR software and hardware products, TRA, and advertising sales - represent a sum-of-the-parts value that easily commands more than 40% upside from current prices. A close read of this article by a longer-term investor will present a compelling (and balanced) case to conclude that at the current market valuation, TiVo points to an asymmetric risk/reward, showing limited downside risk ($9.18 base value excluding future litigation, Charter Communications upside, and additional domestic Tier 2/3 deals) and significant upside potential ($16.56 fair value). Based on this dynamic, I am increasing my fair value estimate to $17. Even at $17, the case can be made for significant upside when taking the core advanced television, other potential licensees (e.g., Cablevision, Bright House Networks, etc.) research and analytics, and advertising businesses into account. My thesis is that this untapped value will finally be recognized within the next 12 months and TiVo's share price will begin to reflect this untapped value. I also think an acquisition of TiVo is likely within the next 24 months.
Q3 FY13 Review
A quick read of the analyst report headlines after TiVo reported earnings on 11/28 probably summarizes the astonishing quarter better than anything I can write today.
Albert Fried & Company (Rick Tullo) - TIVO: Posts A Strong Beat In Our View As Revenue and AOCF (EBITDA) Surpass Our Estimates
B. Riley (Eric Wold) - Q3 Results Exceed Expectations; Ramping MSO Subscriber Growth Leads to Positive EBITDA Including Litigation for FY14 Guidance
Barclays (Kannan Venkateshwar) - TIVO: 2013 Could Be an Inflection
BMO Capital Markets (Ed Williams) - Stronger Results on Litigation Settlement; MSO Momentum Continues
Brean Capital (Todd Mitchell) - TIVO: Fiscal 3Q13 Review. We see the potential for significant upside.
Caris & Company (David Miller) - TIVO-Posts Healthy One-Time Gain On VZ Settlement; YOY Subscriber Growth Outstanding
Evercore Partners (Alan Gould) - TIVO: Positive Adjusted EBITD in FY14 and Beyond
Janney Montgomery (Tony Wible) - Back in Black - Raising Estimates on Blowout Numbers and Legal Update. Reiterating Buy rating and Raising Price Target to $15.00.
Jefferies & Company (Brian Fitzgerald) - Focus & Execution Drive Solid Results
JP Morgan (Paul Coster, CFA) - F3Q Results; Good Enough; Stay in the Stock Ahead of the Motorola Trial (in May 2013)
Lazard Capital Markets (Barton Crockett) - TIVO: F3Q13 review; Verizon lift near LCMe; core business encouraging; $14 PT, BUY
Pacific Crest Securities (Andy Hargreaves, CFA) - Earnings Results: Core Profits Remain Weak Despite Progress with MSOs in FQ3
Barrington Research Associates (Alexander Paris) - TiVo Looks to the Future; Increasing Target by $2 to $16
Standard & Poor's (Tuna Amobi, CFA CPA) - S&P Keeps Hold Opinion on Shares of TiVo - PT $12; remarkable subscriber traction in pay TV channel with product enhancements, with key metrics in standalone base also moving in the right direction.
A detailed look at my estimates versus actuals (Exhibit 1) reflects a TiVo bull who underestimated the majority of TiVo's key business metrics. Later on in this report, I will update the fidelity of my model to reflect "the new normal" for TiVo. Some analysts were caught off-guard by the increase in diluted share counts, but TiVo's 10Q released on 12/1 clarifies that the diluted share count is related to the $172.5 million convertible that has been on TiVo's books for quite some time.
TiVo reported a diluted EPS loss (excluding the 1x VZ litigation proceeds) of $0.16 vs. my estimate of a loss of $0.18 and First Call consensus loss estimate of $0.22. The company achieved an Adjusted EBITDA gain of $2.97 million excluding litigation expense and litigation proceeds. Some other notable trends include increased MSO and Retail ARPU, lower R&D costs, lower G&A costs, improved retail gross adds and lower churn, and lower litigation expenses. Regarding current MSO deals, TiVo revealed during its Q3 conference call that, "several of our partners beyond Virgin Media have achieved double-digit percentage penetration of their total subscriber footprint with TiVo" substantiated the fact that current deals continue to gain momentum.
Service and technology revenues were roughly in-line at $35.3 million (+4.5%) and $25.7 million (+3.3%), while Hardware revenue of $21.1 million greatly exceeded (+38.3%) my $13.0 million estimate. It was also revealed in TiVo's 10Q that TRA's income and expenses are reported as TiVo-Owned/Stand-Alone service revenue and cost of service revenue, respectively. Going forward, I will adjust my model to account for this income and expense.
TiVo's 10Q revealed a few additional insights. In addition to the TRA cash acquisition of $18.8 million on July 10, 2012, TiVo acquired another undisclosed company for $5.3 million in cash on October 24, 2012. The latest acquisition has not been mentioned anywhere in public other than the 10Q filing. When I inquired about the acquisition, TiVo told me,
We picked up a small technology company that furthers/accelerates our technology roadmap. Not much more to share other than immaterial to financials.
In addition to the new acquisition, TiVo purchased another 552,000 shares on the buyback at an average price of $9.94. I would expect this buyback to continue in subsequent quarters to avoid share dilution related to employee stock grants.
Overall, TiVo posted what could be considered its greatest quarter ever and cemented the turn-around story of its core business, which the Street has previously assigned values of $0.50 to $1.50 in their SOTP frameworks. I've always been more bullish than many others on the prospects of the core business and TiVo technology. I now see further evidence that my optimism is warranted and the core business and litigation prospects are certainly a positive for the company going forward.
Exhibit 1. Income Statement - Actuals versus Estimates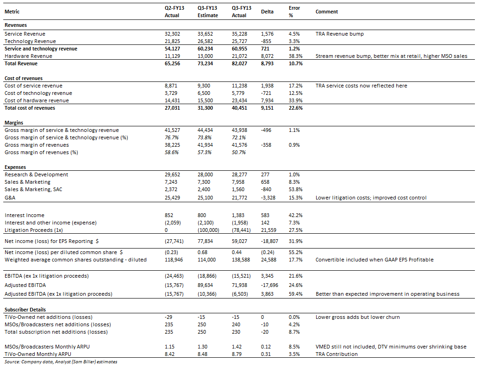 Progress on Litigation
Matt Zinn, SVP and General Counsel for TiVo, while relatively tight lipped about current litigation, provided some additional insight into TiVo's litigation with Google's Motorola set-top box unit with his Q&A with Lazard Capital Markets' Barton Crockett:
Barton Crockett - I was wondering about one of the statements you made in your -- the suit with Motorola, that you thought that they could owe you billions of dollars in damages. I was wondering if you could give us a little bit of clarification of how you get to the conclusion that they could owe you more than $1 billion in damages, given that you're getting awards that we can see some from service providers and make a good profit from the DVR option and you're making a very large claim from someone in the hardware business where the margins are lower. So I think there's some confusion about how you got to and I was wondering if you could talk us through that.

Matthew Zinn - Well, we can't go into too much detail but damages components have 2 parts. One is the reasonable royalty and you can see what kind of numbers we've gotten in our settlements on reasonable royalty and we would certainly be seeking a lot more than we've gotten in pretrial settlements in an actual trial. And number two, there is a large lost profits component to this business. We, it's is our view that Motorola took away an awful lot of business that TiVo would've otherwise gotten if it were not for Motorola's infringing conduct here. And Motorola has produced, I believe, over 20 million set-top boxes -- DVR set-top box in the United States since its inception. So some of those are either now licensed through AT&T and Verizon, but the vast majority of the set-top boxes are not licensed. So the numbers can add up pretty quickly and get rather large.
Exhibit 2 is a new framework I've developed to capture the Net Present Value of current litigation. In general, this framework yields results that appear to be in alignment with consensus from other sell-side analysts. My probability weighted evaluation assigns a $740.4 million present value (PV) or $6.14 per share, after tax, to all pending cases. This calculation will be used later in the SOTP that I will use to evaluate the total business.
Exhibit 2. Valuing Current Litigation against MMI/TWC & Cisco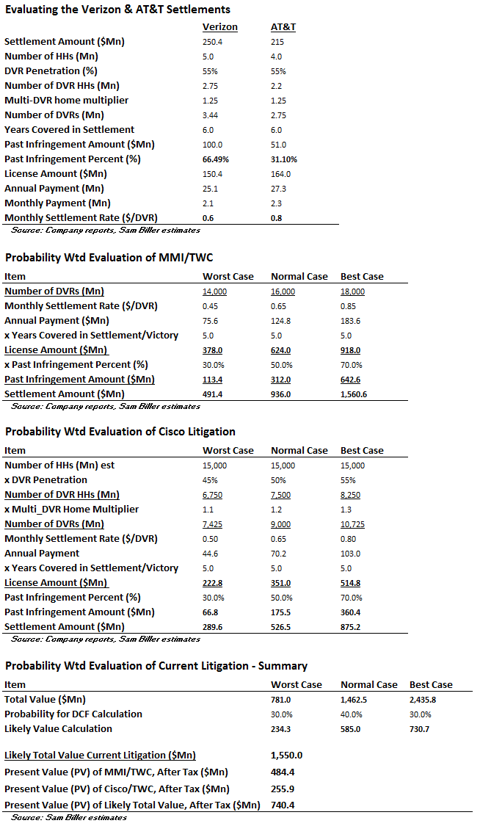 Signs of Retail Improvement/Stability
Although TiVo continues to lose about 5,000 TiVo-Owned/Stand-Alone subscribers per month, there is a glimmer of hope that this loss is improving and potentially could turn into some modest gains in the next few quarters. TiVo Premiere with Comcast XFINITY On Demand is now available in 12 markets to at least 10 million Comcast (NASDAQ:CMCSA) subscribers. TiVo also announced the hiring of Tim Tebow as 'Brand Ambassador'. Tebow will be featured in a multi-million dollar national advertising that should add brand awareness and increase gross adds in Q4. The hiring of Tebow has not been without controversy mostly evident on TiVo's Facebook page but also reported by Dave Zatz on his blog. I believe that the advertising campaign will be an overall positive for the company. I reached out to TiVo for some Tebow specific metrics to help clarify his selection. I've been told that,
Tebow is known by 75% of the population with a highly positive connotation. According to Nielsen and E-Poll's N-Score ranking, which measures factors including name and image awareness and appeal, as well as attributes such as sincerity, approachability, experience and influence, Tebow has a score of 180 (For reference, Sanchez has a score of 12). He ranks in the Top 10 in the endorsement category of all celebrities, according to Davie-Brown Index (DBI), which measures nearly 3,000 celebrities, including current and retired sports figures. Each celebrity is evaluated by respondents and given a weighted average score across eight attributes - appeal, aspiration, awareness, endorsement, influence, breakthrough, trendsetter and trust.
So all-in-all it appears that Tim Tebow is massively popular. I've also been told that Jockey had a very successful campaign with him that bumped sales by 37% in 11 months - granted that Tebow probably knows more about underwear than advanced television technology.
From a subscriber analysis perspective, exhibit 3 projects continued improvement in retail to a loss of only 4,000 retail subscribers in Q4. Current trends support the addition of another million plus subs in the next calendar year.
Exhibit 3. Subscriber Analysis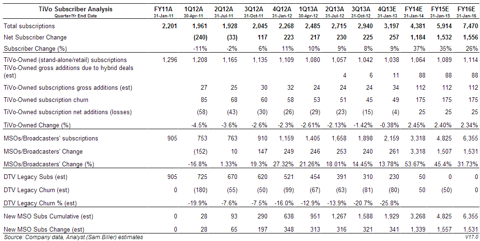 New Deals with US Tier 2/3 Providers
Since I last wrote about TiVo on August 30th, TiVo has signed three additional Tier 2/3 deals with Mediacom, Midcontinent Communications, and Cable ONE. My Subscriber Growth Model (exhibit 4) projects that these deals conservatively will add 513,000 subscribers in the next three years. TiVo now has deals with 9 of the top 21 US cable operators and Tom Rogers indicates that there are probably four times as many tier 2 subs available versus who they've already signed. I'm expecting some clarity in the coming months about licensing or litigation with Bright House Networks and Cablevision.
Exhibit 4. Subscriber Growth Model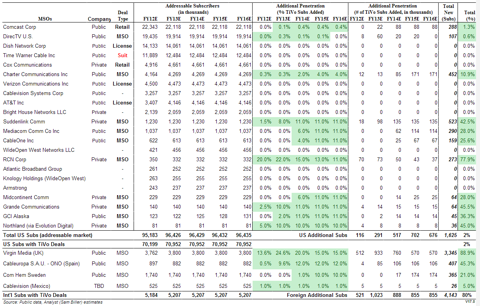 My analysis of these tier 2/3 deals indicates that each million sub deal is worth approximately $0.45 per share from a SOTP perspective (exhibit 5). This number assumes penetration rates consistent with TiVo's current tier 2/3 providers and completely discounts hardware revenue, which has a relatively low margin (10-20%).
Exhibit 5. Valuing Mediacom Tier 2 Deal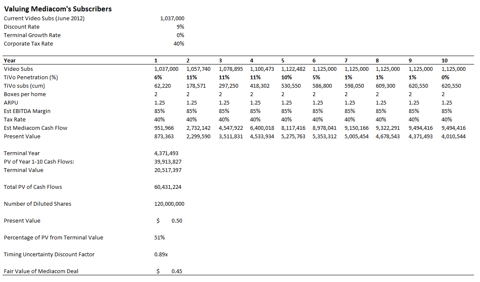 13F Filings and Insider Transactions
Since my last article, two high-profile hedge funds have established sizable positions in TiVo. November's 13F filings indicate that billionaire Steven Cohen's SAC Capital Advisors and CR Intrinsic Investors now own 7.1 million shares or approximately 6% of TiVo shares. Insider Monkey reports that the hedge fund has returned nearly 30 percent annually since its founding. Leon Cooperman's Omega Advisors hedge fund also established a sizable 2.4 million share position in TiVo as of their latest 13F filing. In my opinion, these positions are more evidence of the intrinsic value in TiVo's shares.
Sum of the Parts Valuation
Negative EBITDA excluding amortization of patent settlement proceeds and litigation expense until calendar year 2015 puts TiVo into a "special opportunity" category for most sell-side analysts. The preferred method for valuation is to focus on sum of the parts. Exhibit 6 is my fair-value estimate with the turn-around in the core business attributing $2.02 per share value. Reasonable arguments can be made for value beyond the $16.50 level. Even with the post-earnings run up to $11.70, $16.50 in the next 12 months represents 42% upside from current levels.
Exhibit 6. SOTP Summary

Conclusion
I see downside risk for TiVo limited by cash and patent value and the guaranteed license revenue from Dish, AT&T, and Verizon. TiVo's $1 billion in settlements to date is likely to more than double in the next two years. MSO momentum and retail stabilization indicate that the core value of TiVo's advanced television solutions has potentially more upside. TiVo will generate positive cash flow in the next few quarters including litigation expense. TiVo continues to stay in front of its competition by offering a very compelling, cost-effective, quick-to-market TV Anywhere solution to its MSO partners.
The remaining exhibits provide a snapshot of the model going forward which conservatively highlights the improving metrics for the core business. At this point, my next stop for reevaluating my TiVo long position is in the $14-$15 range where I likely will be discussing upside into the $20 range as QoQ trends are confirmed.
Exhibit 7. EPS Summary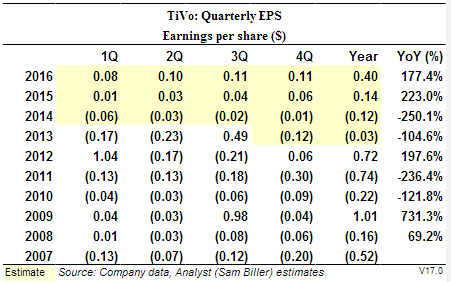 Exhibit 8. Revenue Summary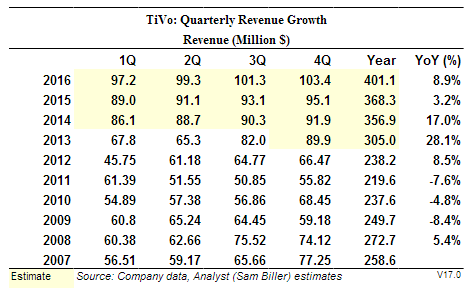 Exhibit 9. Annual Income Model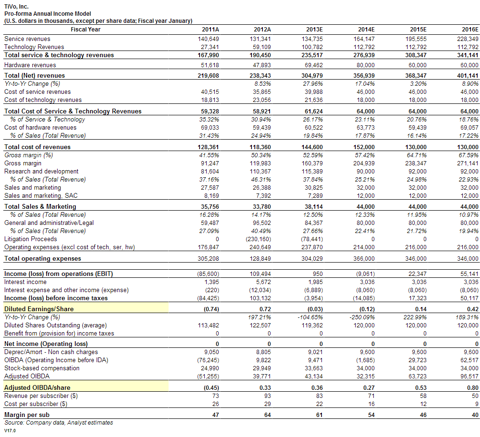 Exhibit 10. Detailed Income Model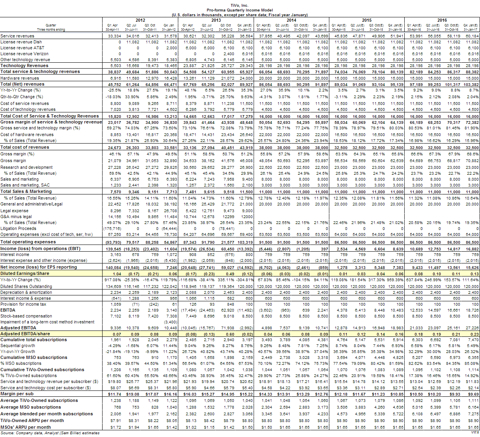 Disclosure: I am long TIVO, VMED, CMCSA. I wrote this article myself, and it expresses my own opinions. I am not receiving compensation for it (other than from Seeking Alpha). I have no business relationship with any company whose stock is mentioned in this article.