Last Friday, Nov. 30, on an otherwise average day for the market, Chelsea Therapeutics International (NASDAQ:CHTP) looked more like a tidal surge than a stock chart. It got busy early, smashing through the 200 day moving average, and closed +8.7%. This is the third surge in three months. The stock price has nearly doubled in that time. While pinch players and catalyst shakers are playing this move for the short term, the long term investor can count today's move as a drop in the bucket.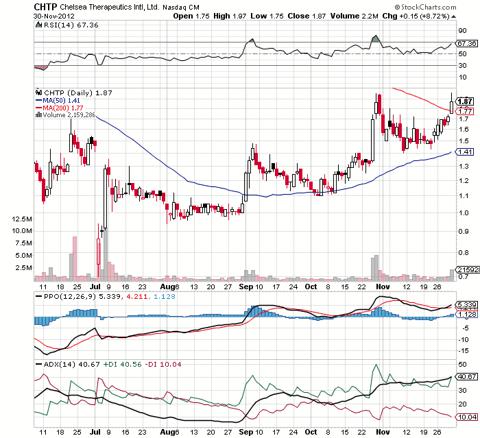 The run-up is likely anticipating results from Chelsea Therapeutic's Phase III trials for Northera (named 306b), which are due by the end of 2012. Interim CEO Joseph Oliveto presented on the trial in September at the Rodman and Renshaw Investor Conference. The drug is intended to treat neurogenic orthostatic hypotension, a disorder related to low blood pressure that results in dizziness and fainting. It occurs in persons with Parkinson's disease, multiple systems atrophy, and pure autonomic failure.
The stock price tumbled in the first half of the year, from $5 in January, to $1 in August. After getting priority review status from the FDA in November 2011, there was a dearth of good news for investors. The first hint of a problem came February 13th when the FDA noted that three of the 19 deaths that occurred during the trial may have been cause by Northera. Two months later, in its final report, the FDA stated that the compound droxidopa must prove "durable effect" longer than four weeks. Concern over fatalities, and "generally insufficient data," were also mentioned.
The FDA rejection in March cut shares down to $2. The company and its investors hoped to avoid the time and money that a new trial would require by using data from the current Phase III trial for Northera: 306b. On July 3rd , Chelsea Therapeutics reported that the FDA had asserted that the data from 306b would not be sufficient for approval. Again, share prices were cut in half. A week later, CEO Simon Pedder resigned. The stock price hovered at $1 for all of August, but investors are again demonstrating confidence in both the company and Northera.
According to a Wedbush Morgan analyst, the Phase III 306b trial demonstrates that the drug has a statistical power assumption of 92% when measured against the placebo. This is up 12% from the first successful Phase III trial (named 301). Although there were issues with the first application, an FDA panel still voted 7 to 4 in favor of approving the drug. With the positive results from new testing, Chelsea Therapeutics will be primed for an effective Phase III trial for submission to the FDA. If approved, the rewards for current investors would be outstanding.
The potential market value estimated by the company sits at $300 to $375 million at the time of approval. As Trade in Mexico calculated, "at 5 times sales the company would have a potential market capitalization of around $1.9 billion, or about $28 per share." I would be wary of share price collapsing after the release of news from Phase III 306b. It's no secret that the trial has provided successful results, and it's still many years before CHTP will be ready to apply for FDA approval. Soon, though, investors may begin to pile in for the long haul. If so, there may not be another opportunity to buy in under $2.
Disclosure: I am long CHTP. I wrote this article myself, and it expresses my own opinions. I am not receiving compensation for it (other than from Seeking Alpha). I have no business relationship with any company whose stock is mentioned in this article.
Additional disclosure: This analysis is for informational purposes. It should be used only as a reference for ongoing research. Investors should do their own due diligence and consider personal risk tolerance, preferences, and needs when making an investment or a trading decision.