As the year winds down and we approach the rim of the Fiscal Cliff, we must look forward and plot our path for 2013. Where will capital investment go? What is on the minds of international investors? How about value investors? Let me boldly say, in my opinion what won't work in 2013 is 30-Year US Treasury Bonds.
Ding, dong, the bull is dead. It was a great ride but I believe that magic carpet ride is coming back to earth. In reality, I believe this sentiment is pervasive across a spectrum of interest rate investments. While I will focus my commentary on the 30-Year US Treasuries, I think the same could be said for the 10-Year US Treasuries as well as the sea of bond funds out there. What I will do is share my opinion about why I believe the 30-Year US Treasury bonds may head lower in 2013 and some thoughts as to actionable things you can do as an investor. Here are my reasons:
Prosperity After the Cliff
Yes, there is much hand-wringing going on concerning the Fiscal Cliff. Why so much consternation? It makes for good politics now that the election is done, the media loves a good cliff-hanger (pun intended) and nobody is excited about the prospect of paying more taxes. Here is my theory: We get past this event. The lower and middle-class get to keep their tax breaks and the higher tax rates get pushed over to the $250,000+ income people (who promptly shove more cash into tax loop-holes to avoid said tax increase). Catastrophe averted! I think the stock market keeps chugging along and with it the real estate side of the equation inches higher as well. Think about it, all good bull markets begin by inching forward. It gets knocked down but keeps on chugging. This is not a bubble folks. They don't ring a bell and tell you this is a certified bull market. It matures over time.
That being said I think a more prosperous economy would bring about higher Treasury yields. Higher yields across the board typically portend lower prices for 30-Year US Treasury bonds. If the economy improves, the typical response would be Fed action to raise rates, again putting pressure on the longer end of the yield curve. Further, as other assets become more attractive, funds could flow away from the bond market to these riskier bets. A clear example of this is to look at the rates of 30-Year US Treasuries when the stock market was rolling in 2001. Rates were in the 5.5% area according to the US Treasury web site (treasury.gov). Compare that to the rate now of 2.89%.
Logic - We Can't Go Lower Than Zero
As we all know, we haven't seen rates like these since the 1940s. The short-term end of the curve is basically at zero and the 30-Year Bonds are about as low as they can go. Put another way, if we were looking at a chart of interest rates, but changed the label to that of a stock, and I asked you which way would you wish to bet: Where are the best odds, declines or increases? …you probably would place your wager on the odds being more in favor of an increase.
Here is a great example. Look at mortgage rates in the chart below. Is this a cheap asset or would you look at this chart and hope the market goes to zero?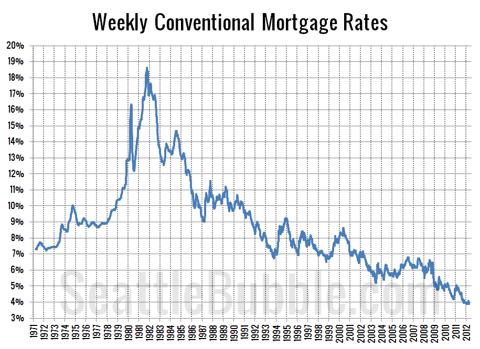 Source: wwwSeattlebubble.com
Bernanke Can't Support the Market forever
Typically, the Fed controls the short-term end of the yield curve. These are the rates at which banks borrow their money. However, an interesting point was made in a Reuter's article from October 4, 2012 titled: Should We Worry About Rising Interest Rates?
Even the Fed itself has loaded up on seemingly safe fixed-income securities, having expanded its balance sheet to a whopping $2.8 trillion thanks to its various bond-buying programs. If rates rise, Chairman Ben Bernanke's team will find it difficult to reduce its holdings of Treasuries and mortgage bonds without spilling red ink - and losses surely wouldn't play well in Washington. That's aside from the problems the U.S. government would face with suddenly higher borrowing costs.
Eventually, the tap may run dry in terms of supporting the longer-term, 30-Year US Treasury bond side of the rates equation.
Is it Possible?
Sure it is! The purpose of this short article is to make you think. It is meant to dig a little deeper in terms of how you position your portfolio. Blindly plowing more cash into bonds or bond funds may not be the answer. What about diversification? While I could be wrong in my estimation on the direction of the market, it will only serve you better to become more prepared for what will happen in 2013. Maybe it is the start of something good for stocks (and perhaps bad for bonds) or perhaps more of the same. The bottom line is that you are armed with more information, which isn't a bad thing.
The actionable focus becomes one of pruning and pushing yourself away from the bond table. One could also look to short 30-Year US Treasury bond futures or examine bond future option strategies that would benefit from interest rate increases.
Disclosure: I have no positions in any stocks mentioned, and no plans to initiate any positions within the next 72 hours. I wrote this article myself, and it expresses my own opinions. I am not receiving compensation for it (other than from Seeking Alpha). I have no business relationship with any company whose stock is mentioned in this article.