In April 2012, I wrote "The U.S. Consumer About to Retrench," concluding that the American consumer could simply not continue supporting the U.S. economy given the clearly weak trends in employment and wages and steady inflation. My subsequent updates acknowledged the surprising strength in personal income but warned of the income cliff coming in early 2013 even assuming a favorable resolution of the fiscal cliff negotiations.
Last Friday's release of the October Personal Income and Outlays data included significant revisions to the April-September data, which confirm that Americans are no longer supporting the economy and that the impending income cliff is indeed right before us.
Personal consumption expenditures decreased 0.2% M/M in nominal dollars in October. That followed strong gains in the July-September quarter totaling +5.7% annualized, even though disposable income rose only 2.4% annualized.
When inflation is factored in, consumer spending fell 0.3% in October after rising at a 2.8% annual rate in Q3.
The Commerce Department partly blamed Hurricane Sandy for the weaker October stats:
The October estimates of personal income and outlays reflect the effects of Hurricane Sandy, which made landfall in the United States on October 29. The storm affected 24 states, with particularly severe damage in New York and New Jersey. BEA cannot quantify the total impact of the storm on personal income and outlays because most of the source data used to estimate these components reflect the effects of the storm and cannot be separately identified. However, BEA did make adjustments where source data were not yet available or did not reflect the effects of Sandy. The largest of these adjustments was for work interruptions, which reduced wages and salaries by about $18 billion (at an annual rate).
Most pundits used this to bury their head in the sand and simply blame the weather for the poor data.
What many missed is that the revisions to the previous 6 months data are confirming the dire state of the American consumer and the looming income cliff which, unless consumers meaningfully dip into their savings, will hurt the economy during the next 6-12 months.
Lance Roberts had an excellent piece on the revisions:
(…) the Hurricane excuse doesn't account for the negative revisionsto the personal income data going back to April of this year. The chart below shows the level of personal incomes both pre- and post revisions in October.
The effect of the revisions is that personal income was shaved by $50B, or 0.4%. September Personal Income growth has thus been ratcheted down from a surprising +3.9% Y/Y to +3.5%. In total, PI grew only 1.0% between March and September 2012, a slow 2.0% annual rate. That is a huge revision from the original 1.5% gain (3.0% annualized). Add the zero M/M growth in October and the Y/Y increase falls to 3.1%. These numbers are all in nominal terms. Since inflation is an unrevised 1.7%, real Personal Income growth is less than 1.3% and real Disposable Income growth is 1.2% Y/Y. Roberts goes on:
Moving on to personal spending it is not surprising that the previous estimates to spending were likewise revised down in October to reflect weaker income growth. The chart below shows the revision to the major categories of spending for the months of July, August and September.
Since April 2011, Americans have been growing their spending faster than their income, helping sustain a weakening economy. This has come to a halt in the last 2 months.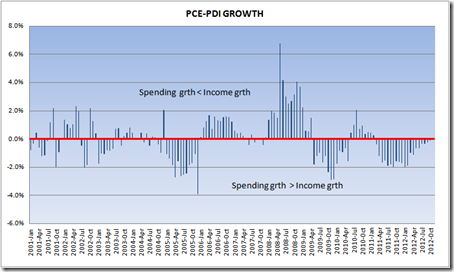 Here's another way to look at the recent trend:
The chart above shows that Americans have stopped outspending their income. Not apparent, yet, is that PDI growth is about to slow markedly from 3.0% to 1.5-1.7% Y/Y. Extrapolating the M/M growth of the last 6 months, disposable income growth will fall off a cliff next January and real income growth will drop from the 1.2% range to zero as early as February or March, not even factoring in anything from the fiscal cliff negotiations.
Can a lower savings rate save us again? That would be an heroic assumption since the savings rate is already at 3%, a level rarely broken during the last decade. The 2005-2007 low savings rate was due to the excessive borrowing that led to the housing bust, a scenario unlikely to find a sequel anytime soon.
Assuming expenditures grow roughly in line with income in coming months, nominal spending growth will drop to the 2.0% range early in 2013. If inflation remains around its current 1.7%, real expenditures will flirt with zero growth within a few months.
What the economy quickly needs is:
a sharp acceleration in employment growth;
slower inflation, particularly lower oil prices;
a quick and favorable resolution of the fiscal cliff.
Otherwise, we all fall into a cliff, be it a fiscal, income or equity cliff. Equity markets are inexpensive, but for good reasons.
Disclosure: I have no positions in any stocks mentioned, and no plans to initiate any positions within the next 72 hours. I wrote this article myself, and it expresses my own opinions. I am not receiving compensation for it. I have no business relationship with any company whose stock is mentioned in this article.