A few years ago, the idea of using stem cells to "repair" the human body seemed far-fetched. But now, with several cellular products entering mid- and late-stage clinical testing, regenerative medicine is becoming a reality. By using stem cells to treat damaged organs, ischemic conditions, physicians will now have a new tool to fight chronic disease and lower the associated cost burdens.
The stem cell market is expected to witness a substantial growth in the upcoming years, and forecasted to be worth about $64 billion by 2015 from an estimated value of US$21.5 billion in 2010, exhibiting a triple fold growth rate during the period.
This week, I had the pleasure to discuss with one of the leading senior analysts for stem cell space, Mr. Jason Kolbert, Senior Vice President of Maxim Group LLC. Jason has spent the past decade following this space and has worked in the industry. He writes frequently on the industry and covers most of the companies on both the regenerative medicine side and in the cancer, immunology side. Mr. Kolbert has worked extensively in the Healthcare sector as product manager for a leading pharmaceutical company, a fund manager and as an equity analyst. Prior to joining Maxim, he spent seven years at Susquehanna International Group where he managed a healthcare fund and later founded SIG's sell-side biotechnology team. Jason also joined Maxim after spending a year with NeoStem (NBS).
I have asked Mr. Kolbert to bring us his insight on three stem cells stocks he covers, on the regenerative side which are worth considering as investments and one that he thinks you need to stay away from.
I am going to start with Aastrom Biosciences (ASTM), a regenerative medicine company, focuses on the development of cell therapies for use in the treatment of chronic ischemic cardiovascular diseases. The company's cell-manufacturing technology, Ixmyelocel-T, enables the manufacture of multicellular therapies expanded from an adults own bone marrow and delivered directly to the damaged tissues.
Ben Yoffe: Mr. Kolbert, what can you tell us about the company's lead product?
Kolbert: The Company's most advanced product is Ixmyelocel-T. This is autologous (or made from your own cells). It is bone marrow derived but using only a small sample (50 cc). The product is then expanded with the "good cells" being expanded and the bad ones reduced. As a result Aastrom believes they have the right recipe, the correct mixture of good cells that will produce cytokines (cell proteins). These cells act like micro drug factories that produce the compounds (cytokines) needed to heal based on the needs of the local environment. It's also important for investors to understand that Aastrom's core expertise is manufacturing and this is a rare case, like Cytori (NASDAQ:CYTX), where we have an autologous product with relatively low COGS at approx. 10%. As such, this model is differentiated from higher cost autologous products, like Dendreon's (NASDAQ:DNDN) Provenge, which are very expensive.
Yoffe: What is the potential market for Ixmyelocel-T?
Kolbert: The market of CLI is large, we estimate at $1 billion plus. The Sage Group, a research think tank, estimates that there are more than 1 million CLI patients in the United States, with an incidence that is growing with an aging population. Of these patients, up to 40% are categorized as "no-option patients", ineligible for further revascularization. CLI is an unmet medical need today. This is the population Aastrom is targeting with their Phase III CLI trial treating patients with Ixmyelocel-T.
Yoffe: Aastrom's share price is currently near 52 weeks low. Do you see it as a buy opportunity?
Kolbert: Yes, I believe this is a great level to buy the stock. The stock is cheap as the current valuation assumes the product will not be successful. The trial is enrolling slower than expected but investors should recognize that the initial enrollment period with a trial is always slow. As the number of sites open expands so will enrollment. Biotech companies tend to increase in valuation as we get closer to Phase III results. I expect in some point over the next 12 months, as trial numbers build for investors to get more excited about the results, and as such we should see valuation appreciate.
Yoffe: How far can Aastrom go with the current funding?
Kolbert: The Company has $20+ million, which can be translated to 1 year operating capital. Additionally, the company did a debt deal this year, which means CLI trial has to work to pay debt note.
Yoffe: Can you be more specific about the debt deal?
Kolbert: This was a specialized financing. In March, the company completed a $40 million private placement with Eastern Capital Limited. Net proceeds to Aastrom, after placement fees and other offering expenses, were approximately $38 million. Aastrom issued approximately 12,300 shares of Series B convertible preferred stock to Eastern Capital at a price of $3,250 per share. The shares will accrue dividends at a rate of 11.5% per annum during the five-year term and are paid-in-kind. The Series B preferred stock is convertible into shares of the company's common stock after March 8, 2017 at a rate of 1,000 common shares for one preferred share, or one for 1000 at $3.25
Yoffe: What are your rate and your price target for ASTM?
Kolbert: We rate ASTM shares a "buy" and have a $6 price target. We derive our $6.00 price target by triangulating FCF (free cash flow), discounted EPS, and sum-of-the-parts (NYSEARCA:SOP) models. Our target assumes that Ixmyelocel-T's pivotal CLI results meet the primary endpoint and that the product is commercialized in late 2015.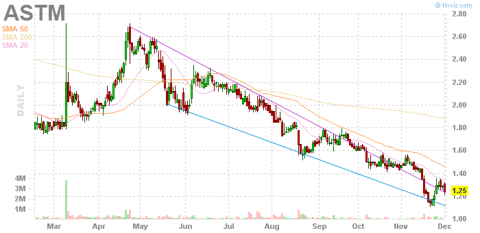 Next up is Pluristem Therapeutics (NASDAQ:PSTI), a bio-therapeutics company, engages in the research, development, and commercialization of standardized cell therapy products and related technologies for the treatment of life threatening diseases. The company's products are derived from human placenta that is a non-controversial, non-embryonic, and adult cell source. Its Placental adherent stromal cells are grown in the company's proprietary PluriX three-dimensional process that allows cells to grow in a natural environment. The product is known today as PLX.
Yoffe: What is exciting about Pluristem right now?
Kolbert: Many things, Pluristem has demonstrated that their PLX cells are potent cells that appear to be immune-privileged, these cells come from the Placenta. The Placenta is a unique environment where the mother and baby's different genetic profiles, as present in the cells, mix. These cells have the ability to avoid being recognized by the mother's immune system as foreign. That is a key attribute for an allogenic (other people's cells) to be used as a therapy. Secondly these cells appear potent in their ability to exert a trophic effect. What I mean is that these cells are potent drug factories. They can down-regulate inflammation, promote new blood vessel growth and reduce damage (scar tissue formation). As such they have an ideal profile for healing in many ischemic, fibrotic, and immune related disorders. Logistically, the company's new facility is nearing completion and will allow scale up through commercialization. So, Pluristem already has its own manufacturing capacity lined up and ready to go. That helps ensure capacity, quality and maintain high product margins. The PII/III CLI trial is expected to begin in 1H-2013 and should take two years to complete. This is a similar target indication that Aastrom is pursuing, CLI. Pluristem however is also pursuing another form of this disease, known as Beureger's disease. This is a nicotine related disorder that results in amputations, mostly in young people.
Depending on the data seen in the PII side of the trial, we expect that the company will adjust powering to hit the endpoint as the trial transitions to its pivotal phase. We believe the outcome will be positive as we do for Aastrom as well, based on the large amounts of data from trials around the world that show that these cells do work. The market in CLI is large and can support multiple products.
Yoffe: What are your impressions of the management team as leaders?
Kolbert: The Pluristem management team that has deepened their bench with intellectual capital. At the highest level the company has deep contacts though leaders such as Dr. Ed Horowitz, a renown Oncologist who practices at CHOPs in Philadelphia. The CEO, Zami Aberman and the CFO, YakayYany are two of the most honest and high integrity people I personally know. Recent controversy about the way a patient death was reported was, in my opinion, very inappropriately targeting management as promotional. Not true. The case involves compassionate use patients who were close to death as a result of failing bone marrow transplants. These two specific cases were two very sick people. The government requested Pluristem to allow the use of PLX cells to see if they could be saved. Within days of receiving the cells the patients recovered. The cells, allogenic in nature, are gone within 3-4 weeks. Many months later, of unrelated causes, the patients in question (who left Israel and returned to her home country in Romania) died. Pluristem management team was accused of announcing good news (when the patients were rescued) and hiding bad news (their later, death), in a Bloomberg story. While the decision to not immediately report the deaths was a poor one, I see it as an oversight and the connection or insinuation that management was promoting good news and hiding bad news is just not true. I have known this management team to be honest and credible and doing pioneering work. I have interacted with the team for the past 5 years. I have seen management execute on the business plan and conduct the company at the highest ethical standards.
Yoffe: What is the financial picture for Pluristem?
Kolbert: The Company has $65 million in cash. An excellent partnership with United Therapeutics for COPD, and also has strong grant track record of creating shareholder value. We do expect more deals in the year(s) ahead and additional research grants.
Yoffe: What are your rate and your price target for PSTI?
Kolbert: We rate PSTI shares a "buy" and have a $8 price target. We provide three valuation metrics - FCF, discounted EPS, and sum of the parts - and are modeling PSTI out to 2018. This derives a 2018 EPS number of $2.79, which we discount at 30% and equally weight the three metrics to derive an $8.00 price target.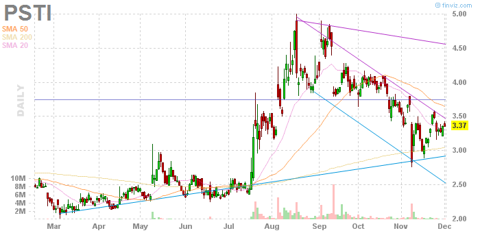 Next up is StemCells (STEM), a biopharmaceutical company, engages in the research, development, and commercialization of stem cell therapeutics, and related tools and technologies for academia and industry. It develops cell-based therapeutics for the central nervous system and liver.
Yoffe: What can you tell us about the company's clinical-stage pipeline, and where it is in the development process?
Kolbert: The Company's lead product, HuCNS-SC cells, is an Allogeneic, Fetal Derived cell product. It is in multiple trials around myelination disorders. The spinal cord injury trial is scientifically fascinating and holds great potential for a totally unmet medical need. The first cohort (n=3 of 12) of the most severely injured patients is complete. Over-all, the results are encouraging and suggest that the cells are safe and do have impact. The trial will now continue into the next cohort of ASI-B patients. We expect 12 months data from the first cohort before year's end. We also note that in September the first patient with an incomplete spinal cord injury was enrolled and dosed in the next phase of this trial (patients who retain some sensory function below the level of trauma and are therefore considered to have an incomplete injury).
Pelizeaus-Merzbacher Disease (PMD) is a Gateway. PMD is a myelination disorder in the brain however it is a localized defect and not the result of an immune system disorder (which is the case in MS). As such it represents a gateway for STEM to demonstrate the utility to repair myelination disorders in the brain which opens up a range of indications in other leukodystrophies such as periventricular white matter injury, transverse myelitis, cervical myelopathy, NMO, and MSPMD on one side to Cerebral Palsy and MS on the other side.
The company is moving forward to a larger Phase II study. Design of the study (powering assumptions and endpoints) are being negotiated. The goal here is to be in a position to complete a well-designed, definitely powered Phase II study so that on data completion, and in consideration of the ultra-niche nature of the patient population, approval is possible. To what end? We believe an ultra-orphan indication such as PMD would warrant premium ultra-orphan pricing and as we stated previously opens up a door way for other related disorders.
In October the company enrolled the first patient in a Phase I/II clinical trial in dry age-related macular degeneration (AMD) was enrolled and dosed. The hope is that the HuCNS-SC cells can act to protect host photoreceptors and preserve vision as was seen in established animal models of retinal disease. We may see results by year end 2013.
The dry AMD program is exciting but just getting started. Patients are being treated with one eye as a control (untreated) and the other, treated. This should allow an element of clinical control. Enrollment is now just getting started but should complete by YE-2013. Proof of concept however may be established early on, and could lead to value creation given the size and unmet medical need in the AMD marketplace. The dry AMD market represents approximately 1/3 of the total AMD market (wet and dry).
Yoffe: What is the market opportunity for StemCells?
Kolbert: The market opportunity for myelination disorders is large. For example, if the spinal injury, spinal trauma therapy shows efficacy we are talking about totally changing the standard of care. In other areas like dry macular degeneration, again this is a totally unmet medical need. As such, the opportunity is large.
Yoffe: What is the financial picture for the company?
Kolbert: The Company has $27 million in cash and also a grant option from CIRM up to $40 million. It has modest burn rate and a good financial position for small cap, research focused company.
Yoffe: What are your rate and your price target for STEM?
Kolbert: We rate STEM shares a "buy" and have a $2.5 price target. We use high discount rates in our models, which go out to 2022. We factor in funding (dilution) and triangulate FCF, discounted EPS (2022) and sum-of-the-parts models, averaged, and equal weighted to derive a NPV of $2.50, which is where we set our target price.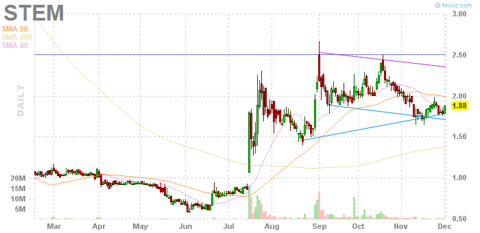 The last one is Neuralstem (NYSEMKT:CUR), a biopharmaceutical company, focuses on the development and commercialization of treatments for central nervous system disease based on transplanting human neural stem cells and the use of small molecule drugs. Its stem cell technology enables the isolation and expansion of human neural stem cells from various areas of the developing human brain and spinal cord enabling the generation of physiologically relevant human neurons.
Yoffe: What can you tell us about Neuralstem?
Kolbert: This is a company working with a Fetal Derived stem cells source. The science here is interesting and pioneering but the company's lack of capital and infra-structure raise credibility issues to me. For example the company has decided to pursue offshore active trials in ALS (Lou Gherig's disease) in Mexico and Stroke in China. The CEO, Richard Garr told me that patients from the U.S. will travel to Mexico to get treated. While I think there is truth in that, it certainly doesn't represent a business plan to me, of a small capitalized biotechnology company. The company is pursuing US clinical trials but the FDA has been slow to allow the company to advance their trials to additional patients and dosing. Management tells me this has been frustrating to them, so they are pursuing trials in Mexico, going around the FDA. That is never a good idea. What if an adverse event occurs in Mexico, it puts the US program in jeopardy.
As far as stroke trials in China, well, I'm concerned. I had some experience in dealing with cell therapy in China and it has not been good. Stroke is a tough indication that requires meticulous trial work. I believe the work that Athersys (NASDAQ:ATHX) is doing in stroke is an example of the right way to run a stroke program. Stroke trials also take resources. Neuralstem lacks these resources and has in my opinion no ability to manage a stroke trial in China. Investors should see this as an attempt to distract.
Yoffe: Can you tell us more about the management?
Kolbert: Richard Garr, CEO, is an avid promoter of the story and works through many back channels to maintain a high level of awareness. The company works with an aggressive stock promoters who drives a lot of publicity and keeps the promotion levels high to a mainly retail audience. Why do they only show links on their web site to positive research (from analysts that have banked the company) and not show negative ones? I thought that companies are supposed to have an obligation to provide all outside research or none, not selectively disseminate only the positive research. This company in my opinion is taking too many short cuts and this is an example of over-promotion.
Yoffe: What can you tell us about the company's liquidity?
Kolbert: The Company just raised in a dilutive offering. Today, based on the September SEC filing, the company has approximately $10 million in cash and burning $2.7 million in the most recent quarter. As such, I would expect additional capital raises.
Yoffe: What are your rate and your price target for CUR?
Kolbert: We rate CUR shares a "sell" and have a $0.25 price target. Neuralstem will likely have no meaningful revenues for the next seven years and we believe it is at least that far away from commercializing a therapeutic product. We expect additional capital raises in order to fund the company, and we believe current shareholders will face multiple dilutive rounds in the years ahead. As such, we believe the only way to value this company is based on its technology value versus out-year projected revenues, which would assume success based on Phase I clinical trial data, with very low patient numbers and no meaningful prior precedent or proof-of-concept data, in our opinion. Based on our sum-of-the-parts models and comparisons to similar early-stage biotechnology companies, we see the technology value around $15 million, which translates into a $0.25 price target.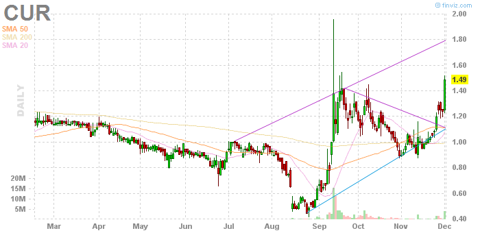 Disclosure: I have no positions in any stocks mentioned, and no plans to initiate any positions within the next 72 hours. I wrote this article myself, and it expresses my own opinions. I am not receiving compensation for it (other than from Seeking Alpha). I have no business relationship with any company whose stock is mentioned in this article.