Shares of the biggest telecommunication company in China, China Mobile (NYSE:CHL), have gained over 2% since the announcement that the company added 3.71 million 3G subscribers to its network. The current financial year is proving to be a year of rapid 3G adoption in China and it can be seen in the latest numbers released by the three telecom companies in the country. We believe this rapid adoption of 3G in China and the relatively lower but rapidly rising smartphone penetration in the country will lead to growth in top line as well as earnings, because more subscribers are switching from the traditional use of mobile device to data usage. Therefore, we identify the rapid 3G adoption, higher data usage by subscribers and rising smartphone penetration as key catalysts for the company's stock price that has already gained over 18% so far this year. We believe it has a further upside potential based on its cheap valuations (11x vs historical range of 10x-30x). The stock offers a dividend yield of 3.9%.
As mentioned previously, China is going through a rapid 3G adoption phase and this is fairly evident in the consistent upward trend in the net 3G customer additions posted by the companies.
As at October, 2012

 
 
 
 
 

China Mobile

China Unicom (NYSE:CHU)

China Telecom (NYSE:CHA)

Mobile subscribers

703.47 mn

232.8 mn

155.52 mn

 
 
 
 

3G subscribers

79.31 mn

70.07 mn

62.74 mn

Net additions

3.71 mn

3.21 mn

3.02 mn
China Mobile:
The country's biggest telecom operator maintained its lead over the second largest China Unicom and third largest China Telecom for another month as it added more 3G customers three months in a row. The company is aggressively building out its network which is leading to the tremendous growth in subscribers. The company added a total of 3.7 million 3G users in October, which is a 6% improvement over the previous month. From the recent trend, it is fairly obvious that China mobile has outpaced its other two rivals in terms of growth in 3G. This growth can also be judged from the fact that the company had the smallest share in the 3G market (30%) a few months back, however, it has now overtaken the other two telecoms, currently holding 37% of the market share. This dramatic improvement will fuel the future top line growth.
China Unicom:
In comparison, China Unicom didn't report any sequential growth in its 3G numbers which landed more or less flat. In October, it added 3.2 million subscribers. It is currently working on migrating its subscribers from 2G to 3G services through its 3G data packages, but the latest trends in additions suggest that it will face a hard time outpacing its rivals. The iPhone5 launch in China in December will likely prove to be the catalyst for net additions as well as top line growth of the company as it has signed an agreement with Apple (NASDAQ:AAPL) to sell the iPhones.
China Telecom:
China Telecom added 3 million 3G subscribers, the lowest figure reported for the month of October. It is also a drop of almost 10% from the additions reported for September. However, like China Unicom, we expect the upcoming iPhone5 launch to bring about some growth to its 3G additions.
Apple and China Mobile:
According to various news reports, the company is in talks with Apple to sell its product, however its wireless technology is the biggest obstacle because it is not compatible with the smartphone. The company is working on its TD-SCDMA network, the launch of which will ensure that Apple would come onboard to take advantage of the largest 3G subscriber base in the country. We see it as a key catalyst for future growth in customers and earnings.
Strong competitive position:
China Mobile has produced strong financial performance over a number of years. It is the market leader in terms of revenue generated and overall market share in the local mobile industry. Its revenues have grown at a four-year CAGR of over 10% which has trickled down to its bottom line. Gross and operating margins are higher than its rivals which is reflective of its operational strength.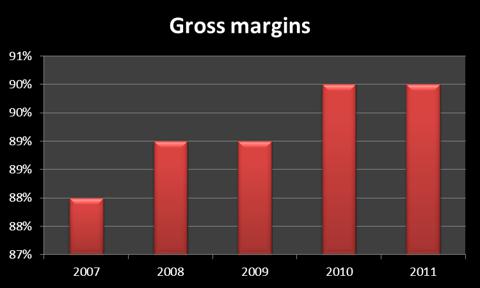 Click to enlarge
In the financial year ended 2011, the company posted operating margins of 30%, much higher than the margins of China Telecom (2.5%). The company's large subscriber base and the recent growth in 3G additions are helping bring about a stable growth in its operating cash flows. In the first half, CHL reported an 11% growth in overall subscriber base which speaks volumes of its market strength.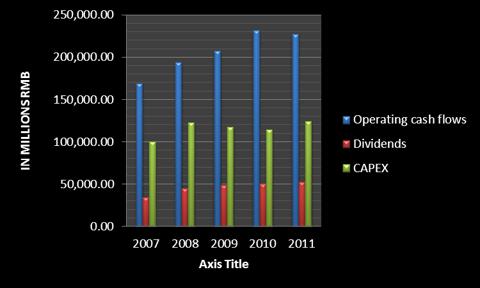 Click to enlarge
The chart above indicates that the company has historically produced cash flows in excess of its dividends and capital expenditures. Moreover, the increasing dividend payments are also visible. The company paid 52.5 billion RMB while generating operating cash flows of 227 billion RMB which signals the company's ability to sustain its modest payout.
CHL looks undervalued based on its multiples. It is trading at 11 times its earnings. Historically the multiple has been the range of 10x and 30x which indicates that the stock is currently undervalued. Moreover, PE industry average of 20x is much higher than CHL's current multiple. Compared to its peers, China Unicom and China Telecom, CHL is undervalued (based on P/E basis) by 74% and 37%, respectively.
Disclosure: I have no positions in any stocks mentioned, and no plans to initiate any positions within the next 72 hours.
Business relationship disclosure: The article has been written by Qineqt's Telecom Analyst. Qineqt is not receiving compensation for it (other than from Seeking Alpha). Qineqt has no business relationship with any company whose stock is mentioned in this article.