Equinix (NASDAQ:EQIX) today announced that CBOE Holdings (NASDAQ:CBOE) - home of the largest and oldest U.S. options exchange ― moved its CBOE Command trading engine platform to Equinix's NY4 data center in the New York metro area.
The decision follows a similar move made in July 2011 and related mainly to the CBOE Stock Exchange [CBSX].
The transition happened during the weekend, as explained in CBOE's Information Circular IC12-103:
As announced in CBOE Information Circulars IC12-078 and IC12-101, the primary data centers for CBOE, CBOE Futures Exchange (CFE), and OneChicago (Exchanges) will be moving to the Equinix NY4 Data Center (NY4 Data Center) in Secaucus, New Jersey. The completion of the cutover is on schedule for Monday, December 3, 2012.

Firms can test on Saturday December 1st from 12:00 until 5:00 p.m. CT and on Sunday, December 2nd the system will be available for connectivity testing only from 9:00 a.m. to 1:00 p.m. CT.

A "hot cutover" will occur such that CBOE, CFE, and OneChicago will operate from the current Chicago data center through the end of business on Friday, November 30, 2012, and commence business operations on Monday, December 3, 2012, from the NY4 Data Center.
At market opening, systems were operating normally:

Location, Network availability, Proximity
When it comes to choosing the right data center, financial institutions turn the hackneyed real estate phrase "location, location, location" into a slightly more complex one: Location, Network availability, Proximity (to exchanges, customers and partners).
Back in April 2012, Traders Magazine resumed some of the reasons behind CBOE's decision to get closer to other exchanges already operating from the East coast:
By reducing its members' latency, or the time it takes to trade or quote or receive market data, the move is expected to reduce trading costs for market makers and other high-end trading houses. That includes those firms who maintain a server at the CBOE and those mainly New York-based firms that lease high-speed lines between New York and Chicago.

Ed Tilly, CBOE's president and chief operating officer, told journalists in January that a major reason for the move was to benefit those market makers using the stock quotes from the New York-based exchanges to price their merchandise. "That proximity to the NYSE and Nasdaq is extremely important," Tilly said, "not so much for the ability to get into the market but rather the feedback of 'when am I out?' The ability to know when you are off the market is equally important."
Back in April, we contacted CBOE for additional information about the main reasons behind the strategic decision to move the last 3 exchanges hosted in Chicago to the New York metro area, but we received no further comment from the company. We were, however, confirmed in a phone conversation that CBOE's existing in-house facility in Chicago will remain for back up operations.
Equinix invested about $280 million into the NY4 data center, which opened in November 2007 and represents the largest single data center operated by the company globally . In August 2012 Equinix opened its NY5 facility, with an initial capacity of 2,200 cabinets, for an investment of about $140 million.
Most networks operating in the New York area, including many foreign Telecoms, are connected directly or through the other Equinix data centers in Manhattan or New Jersey to the NY4 facility.
The company is the only data center provider with a presence in all major 16 financial markets worldwide, and sees most of the world's financial exchanges connected to at least one of its IBXs worldwide.
Equinix's press release gives us also a rough indication of the number of exchanges and partners that can be reached directly by a company hosting its servers in the NY4 facility:
By using Platform Equinix™, CBOE can connect with more than 700 financial services companies and more than 75 exchanges now connected at Equinix.
Outsourcing to a Network Neutral facility stands out as the winning proposition for the financial vertical
The opening of the NYSE (NYSE:NYX) own data centers in the New York and London area back in 2009 was seen by the market as a threat to network-neutral data center operators like Equinix.
As we stated several times, these concerns have been proven to be quite exaggerated. Equinix data show no slowdown in growth for the financial vertical after both the financial crisis and the opening of what was seen as a "competitor" for the company's network-neutral data center proposition: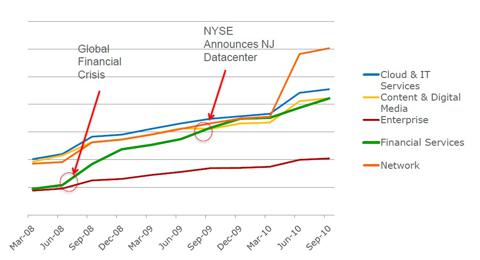 Actually, the opposite of what some analysts were expected happened, and the number of interconnections at Equinix's NY4 facility seems to ACCELERATE after the opening of NYSE' s data center in New Jersey, as some customers probably decided to use Equinix's center for its largest network availability and to host those service that do not require to be located within the NYSE exchange: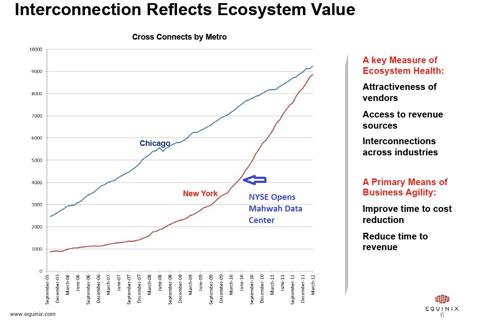 After investing about $1 billion in its US and European facility, rumors seem to indicate that NYSE is now realizing that the investment will not have the expected returns:
NYSE Euronext, the transatlantic exchanges operator, is looking to boost the return from its data centre near London by exploring allowing rival data centres and investment groups to operate spare capacity.

The group has sent out requests for information to interested parties and spoken to Equinix, the US data centre operator, to help fill unused halls at its Basildon site, according to two people familiar with the situation.
Although NYSE later on ruled out a sale-and-leaseback of the site, it had to admit that NYSE Technologies would not hit its long-term target of earning $1bn in annual turnover.
Conclusion
Equinix is emerging as the clear winner in the financial vertical. As most exchanges and key financial customers are already under its roof, the domino effect built into its business model will make the company's facilities around the world a "must be at" place for most financial firms worldwide.
In particular, the recent opening of the company's NY5 facility, and its large potential, will ensure that Equinix will not lose any business possibility in the sector for lack of inventory, and will represent a key move for the growth of the company going forward.
Disclosure: I am long EQIX. I wrote this article myself, and it expresses my own opinions. I am not receiving compensation for it (other than from Seeking Alpha). I have no business relationship with any company whose stock is mentioned in this article.