Recommendation: Speculative long-term buy.
Thesis: Nokia (NYSE:NOK) is a speculative long-term buy. Drivers include its increased competitiveness in the mobile infrastructure space and the growing success of its Lumia line of smartphones. Because cost-cutting measures are not strong enough to keep up with falling revenues, Nokia is a speculative play that depends on the success of largely unproven but high-potential products.
Overview:
1. Cost-cutting measures are insufficient
2. Competitiveness of Nokia-Siemens Networks improving
3. Success of Lumia line growing
4. Wildcard: possibility of multi-OS future
Cost-Cutting Measures Are Insufficient, But Reveal Short-Term Drivers
Nokia's cost-cutting measures are insufficient in current conditions because they can't keep up with falling revenues. This means that the status quo will not work out in the long-run, cutting costs and seeing relative growth in cheap feature phones won't cut it. This can be seen by analyzing Nokia's COGS/sales, SG&A/sales and R&D/sales, since these are normal costs that remain relatively stable over time and reflect operational profitability.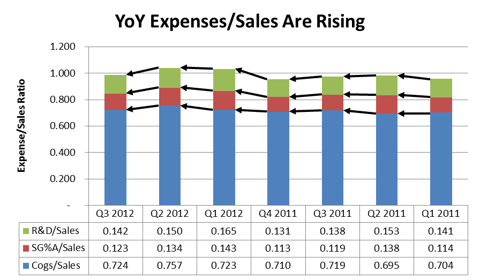 From the chart above, it is clear that Nokia's cost-cutting efforts are being outpaced by falling revenues. Comparing (Q1 2011-Q3 2011) to (Q1 2012-Q3 2012) reveals that the current downtrend in costs/sales may just be cyclical, since costs usually fall in Q3 and Q2 vs. Q2 and Q1. Therefore, an investor cannot make the assumption that Nokia's cost-cutting is driving it towards long-term profitability. For an investor to make a case for Nokia, he/she must believe that at least one of its three other divisions (mapping, smartphones, Nokia-Siemens) will break out.
On a side note, this also means that if everything goes well, Nokia's Q4 results will show continued improvement in costs/sales, and therefore increased profitability (non-IFRS). This could be a short-term driver for the stock price.
To summarize, Nokia's cost-cutting measures are insufficient in current conditions because they can't keep up with falling revenues. Nokia is therefore a speculative investment, because it needs a significant change in the status-quo to break-out, and this change is most likely to come from largely unproven products.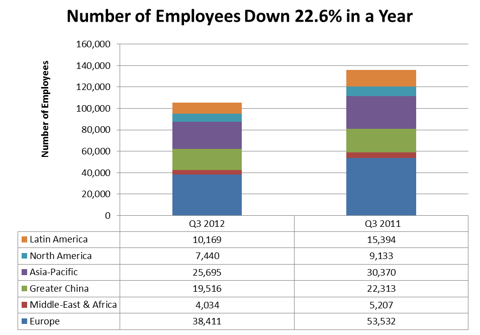 Competitiveness of Nokia-Siemens Networks Improving
Nokia-Siemens Networks continues to become more competitive by cutting non-core assets and operations, and re-focusing on mobile broadband technology. It is also beginning to focus only on high-margin deals.
Nokia's efforts to become leaner, smarter and stronger are working. In Q3 2012, after consecutive quarters of positive cash flow, NSN posted a profit, even though the industry saw negative growth. It has been achieving this by cutting costs and gaining market share. Dell'Oro reports that in Q3, NSN's overall market share rose from 18% to 20%, Ericsson's fell from 35.5% to 34%, and Huawei's was flat. If this trend continues, NSN is on its way to being the second-largest mobile infrastructure manufacturer.
Just last week, CEO Rajeev Suri said that NSN is forgoing less lucrative deals in Africa and the Middle East to focus on the U.S (and other high-margin markets). This strategy is working because NSN has improved its technology in the wireless space, and now offers industry-leading products. At the same time, the US government has discouraged US corporations from using Huawei and ZTE's services because of reports of Chinese spying and other unethical business practices.
To summarize, NSN continues to become more competitive by cutting non-core assets and operations, and re-focusing on mobile broadband technology. Combined with its efforts to focus only on high-margin deals, this will drive higher profits in the upcoming quarters.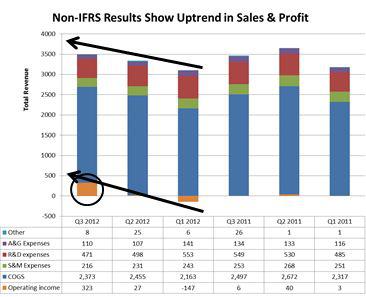 Success of Lumia Line Growing
Before Q3 2011, Lumia Sales had been doubling every quarter, showing strong growth (albeit from small numbers to start with). This was mainly caused by two announcements: 1. Lumia 920 was coming and 2. Windows Phone 8 was not going to be compatible with older models.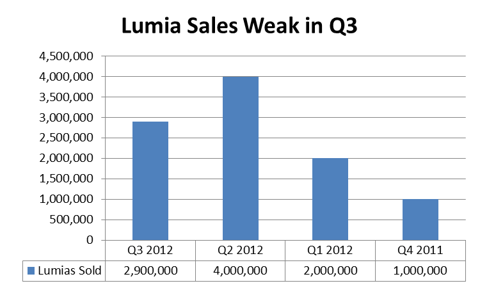 For Q4 2012 and Q1 2013, Nokia has released the Lumia 920, a smartphone that is widely accepted to be much more competitive than any previous Lumia device, and that gives the iPhone and GSIII a run for their money. In addition, Nokia has continued to broaden its Lumia base by announcing the Lumia 510, its cheapest Lumia device so far.
I wouldn't be surprised to see close to 6-8 million Lumias sold in Q4 2012, and over 10 million sold in Q1 2013, as Nokia gains sales from its competition, from first-time upgraders, and from its huge base of feature phone users. Its Lumia 920 model is completely sold out in Europe, Australia and the US, and is apparently selling out in Hong Kong, as well as generating lots of pre-orders in China. Signs are beginning to show that this is due to high demand, and not just low supply. Here's what I've noticed:
1. AT&T has gone through its third stock of black 920s.
2. The Lumia 920 is still at the top of Amazon's AT&T best sellers, even with an over 2 week waiting time. Same story at Best Buy.
3. An Orange employee in the Netherlands claims that Lumia 920 pre-orders have matched and are surpassing iPhone 5 preorder levels. The 920 is will be released in the Netherlands in mid-January. Pre-orders were also strong in France and Italy before the 920 came out there.
4. Wal-Mart (NYSE:WMT) has raised the 920's price from $59.99 to $119.99. This to me is one of the greatest signs of demand. People say that the 900 seemed like it sold well at first too, but its price was never raised, it was lowered. It is possible that Wal-Mart raised the price because of supply issues, but that is unlikely because Nokia will soon fill the supply, and Wal-Mart doesn't want to be forced to lower the price again in the short run, which would anger many of its customers.
5. The Lumia 810 is now reaching the top of T-Mobile sales charts on Amazon, and is sold out.
Overall, most signs point to high Lumia sales in Q4 2012, and sales could top 10 million Lumias in Q1 2013. In comparison, Apple (NASDAQ:AAPL) sold 26 million iPhones in Q3 2012. While Nokia may never sell Lumias at iPhone quantities, it still seems to be headed towards significant sales numbers for a sub-$20B company.
Wildcard: Possibility of Multi-OS Future
While Nokia's Lumia and infrastructure prospects seem to be headed in the right direction, some speculators are predicting the launch of Android devices as a major driver. While this possibility can't be fully ruled out in the future, Nokia did recently deny these rumors. However, over 122 million Android devices were sold in Q3 2012, and this number is set to grow significantly in the years to come, so it's worth keeping this possibility open. From following Nokia for the past couple of years, here's what I think its plan was:
1. Build a new image with the Lumia brand. Nokia abandoned everything to go exclusively with Windows Phone because while many still remained loyal to its brand, most high-end buyers considered its products to be old, boring, and very "un-cool." In a world where the phone one carries has become a statement of fashion and status, Nokia needed to breathe new life into its image. With its Lumia line, it definitely has succeeded in this goal. Its focused and unique approach (design, innovation, and cameras) has gathered a lot of attention, and I have never seen this much excitement around Nokia. Even those who would never buy a Windows Phone are beginning to recognize that Lumia makes great products. For example, the Lumia 920 is set to win Gizmodo's technology award by a huge margin.
2. Cut off the fat before re-expanding. Nokia has not only cut expenses, but has re-focused its business. Symbian will be gone in a few years. Meego is dead. Nokia's OS developers are now app makers. Nokia-Siemens has focused its energy on mobile broadband (just recently sold its optical network business). Feature phones are gaining market share again and have been set up to be cash-cows for the next couple of years. And finally, Nokia Location is now the multi-platform "Here Maps." All of this happened in less than two years, and is an impressive effort by Nokia.
3. Once Nokia is lean again, work on growth. I think Q4 2012 is the beginning of the growth stage of Nokia's comeback plan. The previous generations of Lumia devices have set up beach-heads for future Lumias in markets worldwide, setting up carrier and customer interest in Windows Phone. Meanwhile, the rest of Nokia's house is in order (location, feature phones and NSN). While it is possible that Nokia plans to diversify into Android at some point in the growth stage, it's very unlikely, as doing so would risk destroying the new image that it has been building for two years. However, there is still room for speculation, so let's look at any signs that Android is in Nokia's roadmap:
A) Nokia is trying to hire a head Linux-based developer for new "exciting technology" and "a start-up environment. To me, this is either for the Here platform (bringing it to Android), or for a new Android-based Nokia line.
B) When it released WP8, Microsoft (NASDAQ:MSFT) gave seemingly more attention to HTC than to Nokia. This is very speculative, but it is possible that Microsoft pays Nokia its $250 million/quarter "platform support payments" to remain exclusive to WP. Maybe the deal was always "we will market you and pay you to be exclusive to WP for x years." Microsoft may be beginning to warm up to other hardware makers like HTC and Samsung because it knows that the exclusivity agreement is ending soon, and that Nokia may be diversifying into Android. This kind of an agreement would make sense for both Nokia and Microsoft, but we won't know much until something leaks.
To summarize, while some are speculating on the possibility of a multi-OS future for Nokia's smartphones, it's too unlikely to warrant an investment. In the long term, it wouldn't make sense for Nokia to risk the new image that it has built just to gain a quick sales boost. There are a few signs that show the possibility of this happening in the future, but for now it remains a very speculative scenario.
Conclusion
Nokia is a speculative long-term buy. Major drivers include the increased competitiveness of NSN and the growing success of its Lumia line of smartphones. Because cost-cutting measures are not strong enough to keep up with falling revenues, Nokia is a speculative play that depends on the success of largely unproven but high-potential products. A wildcard that could completely change the dynamics of the company is a venture into Android, but it's too distant and unlikely to consider as a serious factor.
In my previous articles I said that Nokia's future would be clear by mid-2013, and I reiterate this point: by the end of Q1 2013, we will know how successful Lumia phones can be with exciting design, good software, and unique features. If at this point Lumia sales are failing, Nokia will most likely begin its move to "Plan B."
Disclosure: I am long NOK. I wrote this article myself, and it expresses my own opinions. I am not receiving compensation for it (other than from Seeking Alpha). I have no business relationship with any company whose stock is mentioned in this article.