Apple (NASDAQ:AAPL) dumped designs from ARM Holdings (NASDAQ:ARMH) in its iPhone 5 and its iPad 4. After years of using off-the-shelf ARM-designed cores such as the Cortex A8 and the Cortex A9 in various configurations in its custom systems-on-chip, Apple finally made a clean break from designs provided by ARM Holdings with its brand new A6 and A6X systems-on-chip for the iPhone 5 and iPad 4, respectively.
The point is subtle, which is why there is so much confusion. The media continues to inundate the public - investor or otherwise - with the notion that ARM's designs represent the ideal for devices such as smartphones and tablets and that they are "found in the iPhone and iPad." This is only partially true. While Apple has an instruction set license to build chips that can understand and execute the ARM commands, Apple decided to spend a considerable amount of R&D effort to design and validate its very own ARM compatible CPU core for its mobile products, ditching ARM's own designs.
Why Go Custom?
The biggest question that needs to be answered is why would Apple do such a thing? Yes, the Cupertino technology giant has over $120B in its coffers to spend on whatever it pleases. However, no company - especially not Apple, which has worked hard to keep its operating margins sky high and its cash reserves supple - wants to spend extra money on R&D unless it absolutely feels that it is necessary.
Simply put, ARM's latest "Cortex A15" design was not aimed for smartphones at all. It was designed to try to fight Intel (NASDAQ:INTC) and AMD (NYSE:AMD) in the low-end notebook space as well as equip its competitors with the next generation of tablet-oriented processors. The investments seemed to have paid off; the dual core Samsung Exynos 5250 Cortex A15 is a good chip in a 5W envelope.
However, that's just it. ARM's latest-and-greatest is no longer particularly optimized for smartphones. Sure, ARM has what it dubs as "big.LITTLE," which basically means "spend more die-space putting on two entirely different sets of cores - very weak ones for typical usage and the bulkier ones for more demanding situations." This is not unlike what Nvidia (NASDAQ:NVDA) did with its Tegra 3, which sported 4 "high powered" Cortex A9's and then one very low clock speed Cortex A9 for basic tasks.
That's why we saw Apple design its own core for its thin and powerful smartphones, and that's why we're seeing the Qualcomm (NASDAQ:QCOM) "Snapdragon S4," which is based on Qualcomm's custom "Krait" core, see so much traction in the non-Apple, non-Samsung smartphones (although Qualcomm's utter dominance in cellular baseband and its integration with the applications processor also really helps there). One size does not fit all, and even with same exact instruction set, different micro-architectures have wildly different power consumption and efficiency metrics.
There's nothing inherently "inefficient" or "efficient" about ARM's isntruction set for all practical purposes compared with either Intel's x86 or the instruction set from MIPS Technologies (NASDAQ:MIPS) [which is now owned by Imagination Technologies, the #1 vendor in mobile graphics processing...although I will go into the competitive threat here another time]. The smartphone revolution needed off-the-shelf low power designs that happened to be there when the ball got rolling. ARM got very, very lucky by having the right product at the right time, but now it's clear that the major players are developing better ARM-compatible designs than ARM itself does for the mobile space.
ARM's Business Designed For This, But Expectations Unrealistic
On one hand, this is exactly what the ARM business model is all about: provide a common, compatible software ecosystem by virtue of volume in order to simplify the development of custom designs for custom applications. With the massive software ecosystem in place for embedded applications, a company can go off and design its own core and system-on-chip with all the customization that it wants. For the industry as a whole, ARM's business model is great - it saves everyone the trouble of designing an instruction set, validating it, developing compilers, optimization tools, and so on. It saves everybody who does not own their own instruction set architecture a lot of time and money, and it's pretty cheap to get an ARM license.
But that's just it. ARM's business model is great...for everybody else. There is very little money to be had with ARM's business model; current expectations for the current fiscal year's sales are just south of $1B. With operating margins of close to 50%, this is a nice $500M in yearly profit. However, keep in mind that this represents near the peak of what ARM will be able to earn. ARM already collects royalties on over 2.2B chips per quarter, or nearly 9B chips per year, and revenue is still sub $1B!
Further, the ARM business model has always been this way. ARM has always been the pervasive, common architecture, shipping billions of chips per year. And yet only recently - with hype around smartphones, and a potential entry into the server space - have all valuation metrics gone off the wall. This suggests that shares of the company are indeed in a mobile-hype-fueled bubble.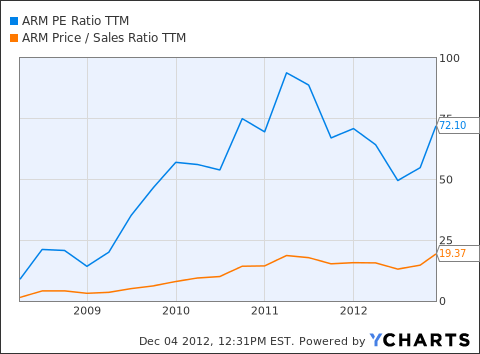 ARMH PE Ratio TTM data by YCharts
Conclusion
If you own ARM, consider taking some profits off the table. The firm's shares are seeing very rapid P/E and P/S expansion and are now trading near all-time internet bubble highs. While ARM runs a good business, it is simply far too expensive to consider buying at these levels and is, in fact, an excellent short candidate.
Potential negative catalysts in the near- to medium-term include:
Imagination Technologies announcing that it plans to more aggressively target ARM's core markets with its recent acquisition of the CPU IP from MIPS
The announcement of U.S.-based Intel-powered phones with the firm's upcoming Atom Z2580 and LTE modem
The relatively tepid adoption of Windows RT, which hamstrings the company's vision of capturing a good chunk of the PC space
Licensees opting more often than not for mere instruction set licenses and abandoning ARM's core designs
The success of Windows 8 tablets powered by chips from both Intel and AMD.
Disclosure: I am long INTC, NVDA. I wrote this article myself, and it expresses my own opinions. I am not receiving compensation for it (other than from Seeking Alpha). I have no business relationship with any company whose stock is mentioned in this article.
Additional disclosure: I am short ARMH