Crude oil closed November at $88.91 representing a drop of over 10% year to date. The entire lodging sector benefits from the ensuing increased travel, but Supertel (SPPR) is positioned to get the most benefit. The details of why this is will be explained later. While I typically cut to the chase and go straight to analysis, the relatively unknown nature of Supertel warrants an overview of its business.
Supertel is a Nebraska headquartered hotel REIT founded in 1994 with an emphasis on economy hotels. It was very successful until too many factors went wrong simultaneously during the great recession. It now stands in the recovery phase but is priced like it's still falling.
Current Operations:
Hotels typically run at a lower occupancy than properties with longer leases, and Supertel is no exception.
| | | | | |
| --- | --- | --- | --- | --- |
| Market | Occupancy % 4Q11 | Occupancy % 1Q12 | Occupancy % 2Q12 | Occupancy % 3Q12 |
| Northeast central | 50.2 | 50.2 | 61.1 | 68.5 |
| Southeast central | 52.1 | 52.1 | 68.2 | 65,3 |
| Mid-atlantic | 78.1 | 61.8 | 82 | 77.7 |
| Mountain | 52.5 | 53.8 | 77.8 | 82.4 |
| South Atlantic | 62.3 | 66.4 | 69.4 | 66.8 |
| Northwest central | 57.3 | 51.9 | 69.9 | 70.5 |
| Southwest central | 55.5 | 55.7 | 55.4 | 50.0 |
Along with the somewhat weak occupancy comes difficulty of driving rates and poor operating margins.
| | | | | | |
| --- | --- | --- | --- | --- | --- |
| | 2011 Q3 | 2011 Q4 | 2012 Q1 | 2012 Q2 | 2012 Q3 |
| Revenue ($000) | 23,430 | 17,530 | 15,469 | 22,434 | 21,054 |
| Expenses ($000) | 22,381 | 21,538 | 18493 | 24,569 | 21,262 |
| FFO ($000) | 2,074 | 215 | (1,508) | 3,132 | 1,322 |
Although it has not been performing well, its market price has become so cheap that it is a value play even at these current occupancy and margin levels. Its FactSet estimated FFO for 2012 of $0.12 per diluted share along with a market price of $1.00 create an earnings multiple of only 8.33. Supertel has a lot of room for improving operating performance, and when it does the share price will come with it. To get a perspective of where Supertel was at the peak of its cycle, we can look at 2006 during which it generated $0.83 AFFO per diluted share. Given its recent slew of dispositions, I doubt it will return to its former glory anytime soon, but it shows that Supertel's property portfolio is capable of much better performance than it is currently putting out.
I am not suggesting that these properties are poorly managed, but rather that they are at the mercy of a highly cyclical market. Investors now have the opportunity to enter at the bottom of the cycle pricing, and ride it up to the peak. Specifically, three aspects are coming into play which will restore some of the strength that Supertel once had.
· Cheaper gas
· Strengthening consumer base
· Deferred travel
Let us examine each of these in greater detail.
Why Supertel benefits so much from cheaper oil
Most other lodging REITs focus on prestigious properties in big cities, Supertel aims for value. Its portfolio consists of 94 properties primarily in the Midwest and Southern US.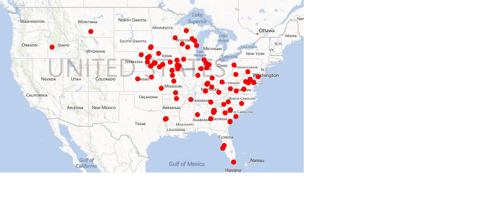 Beyond geographic location, what makes it unique is its targeting of highway traffic. If we zoom the above map to include major US highways, we can see that most of its properties are located directly on some of the most traveled roadways.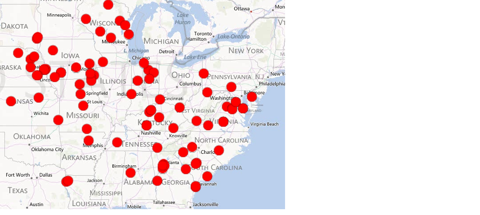 Cheaper crude oil should eventually lead to cheaper gas which facilitates more travel by road. Long distance drives requires lodging, and Supertel is positioned better than any other to capitalize.
Broadening consumer base
Supertel has a range of properties from economy and extended stay to upper midscale with a slight weighting toward economy class. Its consumer demographics were the ones most hurt by the recession, but a number of factors are helping to revive demand.
· Housing recovery has used up much of the oversupply and new starts are on the rise. Depending on the length of the job, construction workers will often be put up in extended stay or economy hotels.
· Unemployment is slowly but steadily declining.
· Supertel is steering its acquisitions toward upper-midscale to diversify
· Nearly all of SPPR's customers are domestic, so it is partially sheltered from European turmoil
Deferred Travel
The length and severity of the last recession leaves many (even those who typically take annual vacations) with pent up desires to get away. As the economy improves, I believe we will see an influx of travel and restored occupancy.
Demand outlook for Supertel looks strong, but it is the supply figures that will really facilitate earnings growth. Smith Travel Research estimates a slight negative supply growth for economy hotels in 2012. This is remarkable news for an industry with a relatively low barrier to entry. Increasing demand and stagnant to slightly negative supply will allow SPPR to drive ADR and finally get respectable operating margins. This optimistic outlook is backed up by theFactSet consensus estimate for SPPR's 2013 FFO of $0.14.
So far we have only covered the cyclical aspects outside of Supertel's control, but its management has made some impressive decisions.
1) In my opinion, the decision with the largest impact was the reworking of contracts with hotel operators. It would be redundant to go too far into it here as I covered it in detail in a previous article, but it really tackled the core of Supertel's difficulty which is the weak operating margins.
2) On 11/07/12 SPPR sourced $30.6mm at a fixed rate of 5.83% and secured by 22 cross-collateralized hotels. The proceeds went to pay off much more expensive debt for annual debt servicing savings of approximately $1.1mm. Some of the difference is due to less amortization, but a good portion is legitimate accretive savings. For a company with a market cap of only $23mm, $1.1mm a year is enormous.
3) Supertel has been selling non-core assets and recycling the capital to acquire upper-midscale hotels. The reasoning behind such activity has not yet been released to the public, so I can only speculate. As it currently stands, some of Supertel's portfolio has been operating at a loss, so it seems probable that management is selling the bleeding properties to purchase ones with positive cashflow. There will undoubtedly be commentary about this subject on their next 4Q, so I will be watching intently to perhaps confirm this assumption.
4) At rock bottom of the great recession Supertel received a capital infusion from Inversiones y Representaciones Sociedad Anonima (IRSA) by means of selling them convertible preferred stock. While this gave some control to the external company, IRSA is banking on Supertel recovering and then cashing in on its convertible shares. As such, IRSA is highly aligned with SPPR's shareholders and may even provide further support to propel Supertel to success. Furthermore, this capital infusion was at a coupon of 6.25% which was far cheaper than any other source of capital at that time.
Risks of investing in Supertel
The intelligent maneuvering of management can only get them so far. Supertel is relying on the overall US economy. If the slow growth continues, I believe it will come out ahead of the competition, but a secondary recession could cause trouble. It is risky, so I would not advise heavily weighing it in a portfolio, but the upside is tremendous. SNL financial currently estimates Supertels NAV at $1.58/share and analysts set a price target of $2.00.
Disclosure: 2nd Market Capital and its affiliated accounts are long SPPR. This article is for informational purposes only. It is not a recommendation to buy or sell any security and is strictly the opinion of the writer.
Disclosure: I am long SPPR. I wrote this article myself, and it expresses my own opinions. I am not receiving compensation for it (other than from Seeking Alpha). I have no business relationship with any company whose stock is mentioned in this article.